Whatashock! Georgia predicted as 2023 SEC champ; Pre-season All-Conference teams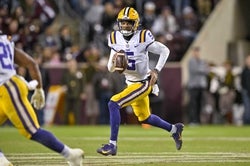 Nov 26, 2022; College Station, Texas, USA; LSU Tigers quarterback Jayden Daniels (5) in action during the game between the Texas A&M Aggies and the LSU Tigers at Kyle Field. Mandatory Credit: Jerome Miron-USA TODAY Sports
BIRMINGHAM, Alabama (July 21, 2023) -- Georgia has been predicted to win the 2023 SEC Championship, according to a preseason poll of media covering SEC Football Media Days.
The Bulldogs received 181 votes to be crowned SEC Champion on December 2 in Atlanta at Mercedes-Benz Stadium, while Alabama was second with 62 votes.
Georgia was selected to win the SEC Eastern Division with 2011 points, including an overwhelming 265 first-place votes, while Tennessee was second with 1682 points and 14 votes to win the division. South Carolina was third with 1254 points. Points were awarded on a 7-6-5-4-3-2-1 scale.
Alabama was picked to win the SEC Western Division with 1899 total points, narrowly over LSU with 1838 points. Texas A&M was third with 1144 points.
Only nine times since 1992 (31 years) has the predicted champion prior to the season at SEC Media Days proceeded to win the SEC Championship Game.
SEC PRESEASON MEDIA POLL
First place votes in ()
EASTERN DIVISION
SCHOOL POINTS
Georgia (265) 2011
Tennessee (14) 1682
South Carolina (3) 1254
Kentucky (1) 1204
Florida 911
Missouri 658
Vanderbilt (8) 428
WESTERN DIVISION
SCHOOL POINTS
Alabama (165) 1899
LSU (117) 1838
Texas A&M (1) 1144
Ole Miss 1128
Arkansas (3) 958
Auburn (4) 685
Mississippi State (1) 496
SEC CHAMPION
SCHOOL POINTS
Georgia 181
Alabama 62
LSU 31
Tennessee 5
Vanderbilt 5
Arkansas 2
Auburn 2
Texas A&M 1
Mississippi State 1
South Carolina 1
2023 PRESEASON MEDIA DAYS ALL-SEC TEAM
OFFENSE
First-Team
QB - Jayden Daniels, LSU
RB - Quinshon Judkins, Ole Miss
RB - Raheim Sanders, Arkansas
WR - Malik Nabers, LSU
WR - Ladd McConkey, Georgia
TE - Brock Bowers, Georgia
OL - JC Latham, Alabama
OL - Amarius Mims, Georgia
OL - Tate Ratledge, Georgia
OL - Will Campbell, LSU
C - Sedrick Van Pran, Georgia
Second-Team
QB - KJ Jefferson, Arkansas
RB - Jase McClellan, Alabama
RB - Kendall Milton, Georgia
WR - Antwane Wells, South Carolina
*WR - Bru McCoy, Tennessee
*WR - Ja'Corey Brooks, Alabama
TE - Mason Taylor, LSU
OL - Tyler Booker, Alabama
OL - Brady Latham, Arkansas
OL - Javon Foster, Missouri
OL - Xavier Truss, Georgia
C - Seth McLaughlin, Alabama
Third-Team
*QB - Joe Milton III, Tennessee
*QB - Will Rogers, Mississippi State
RB - Jarquez Hunter, Auburn
RB - Trevor Etienne, Florida
WR - Ainias Smith, Texas A&M
WR - Jermaine Burton, Alabama
TE - Trey Knox, South Carolina
OL - Emery Jones, LSU
OL - Eli Cox, Kentucky
OL - Javontez Spraggins, Tennessee
OL - Layden Robinson, Texas A&M
C - Cooper Mays, Tennessee
DEFENSE
First-Team
DL - Mekhi Wingo, LSU
DL - Mykel Williams, Georgia
DL - Maason Smith, LSU
DL - Nazir Stackhouse, Georgia
LB - Dallas Turner, Alabama
LB - Harold Perkins, LSU
LB - Jamon Dumas-Johnson, Georgia
DB - Kool-Aid McKinstry, Alabama
DB - Malaki Starks, Georgia
DB - Kamari Lassiter, Georgia
DB - Javon Bullard, Georgia
Second-Team
DL - Jaheim Oatis, Alabama
DL - McKinnley Jackson, Texas A&M
DL - Justin Eboigbe, Alabama
DL - Deone Walker, Kentucky
LB - Smael Mondon, Georgia
LB - Nathaniel Watson, Mississippi State
LB - Ty'Ron Hopper, Missouri
DB - Malachi Moore, Alabama
DB - Dwight McGlothern, Arkansas
DB - Demani Richardson, Texas A&M
DB - Kris Abrams-Draine, Missouri
Third-Team
DL - Princely Umanmielen, Florida
DL - Tonka Hemingway, South Carolina
DL - Tim Smith, Alabama
DL - Darius Robinson, Missouri
LB - Chris Braswell, Alabama
LB - Jalon Walker, Georgia
LB - JJ Weaver, Kentucky
DB - Major Burns, LSU
DB - D.J. James, Auburn
DB - Nehemiah Pritchett, Auburn
DB - Jason Marshall Jr., Florida
SPECIALISTS
First-Team
P - Kai Kroeger, South Carolina
PK - Will Reichard, Alabama
LS - Kneeland Hibbett, Alabama
KS - Brian Battie, Auburn
RS - Kool-Aid McKinstry, Alabama
AP - Ainias Smith, Texas A&M
Second-Team
P - Nik Constantinou, Texas A&M
PK - Harrison Mevis, Missouri
LS - Slade Roy, LSU
KS - Barion Brown, Kentucky
RS - Ainias Smith, Texas A&M
AP - Tulu Griffin, Mississippi State
Third-Team
P - Oscar Chapman, Auburn
PK - Alex McPherson, Auburn
LS - William Mote, Georgia
KS - Mitch Jeter, South Carolina
RS - Tulu Griffin, Mississippi State
AP - Dakereon Joyner, South Carolina
* - Indicates a tie