Texas makes statement; Bama escapes with win, 20-19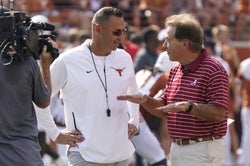 Sep 10, 2022; Austin, Texas, USA; Texas Longhorns head coach Steve Sarkisian talks with Alabama Crimson Tide head coach Nick Saban before the game at Darrell K Royal-Texas Memorial Stadium. Credit: Scott Wachter-USA TODAY Sports
In a game that more than matched the hype, top-ranked Alabama escaped with a 20-19 victory over Texas thanks to fourth quarter heroics by Heisman Trophy quarterback Bryce Young that set up a 33-yard field goal by Will Richard with ten seconds left.

It was a game that featured 11 of the top 100-rated players by NFL Draft Scout -- including five of the top 21 -- and that's not including Texas' redshirt freshman quarterback Quinn Ewers, who was sensational until he was knocked out of the game at the end of the first quarter.

This matchup was also about talented but controversial Texas head coach Steve Sarkisian, in his latest comeback, against the man who helped resurrect his career, Alabama's Nick Saban. And for much, if not most, of the game Sarkisian's Longhorns outplayed Alabama with a smothering defense that forced The Tide into three-and-out punting situations six consecutive times. Obviously rattled, Alabama committed 15 penalties for 100 yards, the most since Saban became coach.

But Alabama and Young made amends in the fourth quarter, especially in the final moments after Texas stuffed The Tide on fourth and inches to set up a field goal by Bert Auburn that put the Longhorns ahead, 19-17, with 1:29 left.

Bama took over on its 25 and Young suddenly looked like a Heisman Trophy winner. He completed four quick passes, putting The Tide on the Texas 37 with 35 seconds left. Then Young, under tremendous pressure, scrambled for 20 yards, probably the key play of the game. Four plays later Richard made the game-deciding field goal.

"At the end of the day he did a great job," Saban said of Young, who was harassed all day and did well to complete 27 of 39 for 213 yards and one touchdown when he scrambled to his left and threw back to the middle of the field.

The 10-10 halftime score belied the action on the field, which was dominated by Texas. Alabama's only first half highlight was an 81-yard touchdown run by Jase McClellan. Alabama committed 11 of its 15 penalties by halftime. At the half, Texas outgained Alabama, 231 yards to 172. So absent McClellan's run, it was extremely lopsided, and Texas threw for 193 yards to Alabama's 78.

"Mental mistakes," Saban said. "But you have to give Texas credit. They played a good game. Yeah, they came to play."

Truth be told, Alabama was fortunate to escape without its first nonconference loss since 2007, against Louisiana-Monroe, during Saban's first year as its coach.

This was touted to be a statement game for Texas and the Longhorns definitely made one. Sarkisian, whose career stuttered and almost stopped with misadventures at Washington and USC before Saban gave him a job in 2019, seems to be set at the key quarterback position for a while.

Ewers, Texas' starting quarterback, showed why he is rated the No. 1 quarterback in the 2026 draft, in the unlikely possibility he remains in college that long. And whenever he leaves, top-rated prep quarterback Arch Manning will be ready to take over.

Ewers, a strong-armed, 6-3, 206-pound, 19-year-old, stood tall and launched passes with impunity against the Tide's vaunted defense, hitting 9 of 12 passes for 134 yards with one dropped in the end zone. All this before being knocked out of the game with 31 seconds in the first quarter on a hit that easily could have been called roughing the passer by linebacker Dallas Turner, who drove the quarterback into the ground.

Sarkisian said after the game that Ewers had a sprained clavicle that will require an MRI.

Ewers' top target was speedy sophomore wide receiver Xavier Worthy. While Ewers was still in, Worthy caught three passes for 83 yards and caused two pass interference penalties. Worthy finished with five catches for 97 yards.

Ewers' replacement, Hudson Card, was no slouch, hitting 14 of 22 for 158 yards. But he sprained his right ankle and seemed unable to launch long passes to Worthy.

Alabama outside linebacker Will Anderson, the top-rated player for the 2023 draft, had an uneven game with two tackles, three assists, including a big sack. He helped limit running back Bijan Robinson, the top-ranked running back in the draft, to only 57 yards in 21 carries, although Robinson was effective as a receiver with three catches for 73 yards. Anderson's critical sack was in the fourth quarter and forced Texas to kick the field goal with 1:29 left to set the stage for Alabama's game-winner comeback.

But Anderson also made some mental errors, including untimely penalties that kept two Texas scoring drives alive.

Alabama's Jordan Battle, NFL Draft Scout's top-rated safety (a strong safety at No. 13 overall), had three tackles, an assist and helped keep Robinson from getting loose, although was conflicted on early play-action which helped the Texas passing game.

With 10:41 left in third quarter and the scored tied, 10-10,, Texas pinned Alabama with a punt to the one yard line. Three plays later, Young tried to pass from the end zone and appeared to be sacked for a safety. However, Texas was called for targeting, which would also be roughing the passer if validated by the review.

But the review did not substantiate targeting, so there was no penalty. Further, it was determined that Young was not down when he threw the ball because he was on top of a defender's body. Result was an incomplete pass and Bama punted.

Texas responded with a drive for a field goal -- aided by a late hit call on Anderson -- and the Longhorns took a 13-10 lead with 6:27 left in the third quarter. Texas, aided by a pass interference penalty on a pass to Worthy, upped its lead to 16-10 with a field goal with 12:55 left in the game.

On the ensuing drive, Young and Alabama began looking more like a top-rated team for the first time. First Young scrambled 17 yards on third and seven. Then on fourth-and-three Young completed a pass to the seven. Then he added a wild, scrambling touchdown pass to Jahmyr Gibbs and Alabama led, 17-16, with 6:29 left.

In the end, thanks to Young's late-game heroics, Alabama managed to outgain Texas, 374-371, and avoided a major upset. Texas made a statement, but still got the L.

Texas, now 1-1, will look to bounce back next week in another home game against UT San Antonio. Alabama moves to 2-0 and heads back to Tuscaloosa for a Week 3 matchup against UL Monroe.