Sr. Bowl Week: Close look at game and workout standouts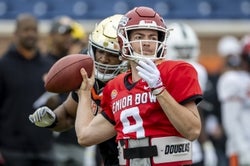 Feb 2, 2023; Mobile, AL, USA; National quarterback Jake Haener of Fresno State (9) practices during the third day of Senior Bowl week at Hancock Whitney Stadium in Mobile. Mandatory Credit: Vasha Hunt-USA TODAY Sports
Fresno State quarterback Jake Haener passed for 139 yards and a touchdown while Maryland's Chris Ryland kicked four field goals as the National team defeated the American team, 27-10, at the Senior Bowl Saturday in Mobile, Ala.
More than 120 pro football hopefuls, including some underclassmen who are headed to the pros, showed out in front of scouts and coaches from 32 NFL teams at Hancock Whitney Stadium on the campus of the University of South Alabama.
Haener, named the game's MVP, delivered a 44-yard touchdown pass to Stanford receiver Michael Wilson in the fourth quarter. Haener stood out on a roster that was short-handed at quarterback. He completed 12 of 19 passes after setting a Fresno State career record in 2022 with a 68.1% completion rate.
"I just wanted to come out here and get a win with the guys and cap off a really good week," Haener told NFL Network. "Just have a really good week and get the win. We found a way to get the win and that was fun."
Haener missed four games with an ankle injury this season but returned to help finish off a nine-game winning streak for the Bulldogs. Like the other quarterbacks in the game, he's trying to improve on mid- to- late-round draft projections.
"I love proving the doubters wrong," Haener said. "I love the motivation. I love the passion that it brings me. Keep coming with it, man."
The American team's biggest play came early in the fourth when Virginia's Anthony Johnson Jr. returned an interception 37 yards for a touchdown. Johnson was wearing the No. 15 jersey in honor of wide receiver Devin Chandler, who was among three Cavaliers players shot and killed in November, along with Lavel Davis Jr. and D'Sean Perry.
Cunningham was hit as he threw and appeared to land on his right arm, briefly heading toward the locker room with a strained shoulder. He returned to the sidelines, but not the game.
BYU quarterback Jaren Hall didn't play in the game for the National team. It wasn't immediately known why, but Hall missed the New Mexico Bowl with an ankle injury. He did participate in practices when quarterbacks were off-limits for contact.
The American team did get another big defensive play to stay alive with a fourth-down, fourth-quarter sack by Florida A&M's Isaiah Land, the 2021 Buck Buchanan winner as the top player in FCS after leading the nation with 19 sacks.
Louisville's athletic quarterback Malik Cunningham hit Purdue tight end Payne Durham just short of the left pylon late in the first half. Then Cunningham dropped the snap, picked up the ball and rushed for a 1-yard touchdown. Cunningham passed for 70 touchdowns and ran for 47. At Louisville he was noted for following in the footsteps of friend and Baltimore Ravens quarterback Lamar Jackson.
Cunningham threw a pick-six early in the fourth quarter and was injured on the play. He did not return to the game. Virginia's Anthony Johnson Jr. hauled in the interception and ran it back 37 yards, giving the American team its only touchdown of the game. There was pressure in Cunningham's face by Tennessee's Byron Young (who shoved BYU offensive tackle Blake Freeland into Cunningham).
Shepherd QB Tyson Bagent had some good moments during the week but also looked a bit scattered at times. He escaped pressure pretty well in the game and connected on 17-of-22 passes for 138 yards but also gave the National defense an easy interception late in the game.
The rest of the quarterbacks struggled both in the game and during the week of practice. TCU's Max Duggan held onto the ball too long and overthrew Princeton's Andre Iosivas for what could have been a TD. Duggan battled all week but was inconsistent. Cunningham had some moments as a runner with that short touchdown. BYU's Jaren Hall, who didn't play Saturday, started slowly this week and only got marginally better by Thursday, the final day of practices.
Here are some takeaways noted by NFL.com's lead draft writer, Eric Edholm:
--Stanford WR caps great week with TD: The Cardinal's Michael Wilson might be the wide receiver who did the most to help his stock this week in Mobile. He was plagued by injuries during his Stanford career, and the team's performance declined in recent years, not giving Wilson an ideal environment in which to thrive. But this week appeared to be the right place for him to do just that.
After routinely looking like one of the best receivers on the field during practices, Wilson caught four passes for a game-high 76 yards on Saturday, including the game-sealing touchdown from Haener in the fourth quarter.
Wilson had a great release off the line on his opening-drive 22-yard catch. Haener ended up overthrowing an open Wilson at the end of that drive. In the fourth quarter, Wilson zoomed past LSU's Jay Ward (who fell down near the goal line) and stepped in front of Florida State's Jammie Robinson for the 44-yard score.
The biggest question on Wilson -- other than his durability -- was whether he could threaten defenses vertically. He did that all week in Mobile. Consider us intrigued by the 6-foot-1, 216-pound Wilson after what he accomplished at the Senior Bowl.
--Purdue tight end Payne Durham did a little of everything:
Durham is on the short list of players who helped themselves the most this week at the Senior Bowl. Durham appeared to improve with each day during practice and might have saved his best for Saturday's game.
Durham caught two passes for 24 yards and hauled in a two-point conversion for the National team, showing off impressive athleticism for a 258-pounder. There were a few times he was moved as a blocker in the game (and during the week's practices), but he also had some wins in that department.
His first grab in traffic from Haener -- they made a nice tandem all week -- was thrown a little bit behind Durham. And his second catch was a pretty 16-yarder down to the American team's 1-yard line, just missing a score. He scored the two-point conversion on Cunningham's TD run, racing across the formation to gain easy separation, and also took a handoff when the National team was backed up inside its 1-yard line early on, gaining two yards.
It unquestionably was a productive week for Durham, who at times outshined the more ballyhooed Luke Musgrave of Oregon State. (In all fairness, Musgraves is battling back from an injury that kept him out of all but two games in 2022). Durham made several contested catches this week. Considering that Durham, a former lacrosse player, didn't play football until late in high school and arguably was underused by the Boilermakers, he is a rising prospect worth keeping tabs on.
-- Northwestern RB looked the part: There were some standout performances by running backs this week, including Oklahoma's Eric Gray and Tulane's Tyjae Spears. But we can't forget the work put in by Northwestern's Evan Hull. After a good first day of practice, the 5-10, 214-pound Hull's impact leading up to the game leveled off a bit. But he awakened quickly on Saturday, starting the game off with a bang on a sidewinding 24-yard run.
Hull finished with a game-high 74 rush yards (no one else had more than 40) on only 10 carries, also catching both of his targets for 11 yards. He carried the ball five times for 41 yards on the opening drive and later shed multiple tackles on an inside run for 18 yards. Defenders appeared to be a bit surprised by his quickness, downhill style and tackle-breaking ability.
On a Northwestern offense last season that struggled mightily, Hull was the one sure thing the Wildcats had, amassing 1,459 yards from scrimmage, catching 55 passes and scoring seven of the team's 21 touchdowns. With more talent around him at the Senior Bowl, Hull was able to build off his 2022 performance and leave Mobile having impressed onlookers.
-- Undersized defenders stand tall: Three smaller defenders had their share of moments during the Senior Bowl practices and in Saturday's game.
One of them was Cincinnati linebacker Ivan Pace Jr. At 5-10 and 231 pounds with sub-31-inch arms, Pace won't be for everyone in the NFL. But his full-tilt style was on display Saturday, as he regularly took on offensive linemen (including the 342-pound Darnell Wright and 337-pound O'Cyrus Torrence) to make plays. Pace had a game-high 10 tackles and seemingly was everywhere.
Florida A&M edge rusher Isaiah Land was pressed into some inside linebacker duty in the game. He worked at both positions this week in practice. But Land also saw action as a pass rusher -- his specialty -- and collected a fourth-down sack of Haener in the fourth quarter. The 6-3, 226-pound Land could be a tricky fit on an NFL defense, but he made a few statements this week.
Jackson State's Aubrey Miller Jr. had a nice week, too. At 5-11, 229. he showed physicality that should serve him well at the next level, including his tackle of Northwestern RB Evan Hull on the game's first offensive play, the first of his team-high seven stops.
* * * * * * * * * * * * *
NFL Draft Scout kept a close eye on the practice sessions in Mobile Ala. during the week. We followed the workouts from Tuesday to Thursday. Here are our reviews, including out ratings on each player mentioned going into Senior Bowl week:
Thursday's Day Three Highlights and Week's summary:
RB Tyjae Spears, Tulane, 5095, 205
NFL Draft Scout: No. 165 overall, round 5
The most conspicuous player during workouts this week. Small but explosive, Spears was a one-man highlight reel, bursting free for big runs and generally demanding attention of those watching. During Thursday's practice, Spears put his route-running ability on display, leaving his defender looking dazed and confused as he raced for the end zone. On Wednesday he showed a startling burst in runs and when defended by a safety he won easily. Sensational week. We at NFL Draft Scout will be among those who push his name up the charts, some say as high as second round. Stay tuned.
CB Julius Brents, Kansas State, 6030, 202
NFL Draft Scout: No. 88 overall, round 3.
Miami's Tyrique Stevenson is highest rated corner at Senior Bowl by most teams, is my highest-rated cornerback here in Mobile and he was consistent on Tuesday and Wednesday before not participating in practice on Thursday. He can get a little too handsy in coverage at times, but he proved he can run with the all-star wide receivers. He's a feisty player. The corner that excited NFL.com's Daniel Jeremiah was Brents. DJ: "At 6-foot-3, 202 pounds, he is loose and fluid for a big player at the position. South Carolina CB Darius Rush deserves a mention, as well. Stevenson, Brents and Rush are big, athletic guys who can make plays on the ball."
S Sydney Brown, Illinois, 5100, 213
NFL Draft Scout: No. 117 overall, round 3-4
We mentioned Brown earlier in the week. He reminded Jeremiah of a former Illinois safety from last year's Senior Bowl -- Lions' Kerby Joseph, who had a very good rookie season. They went to the same school and they both have great instincts, and big-time production. Brown trusted his eyes this week and it paid off. See more on Brown below.
QB Jack Haener, Fresno State, 6000, 208
NFL Draft Scout: No. 271 overall, round 7-FA
Again, we noted Haener earlier in the week and he continued to command attention. Per Jeremiah: "There wasn't a stellar group of quarterbacks in Mobile, but I thought Haener flashed the most of this year's crop. The ball jumped out of his hands during practice, and he was accurate. He's already shown he's tough, coming back from an ankle injury last season and spearheading the Bulldogs' run to a Mountain West championship. I think Haener's stock could benefit from Brock Purdy's incredible run as a rookie after he was drafted with the final pick last year.
LB Daiyan Henley, Washington State, 6007, 230
NFL Draft Scout: No. 131 overall, round 4
Another player we mentioned early in the week who deserved high summary grade from Jeremiah, who said "The big test for Henley was how he would hold up in coverage against all-star competition. Well, he passed that test with flying colors. He's instinctive and he can run. Henley has a chance to be a Day 2 (Rounds 2-3) pick."
OLB/DE Will McDonald IV, Iowa State, 6034, 281
NFL Draft Scout: No. 42 overall, round 2.
Most sideline witnesses agree that McDonald is the best pure pass rusher at the Senior Bowl. He has a combination of speed, agility and there is that wingspan of 82 3/8ths inches. Seriously. We have him in the second round but scouts and coaches at practices were very impressed and he might sneak into the first round. Jeremiah says McDonald is a better player than the Titans' Harold Landry back in 2018 as a prospect out of Boston College, and Landry went early in Round 2 (41st overall). For pure entertainment, McDonald can talk about his outrageous hobby -- jumping over cars.
Center John Michael Schmitz, Minnesota, 6035, 320
NFL Draft Scout: No. 44 overall, round 2
Another player who caught our attention early and often (see below), Schmitz was probably the most consistent player this week. Per Jeremiah: "He is strong, powerful and tough. He interviewed really well during his meetings with teams this week. I've been told his character is off the charts. I don't see him being available beyond Day 2 of the draft. Schmitz is a member of the American team, which is loaded with future NFL starters on the offensive line, including Florida OG O'Cyrus Torrence and TCU OG Steve Avila, who showed he can all play all three spots on the interior during practice this week."
DE Keion White, Georgia Tech, 6046, 280
NFL Draft Scout: No. 68 overall, round 2-3
White caught everybody's attention and we highlighted him earlier this week (see below). Jeremiah was very impressed, saying "He came in as my top-rated Senior Bowl player, and I thought he improved every day. He didn't have that wow moment that jumped out to everyone, but he was steady. White has big-time power, as we saw in some of the one-on-ones and the team period on Thursday. He's a Round 1 player."
TE Josh Whyle, TE, Cincinnati, 6064, 260
NFL Draft Scout: No. 179 overall, round 5.
Oregon State's Luke Musgrave is the best tight end in the Senior Bowl. Coming off knee injury with only two games played in 2022, Musgrave showed steady improvement through the week, as we noted earlier (see below). That said, is the tight end who helped himself the most this week, showing he has speed and agility to go with his exceptional length and showed up as a blocker in the run game.
Wednesday's Day Two Highlights:
Two key players for the National team missed Wednesday's practice after impressing on Tuesday.
Ohio State offensive tackle Dawand Jones -- the largest player at the Senior Bowl (6-8, 375 pounds) -- was feeling under the weather and his status for the rest of the week is to be determined, NFL Network Insider Tom Pelissero reported during live coverage of Wednesday's practice on NFL+.
Texas running back Roschon Johnson broke a bone in his hand early in Tuesday's practice, per NFL Network Insider Ian Rapoport. Johnson was able to play through the injury on the first day but did not practice on Wednesday. Rapoport reported that Johnson "likely won't be able to participate the rest of the week."
OT Cody Mauch, North Dakota State, 6047, 305
NFL Draft Scout: No. 40 overall, round 2
Mauch's move to the next level might mean a position change. He played almost
exclusively at left tackle for the Bison but was moved inside this week at the Senior Bowl -- at two different spots. In Tuesday's opening practice, Mauch was working predominantly at left guard. On Wednesday, Mauch also took snaps at center. Either spot could be Mauch's new home in the NFL. "I definitely can see myself there (at guard)," Mauch said. "I thought it was actually, you know, an alright day, especially for my first time doing guard, and obviously, (there is) stuff to work out. So I'm excited about the start and now just to see how we can finish it." Mauch added that "a lot of teams like me at guard, and I'm even getting a lot of talk about center." He looked a little better Wednesday than he did Tuesday.
WR Nathaniel "Tank" Dell, Houston, 5083, 163
NFL Draft Scout: No. 120 overall, round 3-4
NFL teams tend to be cautious when it comes to drafting players who are as small as Dell, especially before Day 3 (Rounds 4-7). However, it makes defenders nervous to see players with Dell's speed and separation ability lining up across from them on Sundays. We estimate he could run 40 yards as quickly as 4.36 seconds. As was the case during the 2022 college football season, Dell has basically been unstoppable in one-on-one matchups and has clearly created buzz with scouts.
LB Daiyan Henley, Washington State, 6007, 230
NFL Draft Scout: No. 131 overall, round 4
Henley has already forced a grade change from yours truly with his play in the first two days of practice, and NFL scouts might be making similar adjustments. He moves around the field with an alpha demeanor, but his ability to match up with running backs in coverage really stood out. The wideout-turned-linebacker showed off his lateral twitch and ball skills to hound the route and squeeze the catch point. The ability to play well on all three downs is a huge advantage for linebackers on draft day, and Henley showed off that ability on Wednesday.
CB Riley Moss, Iowa, 6003, 192
NFL Draft Scout: No. 230 overall, round 6-7
He appears to remain underrated cornerback prospect who has been steady in every drill. Look, it is rare that a white player can be a highly rated cornerback, regardless of hard evidence. So it is not surprising that teams still talk about moving him to safety. However, at Senior Bowl workouts Moss continues to show above average instincts and can play a variety of coverages as a corner. He snagged 11 interceptions in 40 starts at Iowa but missed time in 2019 and 2021 with knee injuries. He played five college seasons after an incredible prep career at Centennial High (Ankeny, Iowa) as receiver, returner in football and member of state champion 800-meter relay team as a senior, and member of 40-meter relay unit that placed second . . . Drake Relays champion in shuttle hurdle as a junior . . . state champion in shuttle hurdle as a junior, and state runner-up in 110-meter high hurdles . . . earned Elite All-State honors in track as a junior.
WR Jayden Reed, Michigan State, 5106, 195
NFL Draft Scout: No. 39 overall, round 4
Reed struggled in his early college career to get his share of contested catches, but eventually developed the ball skills and instincts. In Tuesday and Wednesday practices he showed standout ability to track deep balls and make tough catches near the sidelines. He can play slot or wide and is a tremendous threat as a returner with speed we estimate to stop the stopwatches (or laser beams) in about 4 .32 second at 40 yards.
OG O'Cyrus Torrence, Florida, 6047, 337
NFL Draft Scout: No. 21 overall, first round.
As expected, Torrence stood out as a blocker on runs and passes through two days of practice. This large human has obvious core strength that wards off bull rushers. He struggles a little with zone blocks. He is built to be a downhill road grader for power-based running attacks and stands out in individual drills and the scrimmage phase of practice.
CB Kyu Blu Kelly, Stanford, 6001, 193
NFL Draft Scout: No. 74 overall, round 2-3
The son of former Buccaneers CB Brian Kelly, who played for Tampa Bay from 1998 to 2007, Kyu Blu made himself conspicuous in a good way Wednesday.
He was everywhere in team drills, breaking up at least three passes and intercepting a pass -- even stealing it away from the grasp of his former Stanford teammate, receiver Elijah Higgins -- and running it back for what would have been a pick-six. "I just went in there and ripped it out," Kelly said. "When I get a chance, I will make a play." It was a big play for a prospect with only three career interceptions, mostly because opponents avoided him. "Twenty-five," Kelly said, counting the number of times he was targeted in 10 games in 2022. "I kept count. It wasn't hard to." For good measure, Kelly also snagged an off-target throw while standing on the sideline – and he did it with one hand while the other one held his helmet. "I want the scouts to know I have hands and I'm a playmaker," Kelly said.
QB Jack Haener, Fresno State, 6000, 208
NFL Draft Scout: No. 271 overall, round 7-FA
In a crop of quarterbacks that mostly range from Day 3 prospects to priority free agents, Haener might be the leading man among them. He turned in solid back-to-back practices, showing good accuracy and the ability to make plays out of structure -- even in unfamiliar surroundings this week. The Bulldogs quarterback finished off his career well, returning from an ankle injury to lead Fresno State to a Mountain West title and throw for 2,896 yards, 20 TDs and only three picks despite missing four games. Doctors originally told him it was a 10-to-12-week injury, which might have ended his season. He said the ankle was was "75 to 80 percent healthy." The Bulldogs didn't lose a single game after he came back.
RB Tyjae Spears, Tulane, 5095, 205
NFL Draft Scout: No. 165 overall, round 5
Spears is one of the early stars at the Senior Bowl workouts, making impressive plays two days in a row. On Wednesday, Spears made a few memorable plays
He slipped on one carry and it looked like he might go down for no gain, but he regained his balance, shifted his weight and picked up yardage. He also stood tall in receiving and pass-blocking drills, and ripped off a long touchdown run late in the session. At Tulane, Spears was often an afterthought as a receiving option, catching only 28 passes in his first 22 college games. A two-game spell last season against Southern Mississippi and Houston offered a glimpse of that ability, with Spears catching a combined 11 passes for 159 yards and a TD. Spears said Wednesday he never asked the Green Wave coaches for more chances as a receiver. Why? Because he said it wasn't his job to decide how the offense was run. "I never tried to put myself in the coach's shoes because there are so many things you've got to put into the equation," Spears said. "I can't just go to (them) and say, 'Hey, use me (as a receiver) out of the backfield. I am not that player. I'll let you figure it out."
DL Adetomiwa Adebawore, Northwestern, 6015, 284
NFL Draft Scout: No. 238 overall, round 7.
Adebawore put on quite a show Wednesday at both defensive end and defensive tackle, beating opponents consistently with quickness, athleticism, or sheer power. He was especially obvious during drills and one-on-ones. Adebawore had blockers twisting, grasping at air, and sometimes pulling themselves off the turf, as he blew past them. Great show indeed..
DE Keion White, Georgia Tech, 6046, 280
NFL Draft Scout: No. 68 overall, round 2-3
Played the role of the rambling wreck from Georgia Tech. He showed shocking explosiveness off the snap and glided around the field like he owned every square foot. White has tremendous closing burst and blew up plays during the scrimmage or embarrassed opponents in one- on-one drills.
Center John Michael Schmitz, Minnesota, 6035, 320
NFL Draft Scout: No. 44 overall, round 2
Two days in a row, Schmitz was a standout. On Wednesday he gave a clinic in how to be a dominant offensive lineman -- blocking fundamentals, football intelligence, leverage and especially a nasty, hunt-you-down attitude. He makes the line calls and then God help whoever gets in his way. He gave freeway access up the middle of the line for ball carriers. When the American team was going through a two-minute drill, Schmitz ran 20 yards downfield and obliterated a linebacker. If he keeps this up, he could move close to a first round pick.
S Sydney Brown, Illinois, 5100, 213
NFL Draft Scout: No. 117 overall, round 3-4
Brown showed exceptional coverage skills when he lined up over receivers instead of in space. Brown has a quick backpedal, tracks the ball well and takes clues from the receiver when to ball react. He eliminated the notion that he was just a run-defending safety and now appears to be somebody with the ability to move up and cover slot receivers in the NFL.
TE Payne Durham, Purdue, 6050, 258
NFL Draft Scout: No. 140 overall, round 4.
Durham has been on the ascent the last few months and it isn't because he is necessarily a great receiver. Putting that aside, he dominates as a blocker in drills as well as during scrimmages. He is large, powerful and explosive. During one-one-one drills he punished linebackers. OK, FWIW, in his last two seasons at Purdue, Durham caught 101 passes for 1,037 yards and 14 touchdowns.
Tuesday's Day One Highlights:
QB Max Duggan, TCU, 6012, 210
NFL Draft Scout: No. 245 overall, 7th round.
Duggan had an uneven day but finished looking good in full team drills. He
spoke Tuesday morning about what he called an "eventful" and "special" season with the Horned Frogs, one that came with several twists and turns.
At first, he lost his battle to Chandler Morris for the starting QB job but regained it when Morris got hurt in the opener.
Duggan led TCU into the College Football Playoff and was a Heisman Trophy finalist. The season then ended with a thud after Georgia thumped the Frogs in the title game, 62-7.
"We got our butts kicked, but you know, there's a lot to learn from it," Duggan said. "... (Learning) how to handle something that (was) a failure in our eyes, and how to, you know, get up from it."
Duggan started slowly in individual work Tuesday and had his pass stolen by Alabama's DeMarcco Hellams for an interception in 7-on-7 work. But in full-team reps, Duggan looked good. He completed all five of his passes in the session, twice sidestepping the rush to find Ole Miss WR Jonathan Mingo, who also had a good day. It was a nice start to the week for Duggan, an unorthodox passer who nonetheless has helped his stock noticeably over the past six months. Senior Bowl executive director Jim Nagy said Duggan has worked himself into the upper portion of Day 3 of the draft.
RB Kenny McIntosh, Georgia, 5116, 210
NFL Draft Scout: No. 72 overall, round 2-3
Hydrate: Bulldog star left his first practice early with what initially appeared to be a scary injury. He went down and was tended to by trainers after running a route and trying to grab a loose ball on the Hancock Whitney Stadium turf. He remained down for several minutes before walking off under his own power.
Fortunately, the injury is not considered serious. NFL Network Insider Tom Pelissero reported it was a cramp in his calf. Several players spoke after practice about the unexpectedly hot conditions and how coaches reminded them frequently to hydrate. McIntosh rushed for 829 yards and added 504 as a receiver and could help most NFL teams.
WR Ronnie Bell, Michigan, 5116, 190
NFL Draft Scout: No. 193 overall, Round 5-6
Personal Penalty: Bell ran off the field in mid practice, did 15 pushups on the sideline and ran back into the workouts. Why? He dropped a pass.
"I can't have drops out here, man," Bell said. "Gotta be 100 percent. So I went over, did my pushups after that rep, but then you know, I just gotta keep moving for the next play and try to continue to have good practice."
Back on the field, he beat Ohio State defensive back Ronnie Hickman on a slant and caught a couple of balls that were not really on target.
"It's got to be in my heart, you know, to be able to catch anything thrown at me, so if it's close, I definitely have to put it on display that I can do that. I'm not the biggest guy, but I have the reach (31 1/8-inch arms) to make those plays."
TE Luke Musgrave, Oregon State, 6056, 250
NFL Draft Scout: No. 71 overall, round 2-3
Musgrave was already considered one of the better tight ends in a strong class at the position this year, but he still impressed some coaches in person. His muscular, 255-pound frame stood out among other tight ends. He is coming off a September knee injury that limited him to two games last season and was cleared to run routes just a few weeks ago. He looked 100 percent in the first practice.
Center John Michael Schmitz, Minnesota, 6035, 320
NFL Draft Scout: No. 44 overall, round 2
In the final three for the Rimington Award, JMS is considered the best center in this draft. In the first day of practice is was the, ah, center of attention as he showed superior strength, technique and great use of leverage. JMS followed P.J. Fleck to Minnesota and thrived under offensive line coach Brian Callahan. He anchored a front line that had four new starters in 2022 and helped pave the way for one of the most dominant rushing attacks in the nation. Minnesota is one of only two teams in the Big Ten (Ohio State is the other) to rank in the Top 25 in the nation in both sacks allowed (Minnesota is T17) and tackles for loss allowed (Minnesota is T23). Schmitz was named First Team Midseason All-American by the AP, ESPN, PFF and CBS and PFF named him a First Team All-American at the end of the season as well. He was previously named a semifinalist for the Rotary Lombardi Award and for the Outland Trophy.
OT Dawand Jones, Ohio State, 6082, 375
NFL Draft Scout: No. 92 overall, round 3
Yeowza, this is one big dude, even bigger than the 359 pounds we had him going into the season. Not as agile as you want for left tackle and doesn't redirect all that humanity very smoothly. So I guess we are talking right tackle, eh? He had a solid first practice as run and pass blocker by basically overwhelming opponents. He is an all-day journey to avoid with a wingspan of 89.5 inches with humongous mitts, 11 3/8ths inches.
WR Rashee Rice, SMU, 6004, 200
NFL Draft Scout: No. 34 overall, round 2
Rice was a Tuesday highlight, obviously one of the more talented receivers in practice. It went beyond is speed, which we estimate at mid 4.4-seconds in 40 yards. He was prepared.
"I was studying all night and all morning," he said. "I didn't put the playbook down. I was like, I can't take a nap. I had to get these plays down. I didn't want to come out here and be like the guy who didn't know what (he was) doing. Everyone out here is competing for jobs, and I didn't want to be unprepared and look foolish. I had to regain my quickness a bit and it took me a few reps. These corners are fast."
Rice caught 96 passes for 1,355 yards and 10 TDs in 12 games last season. Tuesday was his most competitive action in a couple months, as he last played in a game on Nov. 26.
DT DJ Dale, Alabama, 6010, 302
NFL Draft Scout: No. 146 overall, round 4-5
Dale surprised those who thought he was limited to holding down a piece of real estate like a proper nose tackle type. He wriggled and writhed and was difficult to keep out of the backfield in Tuesday's practice. Those who believed he projected as a backup or short-yardage plug may think he can play a larger role. He used great leverage and managed more penetration than many expected.