SEC POW: S. Carolina's Rattler strikes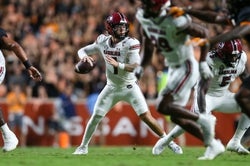 Sep 30, 2023; Knoxville, Tennessee, USA; South Carolina Gamecocks quarterback Spencer Rattler (7) looks to pass the ball against the Tennessee Volunteers during the first half at Neyland Stadium. Mandatory Credit: Randy Sartin-USA TODAY Sports
Southeastern Converence Players of the Week
Co-Offensive Player of the Week
| JAYDEN DANIELS | LSU |
| --- | --- |
| QB • Sr. | San Bernardino, Calif. |
Led LSU to points on its final 6 possessions of the game (4 TDs, 2 FGs) in a 34-31 win over Arkansas ... Connected on 20-of-29 passes, including 11-of-13 in the second half, for 320 yards and 4 TDs.
Added 36 rushing yards ... Threw a 49-yard TD pass to Brian Thomas with 30 seconds left in the first half to pull LSU to within 13-10 at halftime and then opened the second half with a 49-yard TD pass to Thomas to put the Tigers up 17-13.
Added TD passes of 8 and 20 yards to Malik Nabers in second half ... Became only the 6th player in FBS history with 10,000 passing yards and 2,000 rushing yards on a second quarter completion.
Joined Jordan Jefferson as the only players in LSU history with 4,000 passing yards and 1,000 rushing yards, also in second quarter.
Third game in 2023 accounting for at least 4 TDs ... LSU racked up 509 yards of offense and punted only twice.
Co-Offensive Player of the Week
| SPENCER RATTLER | SOUTH CAROLINA |
| --- | --- |
| QB • RS-Sr. | Phoenix, Ariz. |
Rattler completed his first 17 passes and finished 18-of-20 for 288 yards with three touchdowns and no interceptions in the Gamecocks' 37-30 win over Mississippi State on Saturday.
He led back-to-back touchdown scoring drives of 98 and 99 yards to open the game, the two longest drives in the Shane Beamer Era at South Carolina.
Rattler and Xavier Legette connected on a pair of touchdown passes from 75 and 76 yards against Mississippi State. It was just the second time in school history the Gamecocks had two 75+-yard pass plays in the same game.
Defensive Player of the Week
| MAXWELL HAIRSTON | KENTUCKY |
| --- | --- |
| DB • So. | West Bloomfield, Mich. |
Tied an SEC record and set a school record with two pass interception returns for touchdowns, and added three pass breakups, in Kentucky's 45-28 win at Vanderbilt.
Intercepted a pass in the first quarter and returned it 29 yards for the touchdown, giving UK a 14-0 cushion.
His interception and 54-yard TD return in the fourth quarter clinched the outcome.
Three pass breakups is a career high; two of the PBU came on sets of downs that ended in a punt.
With VU entering the game averaging 288.8 passing yards per game, Hairston led a UK defense that limited the Commodores to 111 passing yards in the first three quarters and only 231 for the game.
Kept short receptions from becoming long, as none of his four tackles were plays longer than 11 yards.
Special Teams Player of the Week
| TREY SMACK | FLORIDA |
| --- | --- |
| PK • So. | Severna Park, Md. |
Was 5-for-5 on Field Goals (27 yards, 23 yards, 54 yards, 36 yards, 23 yards); Recorded 7 touchbacks on 7 kick off attempts for a total of 455 kick off yards.
His 54 yard field goal was his career long and a season long for the Florida Gators - It also tied for the seventh longest field goal in Gators history.
Smack's 5 Field Goals made are the most field goals in a single game since 2017 when current NFL player Eddy Pinerio made five against UAB.
Smack contributed 15 of Florida's 22 points (68%).
Offensive Lineman of the Week
| TYLER BOOKER | ALABAMA |
| --- | --- |
| G • So. | New Haven, Conn. |
Booker anchored the Crimson Tide offensive line in a 24-10 win over No. 15 Ole Miss.
Alabama's offensive front controlled the line of scrimmage as the Tide accounted for 356 yards of total offense, including 132 yards ground .
Recorded a career-high six knockdown blocks.
Booker did not allow a sack as Milroe completed 17-of-21 passes for 225 yards and a touchdown.
Cleared a path for Jase McClellan to rush for 105 yards and a touchdown while averaging 6.2 yards per carry.
Defensive Lineman of the Week
| ALEX HUNTLEY | SOUTH CAROLINA |
| --- | --- |
| DT • RS-Jr. | Blythewoord, S.C. |
Huntley was credited with three tackles, including a pair of sacks for 10 yards and broke up two passes in the Gamecocks' 37-30 win over Mississippi State.
He led a Gamecock defense that held the Bulldogs to just 32 yards rushing on 23 carries. Jo'quavious Marks, the SEC's top rusher, was held to just 27 yards on 12 carries.
Huntley posted an overall PFF grade of 77.2.
Freshman of the Week
| TAUREAN YORK | TEXAS A&M |
| --- | --- |
| LB • Fr. | Temple, Texas |
York has stepped into the middle linebacker role early in fall camp and has not relinquished the reins. On Saturday against Auburn, York led the way with 11 total tackles with five of those being solo.
He added two tackles for losses of four yards that included a half of a sack for a loss of two yards.
In addition, York calls the signals for an Aggie defense that recorded five three-and-outs for the day and limited the Auburn offense to a total of 200 yards on 64 plays for a 3.1 average per play.
The Aggie defense only allowed a field goal, while the Auburn defense scored the only touchdown on a fumble return.