NFL Week 3 Recap: Dolphins Drop 70, Dallas Disappoints in the Desert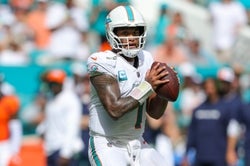 Sep 24, 2023; Miami Gardens, Florida, USA; Miami Dolphins quarterback Tua Tagovailoa (1) drops back to pass against the Denver Broncos in the third quarter at Hard Rock Stadium. Mandatory Credit: Nathan Ray Seebeck-USA TODAY Sports
Week 3 of the NFL is now behind us, and its officially time for fans to overreact—for those fans of 3-0 teams to overreact and lock in their Super Bowl reservations and for followers of winless franchises to throw up their hands and kick this season to the curb in favor of postseason baseball and the upcoming NBA campaign.
But Week 3 also provided a slew of other interesting, at times mind-bending, storylines that need recapping: The Dolphins went scorched earth on Denver, putting 70 points on the board and the fear of God in future opponents; the Chiefs and the Bills served notice that they are rounding into form after sluggish starts to the season; and the repeated thumping you hear outside your window is the sound of bodies falling off the Cowboys' bandwagon.
Here's a recap of Week 3 (Updated noon, Tuesday):
WEEK 3 RECAP
San Francisco 30, New York Giants 12 (Thursday): The visiting Giants, fresh off their Week 2 mini-miracle comeback at Arizona, simply didn't have enough playmakers on either side of the ball to ultimately make a game of Thursday's battle with the talented 49ers. New York QB Daniel Jones didn't have injured RB Saquon Barkley and struggled to find a rhythm (just 137 yards on 32 attempts). San Francisco's passing game was missing rising star WR Brandon Aiyuk, but QB Brock Purdy responded quite well in the face of unrelenting pressure — the Giants blitzed on 33 of Purdy's 39 dropbacks — going 25-of-37 for 310 yards and throwing two TDs. The 49ers defensively stuck to the Week 2 script against the Rams: show some vulnerability on the backend in the first half, then increase the pressure on the QB in the second half and take a stranglehold on the game. The Niners, along with the Eagles, continue to look like the lead dogs in the NFC.
Miami 70, Denver 20: What can we say…70 frickin' points! Miami becomes only the fourth team in NFL history (the third in the regular season) to reach that milestone, and the first in 57 years. Even more impressive than the point total is the astounding 720 total yards that Mike McDaniel's Dolphins offense laid on the Broncos. With Dallas' pratfall in Arizona and San Francisco looking just garden-variety dominant, expect to see Miami shoot to the top of most NFL team rankings. Expect a similar rise for Tua within the ranking for top QBs — a perfect 16-of-16 first half with 206 yards passing and two TD throws will do that.
As expected, Miami's speed overwhelmed Denver, so the Broncos attention turns away now from any issues real or imagined with Russell Wilson and the offense — seriously, you put up 45 points in Miami and you'd still lose big — to the other side of the ball. Is Miami just this good? Or does Denver now have deficiencies on defense — recall they blew an 18-point lead to the Commanders in a Week 2 loss at home — that no amount of Sean Payton-inspired offensive wizardry can even hope to overcome. Stay tuned.
Arizona 28, Dallas 16: Remember, you heard it here first. Our upset special hits paydirt as the Cardinals (1-2) took the leash early and held tight most of the day. Dallas consistently threatened to get back into the game in the second half, but either its defense couldn't get a stop or its offense bogged down at inopportune times. Arizona QB Joshua Dobbs came up with big two throws on a fourth-quarter drive to make it a two-possession game, then Arizona LB Kyzir Brown extinguished Dallas' last hopes by intercepting an inexplicable pass from Dak Prescott in the Cardinals' end zone. The upshot of this loss is that Dallas (2-1) seems intent to do this season what they always do: exhibit an inconsistency that frustrates its fans and delights it haters. As for Arizona, one could argue this wasn't that much of a shocker; had the Cardinals not blown the two games they seeminglly had control of in Weeks 1 and 2, they would be 3-0 and the talk of the NFC West.
Green Bay 18, New Orleans 17. Resurrecting images of Favre and Rodgers, new starting Packer QB Jordan Love authored the second-largest fourth-quarter comeback in the storied history of the Packers' franchise. The visiting Saints and their tough defense surprisingly had the game in hand most of afternoon, especially after Rashid Shaheed's 76-yard punt return for a touchdown in the second quarter made it 14-0. But, then the came a turning point: with the score 17-0 early in the third, Saints QB Derek Carr exited with a shoulder injury. Then Love, as any number of rom-coms would have us believe, took over and, with help from other young Packers, wiped out the entire deficit in the final stanza. Wideouts Jayden Reed and Romeo Doubs (an eight-yard TD reception) came up with acrobatic catches to finish off the Packers' go-ahead drive. Yet, even after giving up the lead, the Saints were in position to win after backup QB Jameis Winston drove New Orleans into Green Bay territory, but placekicker Blake Grupe pushed his 46-yard attempt wide right with a minute left.
Los Angeles Chargers 28, Minnesota 24: Minnesota's Justin Jefferson may be the most heralded receiver in the NFL, but it was the guy on the opposite sideline, San Diego's Keenan Allen, who stole the show. The veteran wideout caught a ridiculous 18 passes (two short of Terrell Owens' NFL record) for 215 yards and was, per usual, Justin Herbert's go-to man on a day when the San Diego QB threw for 405 yards. But Allen even threw a 49-yard TD to his Chargers receiver partner Mike Williams. (The Chargers got bad news later, when Williams had to be carted off the field with a knee injury. After an MRI Monday, he was declared out for the season).
But despite the gaudy numbers from Allen and Herbert, it again appeared as if the snake-bitten Chargers were headed for another inexplicable loss. With under 2:00 remaining, up 28-24, and his team with the ball at its OWN 24-yard-line, Chargers coach Brandon Staley flouted conventional wisdom and common sense and went for it. Minnesota stuffed the called running play and took over on downs. Some will contend Staley's decision is a fireable offense, but fortunately for him, San Diego got that elusive first win when a Kirk Cousins' pass on the ensuing drive was intercepted by Chargers safety Kenneth Murray at the goal line.
Now it's the 0-3 Vikings who can lay claim to being snakebitten.
Detroit 20, Atlanta 6: The Lions go to 2-1 on a season in which a surprising pattern may be emerging: Detroit wins the more defensive-oriented contests (Weeks 1 and 3) and drops the high-octane scoring affairs (Week 2). Detroit's QB Jared Goff was again solid (22-of-33 for 243 yards and a TD) and rookie RB Jahmyr Gibbs came through with 80 yards on the ground. But the Lions get to hang this win on their defense, which reasserted itself after a tough week against Seattle. Detroit sacked Atlanta QB Desmond Ridder seven times and held the Falcons to just 44 rushing yards. For those critical of Atlanta's 2-0 start, this performance will confirm their suspicions. But the Falcons have a fairly favorable schedule laid out before them over the next few weeks and should be in season-long contention for an NFC South title.
New England 15, New York Jets 10: A rough game to take in if you are neither a Pats nor Jets fan, but the outcome still seems consequential. Coach Belichik avoids his first 0-3 start since 2000, and the Jets offense continues its brutal post-Aaron Rodgers-injury slide. But New York fans can't lay all the blame at the feet of quarterback and Rodgers' heir apparent Zach Wilson. True, Wilson's 18-of-35 for 157 yards — and getting sacked for safety in the fourth quarter down three — is not promising, but New York's rushing attack against the Patriots was as lifeless as could be, with both Breece Hall and Dalvin Cook rushing for 18 yards each. Until they get a reliable ground game going, Wilson doesn't not stand much of a chance.
Houston 37, Jacksonville 17: In a surprise, if not a shocker, the Texans (1-2) get their first win, and C.J. Stroud continues to make those who sold short on S2 Cognition stock look like geniuses. The rookie QB followed up his productive Week 2 performance with a 20-of-30, 280-yard-passing day and, more importantly, his first NFL win. Kudos to the Texans' makeshift OL for keeping Stroud upright and not giving up a sack. For Jacksonville (2-1), the season is still young, but losing so convincingly at home to a "bad" Houston team doesn't foreshadow a glorious 2023 regular season. One play that crystalizes the current of state of the Jags? How about Houston fullback Andrew Beck — that's right, an up-back assigned to block on the return — taking a kickoff to the house in the third quarter, just moments after Jacksonville cut the lead to seven points. At one point he literally dragged his foot in a sprint that could have been timed with a Sun Dial. A bad look to be sure.
Indianapolis 22, Baltimore 19: Also didn't see this one coming. Matt Gay banged through a game-winning 53-yard kick in overtime, capping a noteworthy day in which the Colts placekicker made four field goals from beyond 50 yards. Zach Moss, in for holdout running back Jonathan Taylor, was the Indy workhorse, rushing for 122 yards on 30 attempts, helping a Colts' offense playing without rookie QB Anthony Richardson. The Ravens (2-1) were unable to build off two solid wins to start 2023 and produced a lackluster performance at home, though Lamar Jackson was his usual dual-threat dynamic self, throwing for 202 yards and rushing for 101.
Cleveland 27, Tennessee 3: The Browns rebounded nicely from their MNF loss to Pittsburgh and the horrific season-ending injury to Nick Chubb. Deshaun Watson (27-of-33, 289 yards passsing and two TDs) and the Browns' stingy defense (RB Derrick Henry just 20 yards rushing) had the kinds of performances in Week 3 that make Cleveland a threat both to win the AFC North and to make a deep postseason run. The Titans are 1-2 and head coach Mike Vrabel usually finds a way to weather the storm. However, the Titans' talent level isn't what it has been, and, as a result, QB Ryan Tannehill (13-of-25 for 104 yards) now finds his play backsliding from where it was after he joined Tennessee in 2019.
Buffalo 37, Washington 3: Josh Allen and the Bills offense and defense put it all together on a rain-soaked field in a result that convinced Washington fans that Daniel Snyder has not gone anywhere. A 45-yard lightening bolt from Allen to Gabe Davis early in the second quarter got things started for Buffalo, and his receiving mate Stefon Diggs had a terrific afternoon with eight catches for 113 yards. Washington QB Sam Howell, so efficient in the Week 2 win over Denver, threw four interceptions, and the Commanders offense could never get untracked. Feels like a needed statement game for the Bills, whose status as an elite AFC team seemed in question after losing Week 1 to the Jets.
Kansas City 41, Chicago 10: This one was over before it started as the Chiefs (2-1) raced to a 34-0 lead by halftime. Quarterback Patrick Mahomes looked every bit the league's defending MVP, throwing for 272 yards and three touchdowns; Travis Kelce had seven catches and a touchdown; and Kelce's new pal, pop superstar Taylor Swift, led both teams in time of obsession (if the innumerable camera shots of her in the Chiefs' VIP booth was any guage). For Chicago (0-3), the entire 2023 season is starting to feel done with before it ever got going: an interim defensive coordinator couldn't keep the Chiefs offense out of the end zone, and all the pregame talk about allowing QB Justin Fields more freedom to run and freelance apparently didn't work. Fields put up an anemic 99 yards passing. All that said, the Bears do host the equally reeling Broncos next week.
Pittsburgh 23, Las Vegas 18 (SNF): This game got a prime-time slot but for no other reason that the league still clings to the legacy of the teams' fabled 1970s rivalry. But the Sunday night matchup still proved somewhat entertaining as the Raiders made a fourth-quarter charge from down 23-7. Steelers QB Kenny Pickett came through with his most efficient performance of the year, going 16-of-28 for 235 yards and two TDs. Vegas' QB was his usual Jimmy G-and-Hyde self, passing for an impressive 344 yards (much of it in the late rally) and two TDs — but Garoppolo also threw three interceptions. If not for Keenan Allen's mind-blowing afternoon in Minnesota, Raiders wideout Davante Adams (13 catches, 172 yards and two scores) would've been the receiving star of Week 3. If not for San Diego's Brandon Staley, Raiders' coach Josh McDaniels' decision to kick a late-game field goal with his team down eight points would be the most dissected coaching decision of the season.
Something about the pressures of coaching in the AFC West must really get to these guys.
Philadelphia 25, Tampa Bay 11 (MNF): We figured Week 3 to expose a 2-0 "fraud" or two, but by the second half of this Monday Nighter, we half expected to see someone in the stands opening a trench coat, so indecent was Philly's exposure of the Bucs' 2-0 start. The final score in no way indicates how vastly superior the Eagles looked in their road win, as they pretty much dominated after a somewhat sluggish first quarter. Bucs QB Baker Mayfield was a nice story in leading his new team to two wins, but he came back down to Earth with a thud. The Eagles defense, especially its deep front line, is fearsome and laid claim — albeit against a flat, colorless Tampa offense — to being the league's best unit. QB Jalen Hurts was again very good, receiver A.J. Brown had a big night with nine catches for 131 yards, but perhaps the biggest offensive star for he Eagles was former Detroit RB D'Andre Swift, who had an electrifying 130 yards rushing on just 15 carries.
None of those strong individual performances happens, however, without yet another overpowering showing by the Eagles' offensive line, which tossed around Tampa's front seven all night long. With Dallas misfiring in Week 3, Philadelphia resumes its rightful place as the NFC East's premier team. Tampa can walk away from the loss at least knowing they are still atop a weak division.
Cincinnati 19, Los Angeles Rams 16 (MNF): The first half of the second MNF game saw two offenses driving around with the parking brake on, as the game went into intermission tied, 3-3. Finally, in the second half, Cincinnati's sputtering passing attack rediscovered Ja'Marr Chase (12 grabs, 148 yards) and came to life, building a 19-9 lead, before a late Rams score. A step in the right direction for Cincy (1-2), but it still felt like Joe Burrows and Co. were swimming against the current all night. On the other hand, The Bengals defensive front, led by DE Trey Hendrickson (two sacks), played in a frenzy, especially in the second half. Rams QB Matthew Stafford (269 yards passing) had a couple of INTs but was struggling to stay upright. Rookie standout WR Puka Nacua tacked on another five catches (for 72 yards) to his NFC-leading total (30).