Update: NFL Draft Scout Top 200 -- Hooker No. 3 QB, but plays Georgia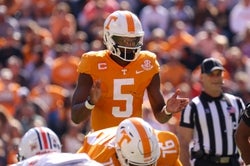 Oct 22, 2022; Knoxville, Tennessee, USA; Tennessee Volunteers quarterback Hendon Hooker (5) during the first half against the Tennessee Martin Skyhawks at Neyland Stadium. Mandatory Credit: Randy Sartin-USA TODAY Sports
As predicted, Tennessee's prolific Hendon Hooker keeps moving up the NFL Draft Scout Player ratings, maybe a lttle faster on our oversized Big Board, but going into this weekend;s Tennessee-Georgia game he already gained a lot of believers.
And the bandwagon will really load up if he does well at Georgia. Yeah, that's a big if.
This week Hooker jumped from No. 24 to No. 16, leapfrogging Kentucky quarterback Will Levis, whom he beat head to head (OK, neither played defense). Levis actually dropped from No. 18 to No. 32 overall.
So, for now, Hooker is poised in the No. 3 quarterback spot behind only No. 2 overall C. J. Stroud (Oho State) and No, 3 Bryce Young (Alabama). If Hooker treats the Dawgs the same way he has others, pro scouts will give serious consideration to Hooker being in the same conversation with Stroud and Young, whose ratings were boosted from the start when they entered college as five-star recruits.
Hooker, a mere four-star recruit and the No. 33-ranked quarterback coming out of high school, convinced pro scouts if his pro potential this season by completing 156 of 220 passes for 2,338 yards with 21 touchdowns and only one interception. He also ran for 418 yards and four more touchdowns.
Alabama's menacing linebacker, Will Anderson, remains entrenched as the No. 1 overall prospect. But there were a couple of notable moves at the top of the list with Notre Dame tight end Michael Mayer going from No. 8 to No. 5 and Clemson defensive end Myles Murphy jumping from No. 21 to No. 11.
Hooker's top target, wide receiver Jalin Hyatt continues to climb, going from No. 49 to No. 20. He vaulted from low round or even free agent status when he caught five touchdowns against Alabama three weeks back. The 6-0, 188-pound prospect caught 45 of 58 targets this season for 907 yards -- almost 400 after the catch -- and 14 touchdowns. He dropped one pass, in the season opener. He was forgiven at some point during the game against Alabama.
Again, it will be interesting to see how Hooker and Hyatt do in one of this week's big games, against Georgia
Below is a look at NFL Draft Scout's top 200 -- for now
NFL Draft Scout Top 200 (11-2-2022)
Ranking (prev) Player, Class, Position, College, Height, Weight, Projected Round
1. (1) Will Anderson Jr., Jr, OLB, Alabama, 6-4, 243, 1
2. (2) C.J. Stroud, rSo, QB, Ohio State, 6-3, 218, 1
3. (3) Bryce Young, Jr, QB, Alabama, 6-0, 194, 1
4. (4) Jalen Carter, Jr, DT, Georgia, 6-3, 300, 1
5. (8) Michael Mayer, Jr, TE, Notre Dame, 6-5, 265, 1
6. (6) Jordan Addison, Jr, WR, Southern California, 5-11, 175, 1
7. (7) Paris Johnson Jr., Jr, OT, Ohio State, 6-6, 310, 1
8. (5) Joey Porter Jr., rJr, CB, Penn State, 6-2, 198, 1
9. (9) Kelee Ringo, rSo, CB, Georgia, 6-2, 210, 1
10. (10) Jaxon Smith-Njigba, Jr, WR, Ohio State, 6-1, 200, 1
11. (21) Myles Murphy, Jr, DE, Clemson, 6-5, 275, 1
12. (12) Jordan Battle, Sr, SS, Alabama, 6-1, 206, 1
13. (14) Broderick Jones, rSo, OG, Georgia, 6-4, 310, 1
14. (13) Bryan Bresee, rSo, DT, Clemson, 6-5, 305, 1
15. (11) Jaelyn Duncan, rSr, OT, Maryland, 6-5, 320, 1
16. (24) Hendon Hooker, rSr, QB, Tennessee, 6-3, 218, 1
17. (17) Bijan Robinson, Jr, RB, Texas, 6-0, 222, 1
18. (29) Tyree Wilson, rSr, DE, Texas Tech, 6-5, 275, 1
19. (16) Emmanuel Forbes, Jr, CB, Mississippi State, 6-0, 180, 1
20. (49) Jalin Hyatt, Jr, WR, Tennessee, 6-0, 185, 1
21. (15) Noah Sewell, rSo, ILB, Oregon, 6-2, 253, 1
22. (22) Peter Skoronski, Jr, OG, Northwestern, 6-4, 315, 1
23. (23) Trenton Simpson, Jr, OLB, Clemson, 6-3, 240, 1
24. (19) Tuli Tuipulotu, Jr, DT, Southern California, 6-4, 290, 1
25. (34) Quentin Johnston, Jr, WR, Texas Christian, 6-4, 215, 1
26. (25) Ryan Hayes, rSr, OT, Michigan, 6-6, 305, 1
27. (28) Christopher Smith, rSr, FS, Georgia, 5-10, 195, 1
28. (32) Will McDonald IV, rSr, DE, Iowa State, 6-3, 236, 1
29. (26) Johnny Wilson, rSo, WR, Florida State, 6-6, 235, 1
30. (37) Steve Avila, rSr, OG, Texas Christian, 6-3, 330, 1
31. (31) Jack Campbell, rJr, ILB, Iowa, 6-4, 246, 1
32. (18) Will Levis, rSr, QB, Kentucky, 6-3, 232, 1-2 from 18
33. (33) Zach Charbonnet, Sr, RB, UCLA, 6-1, 220, 1-2
34. (34) Clark Phillips III, rSo, CB, Utah, 5-09, 183, 1-2
35. (27) Jermaine Burton, Jr, WR, Alabama, 6-0, 200, 1-2
36. (36) Siaki Ika, rJr, DT, Baylor, 6-3, 358, 1-2
37. (30) Josh Downs, Jr, WR, North Carolina, 5-10, 175, 1-2
38. (20) Nolan Smith, Sr, OLB, Georgia, 6-3, 235, 1-2
39. (38) JL Skinner, rSr, SS, Boise State, 6-4, 220, 1-2
40. (39) Keeanu Benton, Sr, DT, Wisconsin, 6-3, 315, 1-2
41. (41) Derick Hall, Sr, OLB, Auburn, 6-3, 256, 2
42. (42) Cedric Tillman, rSr, WR, Tennessee, 6-3, 215, 2
43. (46) OCyrus Torrence, Sr, OG, Florida, 6-5, 347, 2
44. (50) Isaiah Foskey, rJr, DE, Notre Dame, 6-5, 265, 2
45. (43) Keondre Coburn, rSr, DT, Texas, 6-2, 344, 2
46. (44) Olusegun Oluwatimi, rSr, C, Michigan, 6-3, 307, 2
47. (45) Jahmyr Gibbs, Jr, RB, Alabama, 5-10, 200, 2
48. (48) Mike Morris, rJr, DE, Michigan, 6-5, 292, 2
49. (47) Darnell Washington, Jr, TE, Georgia, 6-6, 270, 2
50. (68) Felix Anudike-Uzomah, Jr, DE, Kansas State, 6-3, 255, 2
51. (40) A.T. Perry, rJr, WR, Wake Forest, 6-5, 205, 2
52. (51) BJ Ojulari, Jr, OLB, LSU, 6-2, 250, 2
53. (52) Cam Smith, rJr, CB, South Carolina, 6-0, 188, 2
54. (53) Xavier Hutchinson, rSr, WR, Iowa State, 6-3, 205, 2
55. (66) Andre Carter II, Sr, DE, Army, 6-6, 260, 2
56. (54) Tyrique Stevenson, rJr, CB, Miami, 6-0, 214, 2
57. (55) Matthew Bergeron, rJr, OT, Syracuse, 6-5, 322, 2
58. (77) Zach Harrison, Sr, DE, Ohio State, 6-5, 272, 2
59. (55) Dalton Kincaid, rSr, TE, Utah, 6-4, 240, 2
60. (67) Nick Broeker, Sr, OG, Mississippi, 6-4, 315, 2
61. (56) Cameron Brown, rSr, CB, Ohio State, 6-0, 192, 2
62. (60) DeMarvion Overshown, rSr, OLB, Texas, 6-3, 220, 2
63. (82) Kayshon Boutte, Jr, WR, LSU, 6-0, 205, 2 63-83-63)
64. (58) Dawand Jones, Sr, OT, Ohio State, 6-8, 359, 2
65. (72) Devon Witherspoon, Sr, CB, Illinois, 6-0, 180, 2-3
66. (59) Kenny McIntosh, Sr, RB, Georgia, 6-0, 210, 2-3
67. (61) Gervon Dexter, Jr, DT, Florida, 6-5, 312, 2-3
68. (70) Cody Mauch, rSr, OT, North Dakota State, 6-5, 303, 2-3
69. (62) Warren McClendon, rJr, OG, Georgia, 6-4, 300, 2-3
70. (63) Gervarrius Owens, rSr, FS, Houston, 6-0, 200, 2-3
71. (65) Dontay Demus Jr., rSr, WR, Maryland, 6-3, 215, 2-3
72. (69) Blake Corum, Jr, RB, Michigan, 5-07, 210, 2-3
73. (71) Zay Flowers, Sr, WR, Boston College, 5-10, 172, 2-3
74. (73) Sam LaPorta, Sr, TE, Iowa, 6-4, 249, 2-3
75. (74) Zak Zinter, Jr, OG, Michigan, 6-5, 315, 2-3
76. (79) Jordan McFadden, rSr, OG, Clemson, 6-2, 305, 2-3
77. (75) Cam Hart, rJr, CB, Notre Dame, 6-3, 198, 2-3
78. (76) John Michael Schmitz, rSr, C, Minnesota, 6-3, 320, 2-3
79. (86) Rashee Rice, Sr, WR, Southern Methodist, 6-1, 203, 2-3
80. (77) Zach Evans, Jr, RB, Mississippi, 5-11, 215, 2-3
81. (64) Dontayvion Wicks, rJr, WR, Virginia, 6-2, 208, 2-3
82. (92) Nick Hampton, rSr, OLB, Appalachian State, 6-2, 235, 2-3
83. (80) Jaxson Kirkland, rSr, OT, Washington, 6-6, 340, 2-3
84. (81) Chase Brown, Sr, RB, Illinois, 5-10, 205, 2-3
85. (83) Henry Too Too, Sr, ILB, Alabama, 6-1, 228, 3
86. (88) DeCorian Clark, Sr, WR, Texas-San Antonio, 6-2, 210, 3
87. (87) JiAyir Brown, rSr, FS, Penn State, 5-11, 208, 3
88. (160) Andrei Iosivas, Sr, WR, Princeton, 6-2, 200, 3
89. (84) Ali Gaye, rSr, DE, LSU, 6-6, 265, 3
90. (96) Arquon Bush, rSr, CB, Cincinnati, 5-11, 198, 3
91. (89) Carter Warren, rSr, OT, Pittsburgh, 6-5, 325, 3
92. (90) Ronnie Hickman, rJr, FS, Ohio State, 6-1, 207, 3
93. (130) Jeremy Banks, rSr, OLB, Tennessee, 6-1, 224, 3
94. (93) Josh Proctor, rSr, SS, Ohio State, 6-1, 205, 3
95. (99) Charlie Jones, rSr, WR, Purdue, 6-0, 188, 3
96. (94) Owen Pappoe, Sr, ILB, Auburn, 6-0, 225, 3
97. (95) Jarrett Kingston, rSr, OT, Washington State, 6-5, 302, 3
98. (111) Kyu Blu Kelly, Sr, CB, Stanford, 6-1, 188, 3
99. (97) Colby Wooden, rJr, DE, Auburn, 6-4, 284, 3
100. (100) Tyler Davis, Sr, DT, Clemson, 6-2, 300, 3
101. (98) Habakkuk Baldonado, rSr, DE, Pittsburgh, 6-4, 260, 3
102. (101) Connor Galvin, rSr, OT, Baylor, 6-6, 302, 3
103. (103) KeiTrel Clark, rJr, CB, Louisville, 5-10, 177, 3
104. (104) Kaevon Merriweather, rSr, SS, Iowa, 6-0, 212, 3
105. (105) Jammie Robinson, rJr, FS, Florida State, 5-11, 203, 3
106. (102) John Ojukwu, rSr, OT, Boise State, 6-6, 315, 3-4
107. (108) Dee Winters, Sr, ILB, Texas Christian, 6-1, 230, 3-4
108. (136) Cameron Latu, rSr, TE, Alabama, 6-4, 244, 3-4
109. (108) Jonathan Mingo, Sr, WR, Mississippi, 6-2, 225, 3-4
110. (109) Joe Tippmann, rJr, C, Wisconsin, 6-5, 317, 3-4
111. (111) Travis Dye, rSr, RB, Southern California, 5-09, 200, 3-4
112. (114) Rejzohn Wright, rSr, CB, Oregon State, 6-2, 200, 3-4
113. (112) Sean Tucker, rSo, RB, Syracuse, 5-09, 210, 3-4
114. (113) Aidan OConnell, rSr, QB, Purdue, 6-3, 210, 3-4
115. (122) Darrell Luter Jr., rSr, CB, South Alabama, 6-0, 190, 3-4
116. (115) Ricky Stromberg, Sr, C, Arkansas, 6-3, 313, 3-4
117. (116) Trajan Jeffcoat, rSr, DE, Missouri, 6-3, 269, 3-4
118. (117) Ruke Orhorhoro, rJr, DT, Clemson, 6-4, 295, 3-4
119. (118) Viliami Fehoko, rSr, DE, San Jose State, 6-3, 263, 3-4
120. (120) Tyler Lacy, rSr, DT, Oklahoma State, 6-4, 285, 3-4
121. (121) Luke Musgrave, rJr, TE, Oregon State, 6-5, 250, 3-4
122. (125) Anthony Johnson, rSr, CB, Virginia, 6-2, 205, 3-4
123. (123) Mikel Jones, rJr, ILB, Syracuse, 6-0, 224, 3-4
124. (124) Mohamed Ibrahim, rSr, RB, Minnesota, 5-09, 210, 3-4
125. (129) Keidron Smith, rSr, CB, Kentucky, 6-2, 204, 3-4
126. (126) Emil Ekiyor Jr., rSr, OG, Alabama, 6-2, 307, 4
127. (127) Dorian Thompson-Robinson, rSr, QB, UCLA, 6-1, 205, 4
128. (128) Julian Pearl, rJr, OT, Illinois, 6-6, 315, 4
129. (144) Julius Brents, rSr, CB, Kansas State, 6-3, 202, 4 ur 2 weeks ago
130. (78) Brenton Cox Jr., rSr, OLB, Florida, 6-3, 252, 4
131. (131) Brock Martin, rSr, DE, Oklahoma State, 6-2, 245, 4
132. (132) Zacch Pickens, Sr, DT, South Carolina, 6-4, 305, 4
133. (133) DJ Dale, Sr, DT, Alabama, 6-2, 300, 4
134. (134) Key Lawrence, Jr, SS, Oklahoma, 6-0, 210, 4
135. (135) Roschon Johnson, Sr, RB, Texas, 6-1, 222, 4
136. (138) Josh Whyle, rSr, TE, Cincinnati, 6-6, 250, 4
137. (119) Joseph Ngata, Sr, WR, Clemson, 6-3, 215, 4
138. (158) Luke Schoonmaker, rSr, TE, Michigan, 6-5, 250, 4
139. (139) K.J. Henry, rSr, DE, Clemson, 6-4, 255, 4
140. (140) Brant Kuithe, rSr, FB, Utah, 6-1, 219, 4
141. (141) Tyler Steen, rSr, OT, Alabama, 6-5, 315, 4 from 304 2 wks ago
142. (141) Patrick McMorris, Sr, SS, San Diego State, 6-0, 210, 4
143. (143) Camerun Peoples, rSr, RB, Appalachian State, 6-1, 225, 4
144. (154) Deantre Prince, rSr, CB, Mississippi, 6-0, 185, 4-5
145. (145) Parker Washington, rSo, WR, Penn State, 5-10, 215, 4-5
146. (146) Drake Thomas, rJr, OLB, North Carolina State, 6-0, 230, 4-5
147. (147) Trevor Downing, rSr, C, Iowa State, 6-4, 304, 4-5
148. (148) Jay Ward, rSr, FS, LSU, 6-1, 184, 4-5
149. (149) Jaylon Jones, Jr, CB, Texas AM, 6-1, 205, 4-5
150. (150) Andrew Vorhees, rSr, OG, Southern California, 6-5, 325, 4-5
151. (151) Max Duggan, Sr, QB, Texas Christian, 6-1, 210, 4-5
152. (137) Jayden Reed, rSr, WR, Michigan State, 5-11, 190, 4-5
153. (153) Jake Moody, rSr, K, Michigan, 6-0, 210, 4-5
154. (178) Cory Trice, rSr, CB, Purdue, 6-3, 215, 4-5
155. (155) Keion White, rSr, DE, Georgia Tech, 6-4, 286, 4-5
156. (156) Chris Rodriguez Jr., rSr, RB, Kentucky, 5-11, 224, 4-5
157. (157) Alex Jensen, rSr, OT, South Dakota, 6-7, 293, 4-5
158. (163) Davis Allen, Sr, TE, Clemson, 6-6, 250, 4-5
159. (159) Tyler Nubin, Sr, SS, Minnesota, 6-2, 210, 4-5
160. (152) Tayvion Robinson, Sr, WR, Kentucky, 5-10, 187, 4-5
161. (161) Robert Beal Jr., rSr, OLB, Georgia, 6-4, 250, 5
162. (162) Daiyan Henley, rSr, ILB, Washington State, 6-1, 232, 5
163. (213) Trey Knox, Sr, TE, Arkansas, 6-4, 245, 5
164. (164) PJ Mustipher, rSr, DT, Penn State, 6-4, 321, 5
165. (165) Walter Rouse, Sr, OT, Stanford, 6-5, 318, 5
166. (166) Nick Herbig, Jr, OLB, Wisconsin, 6-2, 228, 5
167. (167) Cameron Young, rSr, DT, Mississippi State, 6-3, 315, 5
168. (168) Derek Parish, rSr, OLB, Houston, 6-1, 245, 5
169. (169) Eric Gray, Sr, RB, Oklahoma, 5-10, 210, 5
170. (170) T.J. Bass, rSr, OG, Oregon, 6-4, 325, 5
171. (171) Garret Greenfield, rSr, OT, South Dakota State, 6-6, 295, 5
172. (172) Kearis Jackson, rSr, WR, Georgia, 5-11, 200, 5
173. (173) Hunter Luepke, rSr, FB, North Dakota State, 6-1, 236, 5
174. (174) Shane Lee, Sr, ILB, Southern California, 6-0, 245, 5
175. (175) McClendon Curtis, rSr, OG, Chattanooga, 6-6, 328, 5
176. (176) Elijah Higgins, Sr, WR, Stanford, 6-2, 234, 5
177. (177) Kenny Logan Jr., Sr, SS, Kansas, 6-0, 210, 5
178. (191) Jarrick Bernard-Converse, Sr, CB, LSU, 6-1, 205, 5
179. (179) Jake Bobo, rSr, WR, UCLA, 6-4, 215, 5
180. (180) Taylor Upshaw, rSr, DE, Michigan, 6-3, 255, 5-6
181. (181) Byron Young, Sr, DE, Alabama, 6-3, 292, 5-6
182. (182) Nick Jackson, Sr, ILB, Virginia, 6-1, 234, 5-6
183. (183) Byron Young, rSr, OLB, Tennessee, 6-2, 245, 5-6
184. (184) Earl Bostick Jr., rSr, OT, Kansas, 6-5, 310, 5-6
185. (UR) Clayton Tune, rSr, QB, Houston, 6-2, 220, 5-6
186. (186) Cory Durden, rSr, DT, North Carolina State, 6-4, 305, 5-6
187. (187) Henry Bainivalu, rSr, OG, Washington, 6-6, 307, 5-6
188. (188) Trey Dean III, Sr, FS, Florida, 6-3, 207, 5-6
189. (189) Jalen Wayne, rSr, WR, South Alabama, 6-2, 207, 5-6
190. (190) Bryce Baringer, rSr, P, Michigan State, 6-2, 215, 5-6
191. (198) Josh DeBerry, Sr, CB, Boston College, 5-11, 177, 5-6
192. (192) Thomas Incoom, rSr, DE, Central Michigan, 6-3, 265, 5-6
193. (UR) Karl Brooks, rSr, DT, Bowling Green, 6-3, 300, 5-6
194. (194) Austin McNamara, Sr, P, Texas Tech, 6-3, 195, 5-6
195. (195) John Emery Jr., Sr, RB, LSU, 5-11, 220, 5-6
196. (196) Jarrett Patterson, rSr, C, Notre Dame, 6-5, 310, 5-6
197. (197) Rashad Torrence II, Jr, SS, Florida, 6-0, 202, 5-6
198. (203) Miles Battle, rSr, CB, Mississippi, 6-3, 205, 5-6
199. (185) Austin Reed, rSr, QB, Western Kentucky, 6-1, 230, 6
200. (200) John Waggoner, rSr, DE, Iowa, 6-5, 267, 6