McManaman asks: Are Cardinals ready to tank for Caleb, Harrison Jr.?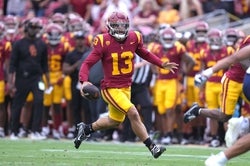 Sep 2, 2023; Los Angeles, California, USA; Southern California Trojans quarterback Caleb Williams (13) carries the ball on a 46-yard run against the Nevada Wolf Pack in the first half at United Airlines Field at Los Angeles Memorial Coliseum. Mandatory Credit: Kirby Lee-USA TODAY Sports
(Veteran football writer Bob McManaman of the Arizona Republic wants to know if the Cardinals should be tempted to move on from Kyler Murray next year, noting that USC's Caleb Williams has drawn comparisons to the Chiefs' Patrick Mahomes and the Bills' Josh Allen. Fellow Arizona Republic writer Greg Moore disagrees with such talk, writing, "The Cardinals shouldn't be considering moving on from Kyler Murray," adding, it's preposterous.")
The Arizona Cardinals would prefer it if you stuck to the script and pay attention to the issues they believe matter the most to the franchise as they prepare for what easily figures to be one of their most challenging seasons ever.
You know, things like the trendy, but well-received, team-first culture shift being built by first-year coach Jonathan Gannon and the plethora of roster moves and collection of priceless draft picks for the future assembled by first-year General Manager Monti Ossenfort.
But when you honestly break through the spin room and focus on the one, compelling element that will impact this franchise the most in 2023 and beyond, it's really this:
The Kyler Murray Conundrum.
Simply put, it's whether Ossenfort, Gannon and club owner Michael Bidwill would be willing to move on from Murray, the No. 1 overall pick in 2019, and consider selecting a new franchise quarterback in 2024 such as celebrated USC quarterback Caleb Williams, the reigning Heisman Trophy winner and presumptive top-rated prospect, should he decide to forgo his senior year and enter the draft.
Williams led the Trojans to an 11-3 record last season, their best finish since 2017, and set school records for total offense (4,919 yards), passing yards (4,537) and touchdowns (52). According to longtime draft analyst Daniel Jeremiah of the NFL Network, the 6-foot-1, 220-pound Williams reminds him of a cross between two of today's greatest quarterback stars of the NFL.
"(Kansas City's) Patrick Mahomes is going to be the popular comparison for Williams, and I can see it," Jeremiah said in his scouting report of the USC QB. "They are both so creative and deliver the ball accurately from different launch points and arm angles.
"However, from a style and skill set perspective, I think he has more in common with (Buffalo's) Josh Allen. Allen is much taller (he's 6-5), but they are similar athletes as runners and both guys aren't afraid to seek out contact. They possess elite arm strength to power outside shots versus Cover 2 (defenses). They like to read plays top down, always hunting for the big opportunity."
The temptation could be too tantalizing to resist, especially if Arizona, projected to finish with the worst record in the NFL this year, ends up with the No. 1 overall pick yet again five years after drafting the 5-foot-10 Murray. And don't forget, the Cardinals also own the Texans' first-round pick next year, and Houston is expected to be just as bad as the Cardinals, meaning Ossenfort could end up with the first and second, third or fourth overall pick in 2024.
Imagine the thought of not only drafting Williams, but also nabbing one of the other best offensive playmakers in recent history in Ohio State standout wide receiver Marvin Harrison Jr., the son of the Hall of Fame wideout who starred with the Colts. He could end up being the franchise's next version of Larry Fitzgerald.
"Holy moly, man. I'm just trying to get through Tuesday here," Ossenfort said when asked that question directly during training camp. "Listen, every draft is the same. We scout every position equally. We don't get into a draft saying, 'This year, we're all set at this position.' We're scouting every position no matter who is on the roster right now."
If we are to take Ossenfort at his word, that response means yes, moving on to a potential new franchise quarterback is in play for the Cardinals. And don't forget, they've done it before. Just one year after drafting Josh Rosen out of UCLA with the 10th overall pick, and trading up to do it in 2018, they jettisoned him to the Dolphins upon drafting Murray, who at present continues to rehab his way back from a torn ACL in his right knee.
It was just as telling when Ossenfort was asked a follow-up question about Murray's future in Arizona. Specifically, it was whether Murray, when he gets healthy, still needs to prove something to the regime who didn't draft him in the first place.
Ossenfort's response shouldn't be overlooked — or forgotten
"I think everybody in this organization needs to prove something every day," he said. "We're all here competing. We're at the highest level. If all of us don't prove it every single day we're going to get passed up.
"So, whether that pertains to Kyler or specifically myself, or JG or any other player on the team, this is a day-to-day business and if you don't bring it every day and prove every day and find a way to get better, it's going to be a long year."
Considering the state of the scaled-back roster, the multiple unknowns about who will handle the stating quarterback duties from week to week until Murray returns and many other concerns overall, it could be a longer, more depressing year than the Cardinals want to hear.
Former longtime NFL executive Michael Lombardi, following the Cardinals' recent trade of former first-round pick Isaiah Simmons to the Giants for a mere seventh rounder, weighed in heavily on the matter.
"I think what you're going to see in Arizona is that you're going to see a lot of those guys go," he said. "I think they're going to reshape the roster completely," he said on his "GM Shuffle" podcast. "I think they've gotten in there and I think they know it's a mess. I think they know they have a few guys that they count on that love football; I think they're going to keep them.
"But I'm pretty convinced. I would be shocked if they keep going down the Murray road. I really will be. I'll be completely shocked if they go down that road — because I think they know the culture and the way things have been out there, it was a disaster. Look, we can all talk about everything but the reality of it is, has Murray endeared himself to his teammates? I think that remains to be seen."
Murray has had his share of awkward moments during his first four seasons, from sideline exchanges with coaches and teammates to how he handled his business before landing a five-year contract extension worth $230.5 million, including $160 million in guaranteed salary.
But to be fair, he won Offensive Rookie of the Year and then was named to back-to-back Pro Bowls his next two years. Yes, he regressed this past season and looked a little lost like the rest of his team before he suffered the non-contact injury to his knee during a Dec. 12 loss to the visiting Patriots.
Since then, however, the Cardinals' new brass and new coaching staff have seemed to fully have his back. Gannon, for instance, said in his introductory news conference in February that he wouldn't have left his job as defensive coordinator of the Eagles if it weren't for the fact Arizona had a franchise QB in K1.
"Yeah, I'm even more convicted on that answer than I was then," he told The Republic during a phone call from Minnesota, where the Cardinals were preparing for their preseason finale against the Vikings.
Asked why he's so convinced about Murray remaining the man, Gannon said, "Because he's done everything I've asked him to do," adding when asked how strongly he believes in that, "A lot. Strong."
But what if the Cardinals were to end up with the first overall pick next year and Williams is staring them square in the face as the potential next franchise QB in the desert?
"I mean, that's a long way away there," Gannon said. "Present, man. Stay present."
But people are talking about the possibility, Gannon was reminded.
"Who's talking about it? No one in this building is," he said.
Yes, but the rest of the football world is — and at every corner of the NFL universe from industry insiders, sports talk radio hosts and the TV talking heads.
Moving on from Murray, should it ultimately be decided, would cost the Cardinals. They're paying him $39 million this season and $35.3 million of his 2024 salary is guaranteed. If he's still on the roster at the start of the 2024 league year, another $29.9 million in 2025 in both salary and bonuses also become guaranteed.
Cutting him by mid-March would result in $85.1 million worth of dead cap money on the books for 2024. Trading him before the 2025 guaranteed money kicks in might be difficult, but if successful, it would drop the dead-money cap hit to about $46.2 million. That could be affordable given the circumstances, especially if Arizona can get a better return than what the 49ers recently got from the Cowboys by trading QB Trey Lance, another first-round pick, for a fourth-round selection next year.
According to Gannon, it doesn't matter what's being said or discussed about moving on from Murray.
"I don't have an opinion on it," he said. "What people are talking about means nothing to me as we sit here today."
Williams recently told ESPN he wasn't sure of his plans.
"That's for sure now going to be an in-the-moment decision at the end of the year," he said. "It's my third year, and the dream and goal was to go three-and-out. Being around these guys and in college and enjoying it, we'll have to see at the end of the year."