Hamlin Tragedy: Poignant Pause shows Progress in NFL fraternity
By Frank Cooney, The Sports Xchange, NFL Draft Scout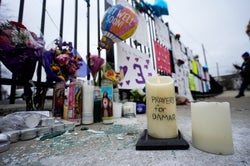 Announcement of the 15 finalists for the Pro Football Hall of Fame class of 2023 was postponed from Tuesday to Wednesday evening as all things involved with the National Football League were put on hold in the aftermath of the on-field cardiac arrest Monday night by Buffalo Bills safety Damar Hamlin.
Above all else, our best hopes go out to Hamlin, reported still to be in critical but slightly improved condition in ICU at a Cincinnati hospital.
The Hall of Fame's respectful observance of the tragedy reflects the enlightened, progressive, contemporary perspective of it's leadership, including president Jim Porter. And despite a cacophony of media reaction to the contrary, the NFL's poignant pause shows it can - at times - embrace the human reality of a
Overall, the decision to postpone the game shows, in this instance, that the league has come a long way in acknowledging the humanity that is such a major part of this ultimate team sport.
Perhaps it is a part of inevitable evolution or a byproduct of the recent and ongoing social justice movement, but the NFL seemed more humanely grounded during the Hamlin tragedy than it has previously.
In 1971 Detroit Lions wide receiver Chuck Hughes went into convulsions and died on the field in a game against the Chicago Bears. He was technically pronounced DOA of a massive heart attack after arriving at the hospital. But first-hand accounts, including that by Bears linebacker Dick Butkus, insist he was dead when he hit the ground. After Hughes was carted off, the final 1:02 of the game was completed.
Yet that historic and tragic event - involving the only NFL player to die during a game - was not even noted in the first hours after Hamlin's collapse. The media, especially several on-air personnel with ABC/ESPN, which televised the game, repeatedly said the Monday incident was "unprecedented."
Troy Aikman, perhaps the best football analyst on TV, was on air for about an hour after the collapse and was obviously given little input from whomever does research for that media giant. When we informed somebody with ABC/ESPN of this conspicuous lapse of historic perspective, we were told that Aikman was only five years old when Hughes died.
Really? That's the explanation for a nationally-televised fumble? Hell, these same media experts can spout stats by Jim Brown, who retired in 1965; or regale Joe Namath's Super Bowl III victory from January of 1969. And just a week earlier the NFL celebrated the 50th Anniversary of The Immaculate Reception (Dec. 27, 1972). But when the moment came to put Monday's horrific incident in historic perspective, they whiffed. Their almighty analytics didn't include important historical facts, although they were only one Google away.
Ironically, there was a strong story angle taking place right in front of them. Significantly, a team of special medics performed CPU on Hamlin with a defibrillator and literally gave him a pulse where there was none. That significantly increased his chance for survival. Were it not for Hughes' death on that Detroit field in 1971, Hamlin might have died on the Cincinnati field. Although there is not an official cause-effect connection - possibly because that might invite liability issues - it is widely believed that Hughes' death led directly to the mandate that defibrillators be at every NFL game along with a team of specialists.
Dr. David Chao, the highly respected former head physician with the San Diego Chargers, put the incident into perspective.
"Other than a hospital, there is probably no better place for this to happen than an NFL field," Dr. Chao said in an interview. "When Hamlin went down, the Bills' staff was there within seconds. Very quickly after that, you could see Bengals head trainer Matt Summers appear in the picture. The Buffalo team physicians and both athletic trainers were undoubtedly there to take a turn at CPR, because CPR is exhausting. Kudos to the Bills and Bengals for acting quickly and running a tight ship."
All NFL games average 30 medical personnel on hand. THIRTY. Each stadium is equipped with an AED defibrillator, and the home team provides emergency medical personnel at all games — a trauma surgeon, anesthesiologist, airway management physician, and others. Their presence is not only for the players, but they are available in the event of an emergency among the thousands of fans.
After having his heartbeat restored, Hamlin was sent to a Level 1 trauma hospital about 4 miles from the stadium.
That treatment, the appropriate reaction of the NFL to postpone the game and most of the public and media response to this tragedy shows how far things have come since Hughes' death. God forbid there is a repeat of such a situation, but if there is, surely people, including on-air broadcasters, will remember the Hamlin precedent.
Within hours of his collapse, the magnanimous nature of this 24-year old athlete was well known, including the go-fund-me page he established for a toy drive for Pittsburgh children. It had a goal of $2,500. By Wednesday it ballooned to almost $6 million. Former high school, college and current pro teammates told marvelous stories of how much this young man gives back to the community.
In 1971, there was relatively little media attention afforded Hughes' death. An insurance company established a $10,000 trust for his son Brandon, who was 23 months old when his father died. The money helped put Brandon through college.
On Monday, Brandon, now 53, received a text from his mother, Sharon: "Player collapse. Possibly cardiac arrest. Put the TV on."
Brandon thought how this was similar to what happened to the father he never got to know. His mother showed Brandon pictures and articles of his father for several years until she stopped because "he was seeing Chuck as always being 28 years old and he had heard all the stories. It was time to move on."
But on Monday Brandon said his mind raced about the surreally similar circumstances that his family endured. Sharon's cellphone was blowing up with messages from reporters across the country who remembered what network television missed that night.
"Our hearts are with Damar's family," Brandon said. "Because obviously we know what they are going through. And it's a unique circumstance because it's so public." Brandon and his mother reached out to the Hamlin family and continue to follow the updates.
Back in 1971 there was no internet, cable, satellite TV or cellphones. And there wasn't a team of 30 medical people ready to handle a cardiac emergency. When Hughes collapsed running a pass route in the fourth quarter, Butkus said they locked eyes for a split second and Hughes went limp.
"Everyone thought he was faking, stalling for a timeout, but I saw his eyes . . . they were rolling back. He couldn't fake that," Butkus wrote in his book, "Stop Action." "I turned and signaled the Lions' bench. The officials were coming over, then they were running, the doctors were running. They were working on him, trying to get his heart going, pounding on his chest with their fists. When they carried Chuck Hughes off the field, I knew he was dead."
After Hughes was taken off the field, they played the last 1:02 of the game, which the Bears won 28-23.
After all, this was football. Right?
So, despite much of this week's media criticism, conjecture and high decibel debates, it is probably most important to note that the NFL was more prepared for this horrific event - on the field with defibrillators and off the field with an evolved compassion and empathy. In this instance, at least, a change for the better.
---
Other Recent Stories
Frank discussion on top QB prospects with Panthers head coach: Is it revealing?
   With all eyes on the NFL Draft that begins April 27, Carolina Panthers head coach Frank Reich is On The Clock with the first pick in the 2023 player lottery. ...
read the full story
Shh, listen: Hear the NFL's quarterback frenzy getting even crazier
  The NFL's hyperactive quarterback scene was turbocharged the last two days at the Owners Meeting in Phoenix and elsewhere, not only by what was said, but by what ...
read the full story
Pro Day tracker for top 2023 quarterbacks
Despite reservations about the realistic value of Pro Day shows, NFLDraftScout.com dutifully tracks these hyped events for your edification. For our perspective ...
read the full story
Pro Daze: NFL's annual traveling circus is less than advertised
Updated March 30, 2023    Etiquette probably dictates that some subjects should be introduced by first saying, with all due respect.     So, there it is.     Now. ...
read the full story
Top DT Jalen Carter pleas no contest, limits legal exposure
Jalen Carter, NFLDraftScout.com's top-rated defensive tackle in the 2023 draft, pleaded no contest Thursday to misdemeanor charges of reckless driving and racing, ...
read the full story
Latest Player Notes
Ohio State Mitchell Melton
Mar 09, 2023: Defensive lineman Mitchell Melton has been medically cleared to participate in individual drills for Ohio State during spring ... read full note
Texas Quinn Ewers
Mar 09, 2023: Every position is open for the Texas Longhorns this spring. Every player will earn his starting role. For that reason, Quinn ... read full note
Texas Tech Cade Briggs
Mar 09, 2023: Backup offensive lineman Cade Briggs, who played in two games last season, was removed from the Texas Tech roster on Tuesday. ... read full note
Washington Dylan Morris
Mar 09, 2023: Dylan Morris came under heavy criticism as the starting quarterback for the Washington Huskies during their 4-8 season in ... read full note
South Florida Gerry Bohanon
Mar 09, 2023: Almost three months to the day after his hiring, new USF coach Alex Golesh staged the first spring practice of his tenure ... read full note
Washington Edefuan Ulofoshio
Mar 10, 2023: On the first day of his last year of college football, Edefuan Ulofoshio was back in the middle of it all Monday morning ... read full note
Washington State Isaiah Paul
Mar 10, 2023: Two months after joining Washington State's football team, Isaiah Paul is heading back to the portal. The senior linebacker, ... read full note
Southern California Eric Gentry
Mar 10, 2023: Linebacker Eric Gentry will miss all of spring practice following ankle surgery last month, Riley said. Gentry suffered a ... read full note
Ohio State Jack Sawyer
Mar 07, 2023: Where is Jack Sawyer? The former five-star recruit never really took that Year 2 jump some may have anticipated. His raw ... read full note
Colorado Cormani McClain
Mar 07, 2023: Getting two of the best young cornerbacks in the country to come to Boulder was the first step. Now, the Colorado coaches ... read full note