Hall of Fame: Making the Case for cornerback Eric Allen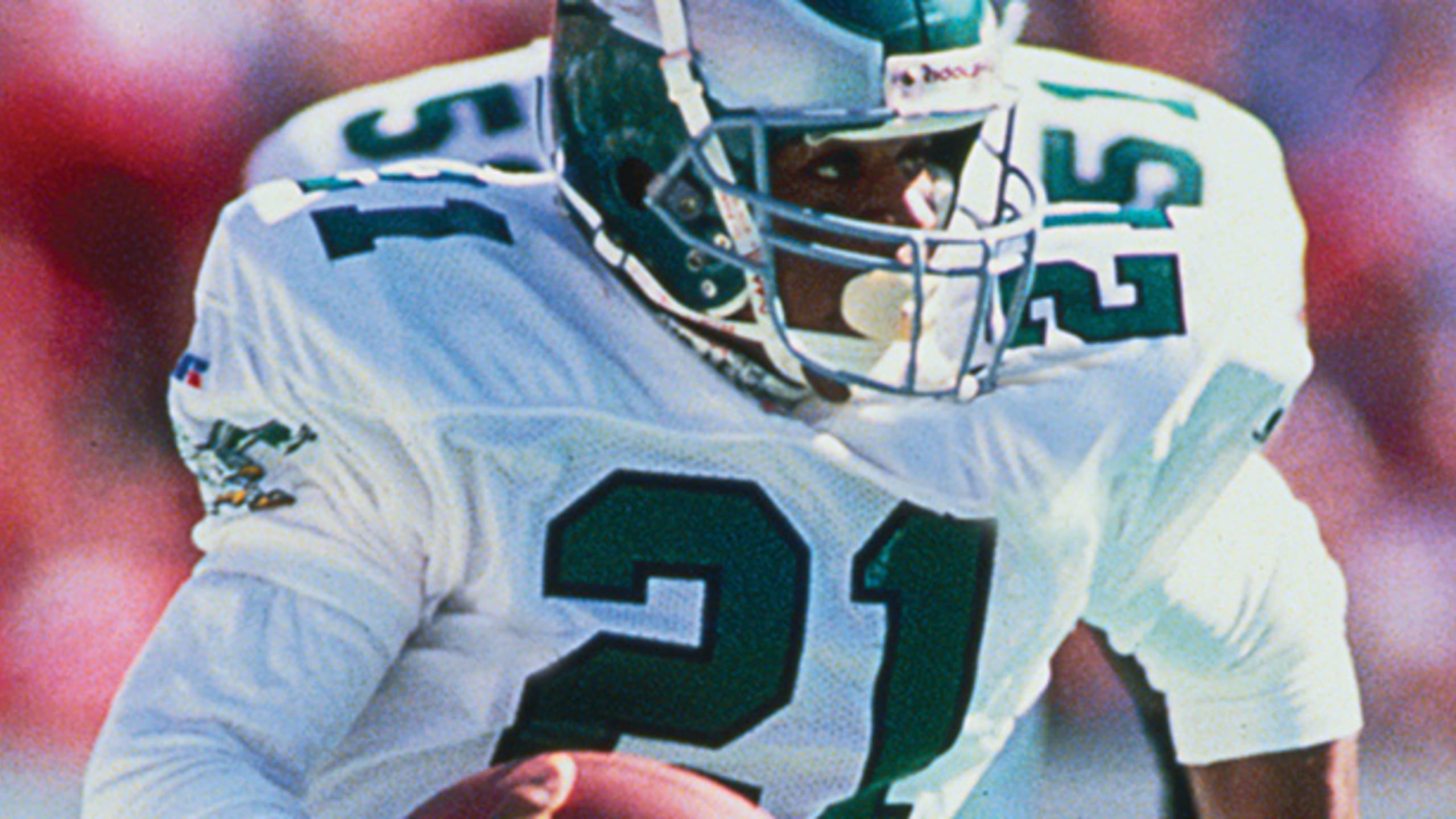 Eric Allen as wide receivers saw him: In your face!
Why cornerback Eric Allen
Belongs in Hall of Fame:
Let us count the ways
Allen is the only player in NFL history to return
3 or more interceptions
for touchdowns in two separate seasons.
(1993 with the

Eagles

and 2000 with the

Raiders

)
Position: Corner Back
Philadelphia Eagles: 1988-1994
New Orleans Saints: 1995-1997
Oakland Raiders: 1998-2001
/NUMBERS
Of the 36 Defensive Backs in the Hall of Fame, Eric Allen has as many or more interceptions than 25 of them (as many as the great Darrelle Revis (29) and Cliff Harris (31) COMBINED).
In terms of great cornerbacks, Allen has more interceptions than Deion Sanders and Champ Bailey and the same as Darrell Green and Willie Brown – four of the highest rated cornerbacks in pro football history.
Allen intercepted Hall of Famers John Elway, Jim Kelly, Troy Aikman, Steve Young and Brett Favre in his career.
He is third all-time among pure cornerbacks in starts (214) and 12th in interceptions (54).
With the Philadelphia Eagles, Eric Allen intercepted a career-high 8 passes in 1989 and returned a career-high 4 interceptions for touchdowns in 1993.
Career Accolades
Six Pro Bowls: 1989, 1991, 1992, 1993, 1994, 1995
First Team All-Pro: 1989
Pro Football Reference 2nd Team All-1990s Team
1988 NFL All-Rookie Team
1993 NFL UPI Defensive Player of the Year
Career Statistics
Interceptions: 54
Tackles: 789
Sacks: 3.0
Forced Fumbles: 6
Fumble Recoveries: 7
Touchdowns: 9
Played in 214 of a possible 217 games
/ARTICLE
State Your Case:
Eric Allen
Started 14 seasons in the
NFL at cornerback
by Rick Gosselin (originally published September 2019)
Cornerback Eric Allen intercepted Hall of Famers John Elway, Jim Kelly, Troy Aikman, Steve Young and Brett Favre in his career and went to six Pro Bowls.
Allen intercepted as many passes (54) as Hall of Famers Willie Brown and Darrell Green and one more than Hall of Famers Ty Law and Deion Sanders. Yet those four cornerbacks are all enshrined in the Pro Football Hall of Fame and most went in on roller skates. Allen can't even get into the discussion. He's never even been a semifinalist, much less a finalist (Update: Cause and effect? Since Rick Gosselin wrote this story, Allen has been a semifinalist three times).
There's a logical explanation. Brown, Green, Law and Sanders all have championship rings to go with their gold jackets and busts. In fact, all won multi-Super Bowls. Allen's teams never won a title. In fact, his teams never even reached a title game.
There are 281 players in the Hall of Fame. Only 103 of them failed to win a championship. Of that number, only 39 played defense. Of that number, 15 played in an NFL title game. That leaves 24 defensive players enshrined in Canton without a ring who never played for a championship in their careers. Of those 24, eight were elected as senior candidates.
/VIDEO
The Greatest INT Return in NFL History