Coaches Top 25: Colorado, Duke in; LSU, Clemson fall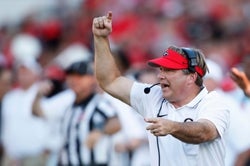 Georgia head coach Kirby Smart reacts during the first half of a NCAA college football game against Tennessee Martin in Athens, Ga., on Saturday, Sept. 2, 2023.
The first regular-season US LBM Coaches Poll — aka the USA Today Coaches Poll — has a few changes from the preseason poll, mainly the product of three high-profile results from the initial weekend of the season.
The top four teams stay put as Georgia easily retains the No. 1 spot. The Bulldogs received 63 of 66 first-place votes, followed by Michigan and Alabama. The Wolverines claim a single first-place nod, with the remaining two going to the Crimson Tide. Ohio State holds at No. 4.
The changes begin at No. 5, where Florida State leapfrogs into the top five on the heels of its convincing victory against then-No. 5 LSU. The Seminoles, which were last in the top five in the 2017 preseason poll, jump ahead of No. 6 Southern California and No. 7 Penn state, while LSU falls to No. 14. Washington gains three positions, moving up to No. 8. Tennessee and Texas round out the top 10.
Two teams that produced notable upsets enter the rankings.
Duke moves in at No. 24 following Monday night's victory against Clemson. It is the first poll appearance for the Blue Devils since Sept. 23, 2018. Clemson tumbles to No. 21 from its preseason No. 8 spot.
Colorado also enters the rankings at No. 25 thanks to its takedown of TCU. The Buffaloes last made an appearance, a brief one, in the poll during the pandemic-shortened 2020 season.
TCU falls out of the Top 25 along with fellow Big 12 member Texas Tech, which was upset by Wyoming.
Rank Team Record PTS 1st Prev Chg Hi/Lo
1 Georgia 1-0 1647 63 1 — 1/1
2 Michigan 1-0 1534 1 2 — 2/2
3 Alabama 1-0 1515 2 3 — 3/3
4 Ohio State 1-0 1422 0 4 — 4/4
5 Florida State 1-0 1388 0 8 +3 5/8
6 USC 2-0 1283 0 6 — 6/6
7 Penn State 1-0 1216 0 7 — 7/7
8 Washington 1-0 1115 0 11 +3 8/11
9 Tennessee 1-0 1099 0 10 -1 9/10
10 Texas 1-0 957 0 12 +2 10/12
11 Notre Dame 2-0 950 0 13 +2 11/13
12 Utah 1-0 924 0 14 +2 12/14
13 Oregon 1-0 904 0 15 +2 13/15
14 LSU 0-1 738 0 5 -9 5/14
15 Kansas State 1-0 630 0 17 +2 15/17
16 North Carolina 1-0 546 0 20 +4 16/20
17 Oklahoma 1-0 543 0 19 +2 17/19
18 Oregon State 1-0 499 0 18 — 18/18
19 Wisconsin 1-0 445 0 21 +2 19/21
20 Mississippi 1-0 411 0 22 2 20/22
21 Clemson 0-1 287 0 9 -12 9/21
22 Tulane 1-0 255 0 23 1 22/23