CFB Week 5: Georgia Must Improve to Earn a Three-Peat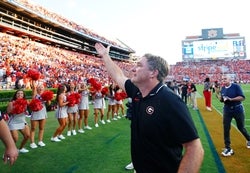 Sep 30, 2023; Auburn, Alabama, USA; Georgia Bulldogs head coach Kirby Smart celebrates following the Bulldogs' 27-20 victory over Auburn, at Jordan-Hare Stadium. Mandatory Credit: John David Mercer-USA TODAY Sports
At approximately the halfway point of College Football's 2023 irregular version of so-called regular-season play, Georgia is on our mind.
The two-time defending national champion held on to the AP's Top 25 No. 1 sport for 16th consecutive time this week. But in their Week 5 game Saturday, the Dawgs struggled to remain unbeaten (5-0) whil it extend a school record winning streak to 22 straight by struggling to a 27-20 win at Auburn.
These Dawgs are not the same bone-crunching team that dominated college football and stoked NFL rosters for the last two years.
For the second time in two Southeastern Conference games, Georgia trailed at halftime, this time against a team that has a so-so offense that benefits from the play-calling of Auburn coach Hugh Freeze, who kept the Dawgs zigging when they should zag much of the time.
Georgia coach Kirby Smart admits his team is hardly a runaway favorite to three-peat.
"I just think there's a lot more parity in college football," he said. "I don't think there's a great separation between anybody," he said, meaning "among anybody."
"Among" is not only grammatically correct, but a better representation of the crowded condition AMONG several teams who have a legitimate claim to being at the top, or at least among the top three, in the ratings.
The 2023 season is not another of those many seasons in which dominance was dictated or claimed by, say, two teams at a time. Choose your favorite pair:
*Georgia / Alabama
*Alabama / Clemson
*Ohio State / Alabama
Or pick any two of the above. This year a full house beats those pairs of recent years.
As an example, here is a look at results from games involving teams in the Top 25 last week.
Check out AP's new Top 25 poll here
Friday, Sept. 29
No. 19 Oregon State 21, No. 10 Utah 7
Saturday, Sept. 30
No. 1 Georgia 27, Auburn 20
No. 2 Michigan 45, Nebraska 7
No. 3 Texas 40, No. 24 Kansas 14
No. 6 Penn State 41, Northwestern 13
No. 7 Washington 31, Arizona 24
No. 8 USC 48, Colorado 41
No. 9 Oregon 42, Stanford 6
No. 11 Notre Dame 21, No. 17 Duke 14
No. 12 Alabama 40, Mississippi State 17
No. 20 Ole Miss 55, No. 13 LSU 49
No. 14 Oklahoma 50, Iowa State 20
No. 21 Tennessee 41, South Carolina 20
Kentucky 33, No. 22 Florida 14
No. 23 Missouri 38, Vanderbilt 21
No. 25 Fresno State 27, Nevada 9
Starting from the preason, Georgia used impetus from two consecutive national championships to be the overwhelming No. 1 team, and the Bulldogs received 55 first-place votes last week. The other eight were scattered among five other teams – hence 2023 is the year of the "Among."
Yes, the door is open for another team to jump up and take to the top spot. But who among them has the cred?
No. 2 Michigan hammered Nebraska and has yet to be tested, but the best opponent the Wolverines have faced is Rutgers (4-1). Not clear as to when that test is coming up, since Michigan's remaining schedule seems friendly.
No. 3 Texas? Fun team to watch. The Longhorns beat Alabama, and, other than a sluggish start against Wyoming the next week, the Longhorns have been stampeding, although No. 24 Kansas hung around for a little while Saturday at Austin. Led by rising quarterback Quinn Ewers, Texas outgained the Jayhawks 661-260. This sets up a battle of unbeatens next week as the Longhorns host No. 14 Oklahoma in the final Big 12 edition of the Red River Rivalry.
This will be their first meeting with both teams unbeaten since 2011.
No. 4 Ohio State won't jump to No. 1 during an off week, so hold your breath for a while there.
No. 5 Florida State was also off Saturday yet somehow lost some luster since LSU, the team that the Seminoles smashed, 45-14, to start the season, allowed 711 yards in a loss to No. 20 Mississippi. Now LSU, which started the season ranked No. 5 (depending on the polls), has two losses before heading into October.
No. 6 Penn State was not that impressive against Northwestern. Drew Allar and the Nittany Lions need to figure out how to get some chunk plays if they hope to keep pace with Ohio State in three weeks.
No. 7 Washington played its first close game of the season against Arizona, but won to remain perfect.
No. 9 Oregon, which brutalized Colorado a week earlier, smothered Stanford on Saturday, 42-6.
After Week 5, there seems to be little difference between No. 1 Georgia and No. 11 Notre Dame. The Golden Domers managed a game-saving 95-yard touchdown drive led by Sam Hartman to beat No. 17 Duke, 17-14.
No. 12 Alabama. Wow, this is low for the Tide and coach Nick Saban lost his cool, but not the game in a 40-17 decision over Mississippi State. Alabama beat Mississippi schools by a combined 64-27, meaning the Crimson Tide is the favorite in the SEC West.
Summing it up: Georgia may not be dominant, but should be safe atop the ratings for now, at least. If the Bulldogs want to stay there they will need a convincing win against unbeaten Kentucky next week.
Fun while it lasted
Prime Time has lapsed as Coach Deion Sanders and his maimed but entertaining Colorado Buffs lost their second consecutive game, although they gave No. 8 USC all it wanted — the Trojans needed to recover a last-minute onsides kick to preserve a 48-41 win.
Defending Heisman-winner QB Caleb Williams and the Trojans pushed out to a 34-7 lead in the second quarter before Prime's son, early season Heisman hopeful quarterback Shedeur Sanders, turned a blowout into a one-score game in the fourth quarter.
"It was a pleasure for me to play against him [Caleb Williams] and his head coach. I mean that was fun for me, it really was," Deion Sanders said. "Probably didn't look like it, but that was fun."
Colorado amassed 564 yards, the most USC yielded in 18 games under coach Lincoln Riley, who insists his D is improved.
"When something doesn't go our way, it doesn't look like last year," Riley told reporters. "Not to the trained eye."
Still, as great as Williams is — he threw six TDs Saturday — can we take the Trojans seriously as a threat to unseat Georgia if we adhere to the saying "defenses win championships"?
This was the second straight week the Trojans failed to show a killer instinct, after allowing Arizona State to hang around the week before.
The Buffaloes are 3-2 after five games, good for a team that Vegas bet on winning only three games for the season.