CFB Week 4: Big Games, Big Mouths, Bad Math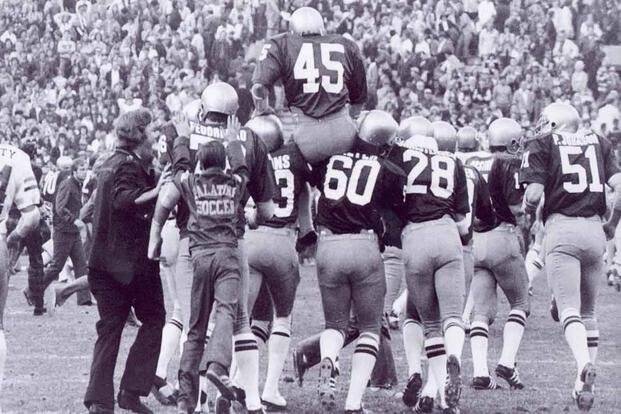 Notre Dame's famous walk-on Rudy Ruettiger. He's 77 now, but Irish could have used him as 11th defender.
Big games and big mouths were featured in an epic Week 4 of college football that included eight games in which both teams were undefeated before kickoff.
The only thing missing in these heavyweight matches — and mismatches — was humility, especially by the winners.
In the highest profile battles. . .
No. 11 or 12 Oregon deflated upstart No. 19 Colorado and coach Deion Sanders, 49-6, to back up a televised pre-game speech in which Ducks coach Dan Lanning told his team "The Cinderella story is over, man. They're fighting for clicks. We're fighting for wins" and went on to contrast his team of "substance" and the "Hollywood flash" of Sanders and the Buffalos.
We'll get back to the, uh, substance of that game.
Meanwhile, in South Bend, IN, there was a shortage of pre-game humility and in-game math as Ohio State won, 17-14, on a one-yard run with one second left. Remarkably, the Irish had only ten players on the field during the deciding play. They were missing a defensive right tackle, which is exactly where running back Chip Trayanum barely made it across the goal line.
Where is Rudy Ruettiger when Notre Dame needs him? OK, he is 77 years old now, but the Hollywood-famous former walk-on might have made the difference, even at his 1975 roster size of 5-6, 165.
Kidding aside, it is unfathomable that nobody noticed, starting with the Irish defensive linemen who should have seen a huge gap and linebackers who should align based on the DL…and that's before we even consider the coaches. It is a play headed for the Hall of Infamy in the team's proud football history.
Forgetting the math, after the upset victory, Ohio State head coach Ryan Day was full of vitriol, which he spewed in an on-field interview.
"I'd like to know where Lou Holtz is right now," a fired-up Day said, naming the former Notre Dame head coach. "What he said about our team, I cannot believe. This is a tough team right here! We're proud to be from Ohio! It's always been Ohio against the world, and it'll continue to be Ohio against the world! I love those kids, and we got a tough team!"
In a Friday appearance on The Pat McAfee Show, Holtz, who guided Notre Dame to its last national championship (1988), obviously aggravated Day when he said that Notre Dame "is a better football team than Ohio State...You look at coach Day, he has lost to Alabama, Georgia, Clemson, and Michigan twice, and everybody beats him because they're more physical than Ohio State."
Day, who said Holtz' comments "brewed" since he first heard them, added, "A lot of people took a lot of shots at this team over the last 48 hours. It really hit home to me, I'm really upset, disrespected by what Lou Holtz said publicly about our team and Ohio State and Buckeye Nation. And we're not going to stand for that because that's not even close to true. I don't know where that narrative come from but that ends tonight,
Well maybe, maybe not.
We did learn that Ohio State can gain one yard in 11-on-10 football.
Other high-profile games...but first some book-keeping at the top of the rankings
No. 1 Georgia took care of business with a 49-21 win over Alabama-Birmingham.
No. 2 Michigan welcomed head coach Jim Harbaugh back from suspension by mauling Rutgers, 31-7.
No. 3 or 4 Florida State put another nail in the Clemson coffin with a 31-28 overtime win over the former ACC and national power. This marks the second time in the last three seasons that the Tigers' College Football Playoff hopes were squashed in September, after making the CFP for the previous six consecutive seasons. Although Clemson controlled the action for most of the game, it is notable, especially for Tigers fans who question coach Dabo Swinney's rejection of the transfer portal, that the game-winning touchdown came via an incredible, one-handed catch by Florida State teceiver Keon Coleman, who was plucked out of the portal after two seasons at Michigan State.
Also, Clemson's kicking situation was so dire that Swinney brought back Jonathan Weitz, a former walk-on backup who left school for a job in New York. He was asked to make a 29-yarder with 1:45 remaining to take the lead and pushed it wide right.
No. 12 Alabama's 24-10 win over No. 16 Ole Miss was a statement game. Going into the game there was chatter that 'Bama coach Nick Saban may be at the end, and this game may show that Mississippi coach Lane Kiffin, whose career was resurrected by Saban, may be the heir apparent at Tuscaloosa.
Turns out it was just apparent hot air. A more acceptable choice might be Dan Lanning (see Oregon v. Colorado), who was an assistant under Saban.
Saban's future has become a major talking point in college football. The legendary coach is 71 years old now and will be turning 72 during the season. Rumors that he might be getting closer to retirement are growing. Whenever he does retire, Alabama is going to need to find a successor who can keep the program rolling.
No. 5 USC's 42-28 win over Arizona came against a Wildcats team that was shut out by Fresno State at home last week. Still USC made just enough plays on the road to avoid succumbing to its own self-inflicted wounds at Mountain America Stadium. The Trojans played like they extended their bye week by committing 10 penalties, fumbling twice and missing too many tackles, but pulled away with two second-half takeaways and eight total sacks.
For the first time this season, quarterback Caleb Williams had to play the whole game, finished with 322 yards and three touchdowns on 20-of-31 passing with two more rushing touchdowns. Running back MarShawn Lloyd paced the ground game with 154 rushing yards on 13 carries.
We tuned into this late game just to watch USC's spectacular wide receiver/returner Zachariah Branch, who may be the most entertaining player in college football. The true freshman, and grand nephew of Raiders icon Cliff Branch, showed his startling speed on his first kickoff return by reversing field and damn near outrunning everybody. His final stats included only four returns for 46 yards and four catches for 68 yards. However, ASU acknowledged his impact by electing to try an onsides kick after one score rather than kick to Branch. Watch for that to become a strategy of future opponents. Sure they may give up field position, but they have some chance to recover the ball and will avoid giving up a touchdown return by Branch.
THE LAST WORD
On a Saturday full of action and overreaction, some may consider it ironic that Pro Football Hall of Famer Deion Sanders seemed to keep things in perspective, although not without a word of warning.
He was asked if he heard about Lanning's remarks about clicks vs. wins.
"Yeah, I got messengers," he said. "God bless him, though, man. He's a great coach. He did a great job. God bless him. Take their shots. They won. I don't shoot. They won."
He also said the difference between No. 19 Colorado and No. 11 Oregon was "definitely not" a talent gap but confirmed he believed his team is seven or eight good players away from where they need to be.
"I don't say stuff just to say it, for a click, contrary to what somebody say," Sanders said, referring to Lanning. "I keep receipts."
He acknowledged that his high-profile personality plays a role in how his team is perceived.
"Teams are trying to beat me," he said. "They're not trying to beat our team. They keep forgetting I'm not playing anymore. I had a great career…That's what it really is. I signed up for it, so let's go.
"People around the country will say this is what they needed to humble themselves," Sanders added. "We weren't arrogant or whatever. We're confident people. If our confidence offends your insecurity, that's a problem with you, not us. We expect to do well."
And he doesn't think his team "needed" this loss to learn something about itself.
"That's just like saying when you get in a car wreck or something, 'Oh, he needed that to slow him down,'" Sanders said. "You don't need that. That's just stupid. That's just something that happened, and they got the best of us today. That's just it."
Sanders said his message to the team after the game Saturday was simple.
"Get your butt up, and let's go."
And he had a message for everybody else.
"One thing I can say honestly and candidly: You better get me right now," Sanders said. "This is the worst we're gonna be. You better get me right now."