CFB Week 3: Another round of highlights and surprises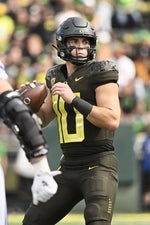 Sep 17, 2022; Eugene, Oregon, USA; Oregon Ducks quarterback Bo Nix (10) passes the ball during the second half against the Brigham Young Cougars at Autzen Stadium. Oregon won the game 41-20. Mandatory Credit: Troy Wayrynen-USA TODAY Sports
Every week college football teaches us that we can't trust anything we thought we learned. So we go back to school and learn something else. And then we do it again. It's why they play the games, right?
So, even as the experts try to make sense of things, week three was indeed another lesson in entertainment uber alles.
On the left coast, where the Pac-12 is on shaky ground not caused by earthquakes, former Auburn quarterback Bo Nix suddenly acclimated to Pacific Time, or something, to deliver a decisive upset for the No. 25 Ducks over No. 12 BYU, 41-20.
After Oregon was demolished by Georgia in Week 1, the Ducks didn't look like they would regain relevance this season, especially in a Pac-12 that is divesting its top assets, like USC and UCLA, leaving the rest of the conference scrambling.
Saturday's win by Oregon was a stunning shift in perspective. Auburn fans have seen this before with the roller coaster ride that is Box Nix. Last Saturday it was a fun ride.
In Baton Rouge, former Notre Dame coach Brian Kelly celebrated his first SEC win in a come-from-behind drama over coach Mike Leach and Mississippi State, 31-16. Kelly was treated like an unwanted carpet bagger by many when he left 30 years of coaching in the Midwest to coach at LSU. He found himself at odds with a quarterback who transferred and one or two others, including one of the top wide receivers in the game, who wanted to leave.
But on this Saturday his quarterback, Jayden Daniels, put on a show by rallying the Tigers from 13-points down with 16 carries, most of them uncalled, for 93 yards and one touchdown while completing 22 of 37 passes for 210 yards and another score. Great stuff, right?
Well, our view of that game was perhaps a bit different. LSU has a lot of talented players to handle the ball, including Kayshon Boutte, who not thrilled in recent weeks and whispers of him wanting out lingered. While Daniels did the heavy lifting Saturday, Boutte and others were almost just spectators. Boutte caught three passes for 31 yards; Malik Nabers looked good catching six for 76 .
By the end of the game Daniels was bruised and battered as he was celebrated as the hero of the game. We think the team would have been even more dangerous, and diverse, if Daniels looked to throw on time and on target to a very talented group of receivers. His heroics were a key in winning this game, but it would be interesting to hear from the teammates he marginalized.
Saturday offered its share of shaken expectations. Again, what we think we know often is usurped by those pesky games that change what is supposed to be reality.
So, we thought USC was the Pac-12's best hope for a playoff team, but Washington delivered an impressive 39-28 win over Michigan State, with Michael Penix Jr. tossing four touchdowns in the effort.
We thought Anthony Richardson's shaky Week 2 was a result of a stout Kentucky defense, and Florida's emerging star would shine once more against woeful USF. Instead, Richardson threw for just 112 yards and tossed two picks as the Gators narrowly held on, escaping with a 31-28 win only after USF missed a 49-yard field-goal try.
We thought Texas might struggle without Quinn Ewers, the injured redshirt freshman who looked like the best college quarterback we saw this season in a single sensational quarter against Alabama. But the Longhorns still have Bijan Robinson, one of the best running backs in the nation, and stand-in quarterback, Hudson Card, did a decent job.
In the end, Texas handled UTSA, 41-20.
But the Longhorns started slowly. After Card missed three bombs to standout receiver Xavier Worthy early in the game, coach Steve Sarkisian opted to give the ball to Robinson. This put the Texas offense, especially the offensive line, in an aggressive mood and changed the atmosphere. Robinson carried 20 times for 183 yards and three touchdowns, including a 78-yarder.
BTW: Ewers, who injured his left clavicle against Alabama, was seen jogging and throwing before the game, causing a social media ruckus. He may return sooner than expected.
We thought we knew or learned a few other things, like Pitt, down to its third-string QB, would struggle on the road against a team it lost to last year? A QB debate might stifle Ole Miss' offense? Penn State would be rattled by a trip into SEC country?
All wrong.
And for those who thought Georgia would certainly suffer after stocking the NFL with so many good players from last season's national championship team, think again.
Georgia may be even better.
A year ago, Georgia was 3-0, having utterly dominated its early schedule, but there was concern over so-so quarterback Stetson Bennett IV.
Forget that, too.
Bennett did his job early Saturday, leading the Bulldogs to a 48-7 thrashing of South Carolina. Bennett completed 16 of 23 passes for 284 yards and two TDs, then added another 36 yards on three rushes, one going for a touchdown.
All this while playing ill and throwing up on the sidelines during the game. For those footnoting details, after he vomited, Bennett was 6-of-10 for 159 yards with a passing and rushing score.
A year ago, Bennett was keeping the quarterback spot warm for JT Daniels. Now, he's completing 74 percent of his passes and averaging 11 yards every time he throws the ball. In a game in which no Georgia player ran for more than 36 yards (that was by Bennett), the Bulldogs cruised to an easy road victory against an SEC East foe.
Last year, Georgia outscored its first three opponents by a score of 106-23. One national title and the loss of a bunch of NFL draft picks later, the Dawgs are 3-0 again by a combined score of 130-10.
Bobby Petrino's return to Fayetteville, Arkansas, on Saturday began like a joy ride, but went off the road late, and ultimately left his Missouri State team red-faced, falling 38-27 to the No. 10 Razorbacks.
Missouri State jumped out to a 17-0 lead in the second quarter, and was still up 10 after batting a 31-yard field goal early in the fourth. That's when Arkansas hit the throttle.
KJ Jefferson threw a 73-yard TD pass before Bryce Stephens returned a Missouri State punt 82 yards for a TD, a three-minute spread that wiped out the Bears shot at an upset. Petrino's team couldn't put the brakes on the Razorbacks' offense, with the whole affair coming to an end with one last Arkansas TD on a one-yard Jefferson run.
Arkansas is now 3-0 for a second season in a row and has critical SEC West games against Texas A&M and Alabama upcoming. Petrino, meanwhile, will likely be hired back at Louisville by 2025.
So, you thought Week 2 was dramatic for the Sun Belt with three huge upset wins? Appalachian State was just getting warmed up and on Saturday played to the camera when Boone, N.C. hosted the popular ESPN College Game Day show.
One week after the Sun Belt pulled off three shocking upsets, the conference delivered another trio of games that culminated with last-second drama.
Old Dominion nearly pulled off its second shocker of the season against Virginia, scoring late to take a lead over the Cavaliers. But a frenetic drive down the field put UVA in range for a chip-shot field goal and a last-second win.
Out West, South Alabama came oh-so-close to taking down undefeated UCLA. The Jaguars attempted a fake field goal from the UCLA 22 with 2:52 remaining, and it went horribly. Tanner McGee was tackled for an 11-yard loss, the Bruins got the ball back, drove 61 yards on 10 plays and delivered a game-winning field goal as time expired.
The Sun Belt has four wins over Power 5 teams this season, but it also now has three losses on the final play of the game. App State delivered the biggest shocker.
Chase Brice's Hail Mary came up short of the end zone, was deflected and caught by receiver Christian Horn at the 8, who then took a looping path toward the sideline and sprinted into the end zone for a shocking 32-28 win.
Let's remind ourselves why App State was worthy of huge TV exposure:
Week 1: App State scores 40 points in the fourth quarter against North Carolina, including two touchdowns in the final 31 seconds, but was upended by two failed 2-point tries.
Week 2: App State goes on the road to Texas A&M and pulls off the massive upset of the sixth-ranked Aggies, the biggest win for the program since its famed victory over Michigan in 2007.
Week 3: A walk-off Hail Mary in a win over Troy on a day ESPN's College GameDay came to campus.
Meantime, it's getting ugly at Auburn. Boosters who thought life would be better with Bo Nix in Oregon are not digging deep in those pockets. It surely was frustrating last week for all those Auburn money men to witness Nebraska make an expensive coaching change and think, "Why not us?"
The scene was set Saturday, as Penn State -- the first Big Ten visitor to Jordan-Hare Stadium -- ran the ball to the tune of 245 yards and five touchdowns in a 41-12 win, with the knowledge that spending a bunch of money on another failed coaching hire was now within arm's reach.
Auburn has won just two of its past eight games.
The change at Nebraska was instantaneous. Scott Frost is gone, and suddenly the Huskers aren't losing close games anymore. Instead, Nebraska got blown out by former Big 12 rival Oklahoma 49-14. Saturday offered emphatic evidence that Oklahoma's fortunes haven't shifted with a coaching change either.
In its first game against a Power 5 foe with Brent Venables at the helm, Oklahoma looked like the a familiar Sooners team. The offense was potent, with Dillon Gabriel throwing for two touchdowns and running for another. The defense dominated. After Nebraska scored on its opening drive, the Huskers didn't sniff the end zone again until the game was well out of hand. As with Venables' best Clemson teams, the Oklahoma defensive front dominated the line of scrimmage, tormenting Casey Thompson to the tune of four sacks.
For the Sooners, it was a statement that Lincoln Riley's departure to USC won't keep this team from being in the playoff hunt. For the Huskers, it was a perfect opportunity to interview Urban Meyer for the open head-coaching job. After all, Nebraska has lots of wide-open spaces for a man to display his picture frames.
Our favorite game: Syracuse 32, Purdue 29
Syracuse quarterback Garrett Shrader connected with Oronde Gadsden II on a 25-yard touchdown with seven seconds left to settle this wild game.
If you had the under in the Purdue-Syracuse game, you were feeling pretty good at the half. The over was 59.5 and the game went to the break with Purdue nursing a 9-3 lead. Even after the third quarter, scoring was still in short supply. But then things got weird 0with a version of fast-break football that scored 42 points in the fourth quarter.
The final touchdown capped a dizzying series of lead changes. Syracuse led 10-9 after three quarters and outscored the Boilermakers 22-20 in the final period. The Orange improved to 3-0, its best start since 2018. Purdue fell to 1-2 but has been showcasing the most entertaining active pass-catch tandem in college football -- Quarterback Aiden O'Donnell to receiver Cooper Kupp look-alike Charlie Jones.
Aidan O'Connell's 12-yard touchdown pass to tight end Payne Durham with 51 seconds left in the fourth gave the Boilermakers a 29-25 advantage and seemed to seal it for Purdue. But two unsportsmanlike conduct penalties were called against the Boilermakers after the touchdown, and they were forced to kick off from their own 10-yard line. Courtney Jackson returned the kick to midfield to put the Orange in striking distance.
The Boilermakers then committed two more penalties — holding and pass interference — on third-and-10 plays to keep the winning drive alive before Shrader threw for the winning score.
O'Connell, who completed 38 of 54 passes for 415 yards and three touchdowns in the game, threw for two fourth quarter scores to rescue the Boilermakers from a 10-point deficit. But before those O'Connell heroics, Syracuse scored two touchdowns within nine seconds and led 25-15 midway through the fourth quarter.
O'Connell hooked up with favorite receiver Jones for a 55-yard touchdown that moved the Boilermakers within 25-22 with 6:41 left. A missed 41-yard field goal by Mitchell Fineran with 2:54 left could have tied it.
Jones finished with 11 catches for 188 yards and one touchdown. After three games has 32 grabs for 474 yards and five scores.
Early look at the Heisman prospects:
Technically, Appalachian State's Chase Brice doesn't make our top five, but if there was some award for the most magical player in college football this year he would get it.
This week's Heisman leaderboard includes four other QBs.
1. Alabama QB Bryce Young
Young accounted for four TDs in Alabama's 63-7 win over Louisiana-Monroe, but he also threw two picks for just the second time in his career. Nick Saban probably made him walk home.
2. Georgia QB Stetson Bennett
Bennett had three touchdowns in a 48-7 win. He also ate a 96-ounce sirloin at halftime, sketched out a rough plan to address inflation on his wristband during one third-quarter huddle, and after the game, he brokered a fragile peace between Chris Pine and Harry Styles. The guy is a legend.
3. Ohio State QB C.J. Stroud
Stroud had as many touchdowns (five) on Saturday as he had incompletions. He threw for 367 yards, averaged nearly 14 yards per throw and saw three different Buckeyes receivers top 100 yards.
4. USC QB Caleb Williams
Williams once again looked dominant. USC's offense kept humming along in a 45-17 win over Fresno State, with Williams accounting for four TDs in the process. None of this is surprising, so let's use this space to note that the guy Williams replaced at Oklahoma last year, Spencer Rattler, struggled mightily as South Carolina fell to Georgia on Saturday and now has two touchdown passes and five picks this season. Hard to believe this time last year Rattler seemed like an obviously better option than Williams.
5. Minnesota RB Mohamed Ibrahim
The Golden Gophers are 3-0 with one of the highest scoring offenses in the country, and Ibrahim is a huge reason why. Against Colorado on Saturday, Ibrahim married the ball 23 times for 202 yards and three touchdowns. It was his third career 200-yard game and his 12th straight with 100 on the ground. The truly wild thing about that streak is, it dates all the way back to the 2019 season. Ibrahim went for 140 in Minnesota's bowl game against Auburn Tigers that season, then hit the century mark in all seven of Minnesota's games in the COVID-shortened 2020 campaign.
He ran for 163 in the opener for 2021, but got hurt and missed the rest of the season. He returned for 2022 and has gone over 100 in each of Minnesota's first three of this year. It's the longest streak by an FBS back since Texas' D'Onta Foreman had 13 straight in 2015.
Michigan coach Jim Harbaugh did his best work before the season began. His schedule is epic.
Michigan hasn't exactly challenged itself with its nonconference schedule to start the season. In Week 1, the Wolverines were 31-point favorites against Colorado State. In Week 2, Michigan was a 52-point favorite against Hawaii. And on Saturday, UConn arrived at the Big House as a 47.5-point underdog.
According to ESPN, Michigan is the first team since the FBS/FCS split in 1978 to be favored by at least 45 points in consecutive games and the first team to be favored by at least 31 in its first three games of the year since 2001 Florida.
And even with the hefty spread, Michigan still had no trouble covering Saturday. Behind five touchdowns from Blake Corum, the Wolverines topped UConn 59-0.
It's just three weeks into the season, and both Kansas and Vanderbilt have already hit the over for their preseason win total at Caesars Sportsbook. The Jayhawks toppled Houston 48-30 to move to 3-0. Kansas hasn't won more than three games in any season since 2009, and it could get to four next week in a showdown against another surprising 3-0 team -- Duke.
Meanwhile, Vandy went on the road and knocked off Northern Illinois to get its third win of the season 38-28.
Regardless of what we thought we knew or learned along the way, here is a reality check.
Week 3 began with three unranked teams guaranteed to be undefeated by the end of the week as 2-0 teams James Madison and TCU and 3-0 team North Carolina had bye weeks. But fifteen other unranked teams entering Week 3 will enter Week 4 undefeated after this week's results. Take a look at the unranked undefeated teams so far after today's action:
Weekend results of teams now 3-0
Tulane def. Kansas State 17-10
Indiana def. Western Kentucky 33-30 in overtime
Syracuse def. Purdue 32-29
Florida State def. Louisville 35-31
Iowa State def. Ohio 43-10
UCLA def. South Alabama 32-31
Rutgers def. Temple 16-14
Minnesota def. Colorado 49-7
Coastal Carolina def. Buffalo 38-26
Washington State def. Colorado State 38-7
Kansas def. Houston 48-30
Duke def. North Carolina A&T 49-20
Oregon State def. Montana State 68-28
Washington def. No. 11 Michigan State 39-28
Maryland def. SMU 34-27
And those are the facts.