Burrow returns to Bengals Practice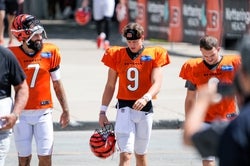 Cincinnati Bengals quarterbacks Reid Sinnett (7) Joe Burrow (9) and Jake Browning (6) enter the Kettering Health Bengals Practice Fields outside of Paycor Stadium Wednesday, August 30, 2023. Burrow suffered a calf injury on July 27, has not participated in practice publicly, but did go through his normal pregame warmup before the Bengals preseason opener against the Green Bay Packers on Aug. 11.
Joe Burrow returned to practice on Wednesday, a week and a half ahead of the Cincinnati Bengals' Week 1 contest against the Cleveland Browns on Sept. 10.
Burrow was seen walking to practice with helmet and shoulder pads on Wednesday afternoon. It's unclear at this point how much he'll participate in today's session.
Burrow has been sidelined with a calf strain since July 27, with head coach Zac Taylor playing coy with the timeline for the star quarterback's return.
Beyond a preseason on-field workout ahead of the Bengals' preseason opener, which included light jogging and throwing, we haven't seen Burrow on the field in more than a month.
Despite Taylor's mum responses when asked about Burrow's progress, the Bengals have been optimistic the quarterback would be ready to take the field Week 1. Getting him back to practice this week keeps that path on course.