2023 CFB Transfer Portal: WR Zakhari Franklin tops list of 2,600 prospects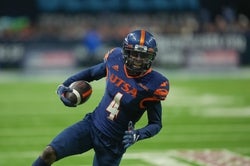 Dec 2, 2022; San Antonio, Texas, USA; UTSA Roadrunners wide receiver Zakhari Franklin (4) runs for a touchdown in the second half against the North Texas Mean Green at the Alamodome. Mandatory Credit: Daniel Dunn-USA TODAY Sports
The college football transfer portal, which was closed for new entrants April 30, holds approximately 2,600 players. If anyone wanted to play next season, they had to be in by April 30 unless they already graduated.
The top-rated player in the portal is wide receiver Zakhari Franklin, who set records the last two years with University of Texas at San Antonio (UTSA). Auburn's 6-7, 250-pound quarterback TJ Finley also entered the portal just before it closed. He began his college career at LSU before moving to Auburn in 2021.
Here is a roundup of recent notable transfers and the impact they may have on current depth charts:
WR Zakhari Franklin
UTSA's big three at receiver is down to two, as Zakhari Franklin is exploring his options in the transfer portal after setting program records in every major receiving category during his three seasons as the No. 1 target for the Roadrunners. Notching UTSA bests with 94 receptions, 1,136 yards and 15 touchdowns last season, Franklin pushed his career totals to 262 catches for 3,348 yards and 37 scores, making at least one reception in 46 straight games to mark the longest active streak in the FBS. The Roadrunners are still plenty stocked at the position, returning a pair of standouts in De'Corian Clark and Joshua Cephus. — San Antonio Express News
QB TJ Finley
Auburn quarterback TJ Finley, all 6-7, 250 pounds of him, announced Tuesday plans to enter the transfer portal. Finley, who began his college career at LSU, moved to Auburn in 2021. He started three games in 2021 at Auburn before taking back seat to Robby Ashford last season as a result of an injury early in the season. In the loss against Penn State, Finley threw for 431 yards and a touchdown and three interceptions before getting injured. Finley appeared in Auburn's loss at Ole Miss. He also took a leave of absence from the team late in the year for mental health reasons before rejoining the Tigers during offseason workouts. — The Birmingham News
TE Var'Keyes Gumms
North Texas tight end transfer Var'Keyes Gumms has reopened his recruitment after committing to Arkansas on April 23. Gumms, 6-3 and 235 pounds, made an official visit to Fayetteville on April 21-23. He posted on Twitter Tuesday morning he was officially visiting California this weekend. When asked if he was no longer committed to Arkansas, he said, "Yes sir." Gumms was named a second-team Freshman All-American last season as a redshirt freshman at North Texas. He also earned first-team All-Conference USA honors by the league's coaches. Gumms played in 14 games with six starts, and had 34 receptions for 458 yards and five touchdowns. — Northwest Arkansas Democrat-Gazette
WR Kody Epps
BYU wide receiver Kody Epps is back just three days after he entered the NCAA transfer portal. One of the Cougars' top offensive weapons announced on Wednesday that he would withdraw his name and play out his sophomore season in Provo. "It was a tough decision in the first place to enter the portal because I love BYU," Epps wrote Wednesday. "Even though some great opportunities were presented to me in the portal, I did not use the portal as a way to leverage or test waters because I have too much respect for the generational connections I have here and coach Kalani [Sitake's] belief in me." — The Salt Lake Tribune
CB Trey Amos
Louisiana's Ragin' Cajuns were served a massive blow on the final day of open transfer portal on April 30. Starting cornerback Trey Amos entered his name into the portal. He announced the move Monday night: "I want to thank the entire coaching staff and Cajun nation that supported me as soon as I stepped on the field and off the field," Amos said. "To the coaches, I just want to thank you for giving me a chance to show what I can do and good luck in the future, something special is happening. With that being said I would like to announce that I have entered my name in the transfer portal with two years left of eligibility." — The Daily Advertiser
QBs Spencer Sanders and Walker Howard
OIe Miss quarterback Jaxson Dart, who won the starting job in 2022, showed many flashes of being this team's future QB, as he played well against teams like Texas A&M and rival Mississippi State. It will take a lot to dethrone him. Still, Coach Lane Kiffin did a great job of adding depth to the quarterback position after losing two this offseason. Kiffin hit the portal, bringing in LSU's Walker Howard and Oklahoma State's Spencer Sanders, both widely pursued by multiple other Power Five schools.
Sanders is a do-it-all type of player; he can run and throw with the best of the best in college football. As a senior, Sanders is a very vocal player and can easily lead this relatively young Ole Miss team. Last year, Sanders led the Oklahoma State Cowboys to a Fiesta Bowl win over Notre Dame. During the 2022-23 season, he threw for 17 touchdowns and over 2,000 yards, even though he missed three games during the regular season.
Howard was the 42nd-ranked prospect in the 2022 class. He is a great runner, which is perfect for the scheme and style that Ole Miss runs. He attended St. Thomas More in Louisiana and led them to back-to-back state titles in 2019 and 2020. He comes to Ole Miss with four years of eligibility remaining and looks to potentially be the Rebels' future QB. — The Daily Mississippian
WR Tez Johnson
Oregon knew it was getting a speedster in Tez Johnson and the Troy transfer showed exactly what he'll bring to the Ducks during Saturday's spring game. Johnson had three catches for 78 yards, including a 63-yard touchdown when he broke a short crossing route into a race down the sideline. "Tez has speed," Oregon coach Dan Lanning said. "I think that's shown up. He's got burst. I think that's shown up consistently throughout spring and it's why he's here."
Johnson led Troy with 56 catches for 863 yards and four touchdowns last season. He had 13 catches for 20-plus yards, including seven for 30-plus. "Tez is that guy, right when he gets a step on you he can be very dangerous," Ducks linebacker Jeff Bassa said. "He's not the biggest, but he is the fastest." — The Oregonian
QB Xavier Williams
UCF is hosting Charlotte transfer quarterback Xavier Williams for an official visit this weekend, he confirmed to the Sentinel on Tuesday. The Knights offered the 6-foot-2 redshirt freshman signal-caller late last week and it didn't take long for the sides to schedule a visit, which was first reported by UCFSports.com. UCF is in need of a young quarterback after sophomore Thomas Castellanos entered the NCAA transfer portal last month following the completion of spring practice. Reserve walk-on quarterback Will Bohn decided to transfer out of the program, too.
As it stands, the Knights have two scholarship quarterbacks on the roster — incumbent starter John Rhys Plumlee and USF transfer Timmy McClain — and one walk-on in redshirt freshman Brock Hansel. That group will be joined by 2023 signee Dylan Rizk over the summer. — Orlando Sentinel
CB Simeon Harris
Former Colorado Buffaloes cornerback Simeon Harris announced his transfer to Utah State. Harris announced his commitment over social media and adds immediate depth to what was a seriously depleted Aggie secondary that had lost nine defensive backs to the transfer portal since the end of the 2022 season.
Listed at 6 feet, 200 pounds, Harris was a consensus three-star recruit coming out of Benicia High School in California and part of Colorado's 2022 signing class. As a true freshman last season, Harris appeared in five games, racking up 15 tackles. His single best showing came in Colorado's blowout loss to Washington, when he recorded eight tackles. — Deseret News
OL Ralph Frias III
Former Arizona State offensive lineman Ralph Frias III announced his commitment to the Utah State Aggies on social media. A graduate transfer with two years of eligibility remaining, Frias fills an immediate need along the offensive line, with his 6-foot-6, 300-plus pound frame. A consensus three-star prospect coming out of Safford High School in 2018, Frias' career has been up-and-down. He redshirted his freshman season, before playing in all 11 of the Sun Devils' games in 2019 and all four games in the pandemic-shortened 2020 season. Frias then missed the entire 2021 season for health reasons, before suiting up again in 2022. — Deseret News
DE Sav'ell Smalls
Sav'ell Smalls, meet Deion Sanders. Smalls — a Seattle product and former five-star recruit — announced a transfer from Washington to Colorado Tuesday, after completing a visit to Boulder, Colo., last weekend. The 6-foot-4, 244-pound edge entered the transfer portal on April 17, after practicing primarily with the second team this spring. Smalls produced 32 tackles with one tackle for loss, one fumble recovery and zero sacks in three seasons and 29 career games — including 14 tackles and one tackle for loss in 13 games last fall.
"The dream is still the dream," the junior with two seasons of remaining eligibility wrote upon entering the transfer portal. "Wherever I land you (gonna) get everything out of me. Believe that." Two weeks later, Smalls landed in Boulder — and quickly decided to stay. The Kennedy Catholic alum's arrival coincides with Sanders' orchestrated upheaval of the roster he inherited on Dec. 3. — The Seattle Times
S Keyshawn Cobb
It didn't take Keyshawn Cobb long to fit in once he moved to Morgantown. The safety transferred to West Virginia from Buffalo during the offseason and is expected to be a big contributor on defense this fall for the Mountaineers.
"You would think he's been here for three years," WVU safeties coach Dontae Wright said during the last week of the team's spring practices. "Not just in terms of the playbook, but being around the guys. You hear him say, 'I love you.' We've made real, genuine connections. That young man has come in and opened his heart and dove into this program. He understands that it's not just about him. Yes, he came here for a reason, but he's got to buy into what our culture is, he's got to buy into what coach [Neal] Brown and [defensive coordinator Jordan] Lesley and all of us are talking about and he's done that. He's done that with the playbook, he's done that with the players, and it feels like he's been here for three years." — Charleston Gazette-Mail