Blockbuster Trade puts Carolina Panthers on the clock—complete 2023 NFL Draft list (1-259)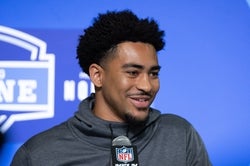 Mar 3, 2023; Indianapolis, IN, USA; Alabama quarterback Bryce Young (QB15) speaks to media at Indy Combine. Could be first player drafted. Credit: Trevor Ruszkowski-USA TODAY Sports
The Carolina Panthers are on the clock.
In a blockbuster transaction Friday (March 10), the Panthers traded their overall numbers. 9 and 61; a first round pick next year, a second rounder in 2025 and wide receiver D.J. Moore to the Chicago Bears for the top spot in the NFL Draft April 27.
This confirms that the Bears are banking on Justin Fields as their franshise quarterback and are building the team around him.
The Panthers are seeking a franchise quarterback and now will get the pick of t he 2023 litter, which includes a top four of Ohio State's C.. J. Stroud, Alabama's Bryce Young, Kentucky's Will Levis and Florida's Anthony Richardson.
After the combine that became my order of my preference, especially considering the Panthers are picking first and play in an outdoor stadium, subject to the whims of Mother Nature.
Young was No. 1 most the year but many teams backed off when he literally came up short at the Combine. He measured only 5-feet, ten inches....and an eighth. Good grief don't forget that 1/8th of an inch.
That at least makes him the same height as Arizona's Kyle Murray, the No. 1 overall pick in 2019, who has been criticized for needing to grow up, but that has more to do with maturity than height.
Not helping Young's security atop the list was an exceptional workout by Richardson, who checked in at 6-4, 244 and set Combine position records with a 40.5-inch vertical jump, a 10-foot, 5-inch broad jump; blazed 40 yards in 4.43 seconds and launched 65-yard passes with ease.
But playing quarterback goes far beyond athleticism and sources told us Richardsons's interviews were not as dazzling as his workouts. And with only 13 college games, we still have him as the fourth quarterback, although that might be in the top ten because of his upside.
Stroud, who is 6-3, 214. describes his own style as "Free flowing but still disciplined. Able to take the completion when it's there, but at the same time making plays. … what I like to do is extend plays and take the routine plays when they're routine. I don't try to press the envelope, and I think that's very important."
Barring some surprising turn of events, now the Carolina Panthers will decide who is the first quarterback drafted in 2023.
Here is a round-by-round list of every pick in the 2023 NFL Draft, No. 1 through No. 259. But first, a few details about this year's event:
When is the 2023 NFL Draft?
o Round 1: Thursday, April 27, beginning at 8 p.m. ET.
o Rounds 2 and 3: Friday, April 28, beginning at 7 p.m. ET.
o Rounds 4 through 7: Saturday, April 29, beginning at noon ET.
Where will this year's draft be held?
The 2023 NFL Draft will take place in the Kansas City, Missouri, downtown area, surrounding Union Station and the National WWI Museum and Memorial.
NOTES:
1. The NFL announced in August that the Miami Dolphins will forfeit their 2023 first-round pick and 2024 third-round pick following an investigation into whether the team violated league policies pertaining to the integrity of the game.
2. The NFL announced on March 9 that the Houston Texans will forfeit their 2023 fifth-round pick due to a salary cap reporting violation from the 2020 league year.
Here you go -- fill in the blanks:
1) Carolina Panthers (from Chicago)
2) Houston Texans
3) Arizona Cardinals
4) Indianapolis Colts
5) Seattle Seahawks (from Denver)
6) Detroit Lions (from L.A. Rams)
7) Las Vegas Raiders
8) Atlanta Falcons
9) Chicago Bears (from Carolina)
10) Philadelphia Eagles (from New Orleans)
11) Tennessee Titans
12) Houston Texans (from Cleveland)
13) New York Jets
14) New England Patriots
15) Green Bay Packers
16) Washington Commanders
17) Pittsburgh Steelers
18) Detroit Lions
19) Tampa Bay Buccaneers
20) Seattle Seahawks
21) Los Angeles Chargers
22) Baltimore Ravens
23) Minnesota Vikings
24) Jacksonville Jaguars
25) New York Giants
26) Dallas Cowboys
27) Buffalo Bills
28) Cincinnati Bengals
29) New Orleans Saints (from San Francisco through Miami and Denver)
30) Philadelphia Eagles
31) Kansas City Chiefs
32) Pittsburgh Steelers (from Chicago)
33) Houston Texans
34) Arizona Cardinals
35) Indianapolis Colts
36) Los Angeles Rams
37) Seattle Seahawks (from Denver)
38) Las Vegas Raiders
39) Carolina Panthers
40) New Orleans Saints
41) Tennessee Titans
42) Cleveland Browns
43) New York Jets
44) Atlanta Falcons
45) Green Bay Packers
46) New England Patriots
47) Washington Commanders
48) Detroit Lions
49) Pittsburgh Steelers
50) Tampa Bay Buccaneers
51) Miami Dolphins
52) Seattle Seahawks
53) Chicago Bears (from Baltimore)
54) Los Angeles Chargers
55) Detroit Lions (from Minnesota)
56) Jacksonville Jaguars
57) New York Giants
58) Dallas Cowboys
59) Buffalo Bills
60) Cincinnati Bengals
61) Chicago Bears (from San Francisco through Carolina)
62) Philadelphia Eagles
63) Kansas City Chiefs
64) Chicago Bears
65) Houston Texans
66) Arizona Cardinals
67) Denver Broncos (from Indianapolis)
68) Denver Broncos
69) Los Angeles Rams
70) Las Vegas Raiders
71) New Orleans Saints
72) Tennessee Titans
73) Houston Texans (from Cleveland)
74) New York Jets
75) Atlanta Falcons
76) New England Patriots (from Carolina)
77) Los Angeles Rams (from New England through Miami)
78) Green Bay Packers
79) Indianapolis Colts (Washington Commanders)
80) Pittsburgh Steelers
81) Detroit Lions
82) Tampa Bay Buccaneers
83) Seattle Seahawks
84) Miami Dolphins
85) Los Angeles Chargers
86) Baltimore Ravens
87) Minnesota Vikings
88) Jacksonville Jaguars
89) New York Giants
90) Dallas Cowboys
91) Buffalo Bills
92) Cincinnati Bengals
93) Carolina Panthers (from San Francisco)
94) Philadelphia Eagles
95) Kansas City Chiefs
96) Arizona Cardinals (Compensatory Selection)
97) Washington Commanders (Compensatory Selection)
98) Cleveland Browns (Special Compensatory Selection)
99) San Francisco 49ers (Special Compensatory Selection)
100) Las Vegas Raiders from Kansas City Chiefs through New York Giants (Special Compensatory Selection)
101) San Francisco 49ers (Special Compensatory Selection)
102) San Francisco 49ers (Special Compensatory Selection)
103) Chicago Bears
104) Houston Texans
105) Arizona Cardinals
106) Indianapolis Colts
107) New England Patriots (from L.A. Rams)
108) Denver Broncos
109) Las Vegas Raiders
110) Atlanta Falcons (from Tennessee)
111) Cleveland Browns
112) New York Jets
113) Atlanta Falcons
114) Carolina Panthers
115) New Orleans Saints
116) Green Bay Packers
117) New England Patriots
118) Washington Commanders
119) Minnesota Vikings (from Detroit)
120) Pittsburgh Steelers
121) Jacksonville Jaguars (from Tampa Bay)
122) Kansas City Chiefs (from Miami)
123) Seattle Seahawks
124) Baltimore Ravens
125) Los Angeles Chargers
126) Cleveland Browns (from Minnesota)
127) Jacksonville Jaguars
128) New York Giants
129) Dallas Cowboys
130) Buffalo Bills
131) Cincinnati Bengals
132) Carolina Panthers (from San Francisco)
133) Chicago Bears (from Philadelphia)
134) Kansas City Chiefs
135) New England Patriots (Compensatory Selection)
136) Chicago Bears
137) Buffalo Bills (from Arizona)
138) Indianapolis Colts
139) Denver Broncos
140) Cleveland Browns (from L.A. Rams)
141) Las Vegas Raiders
142) Cleveland Browns
143) New York Jets
144) Las Vegas Raiders (from Atlanta)
145) Carolina Panthers
146) New Orleans Saints
147) Tennessee Titans
148) Chicago Bears (from New England through Baltimore)
149) Green Bay Packers
150) Washington Commanders
151) Seattle Seahawks (from Pittsburgh)
152) Detroit Lions
153) Tampa Bay Buccaneers
154) Seattle Seahawks
155) San Francisco 49ers (from Miami)
156) Los Angeles Chargers
157) Baltimore Ravens
158) Minnesota Vikings
159) Atlanta Falcons (from Jacksonville)
160) New York Giants
161) Dallas Cowboys
162) Indianapolis Colts (from Buffalo)
163) Cincinnati Bengals
164) San Francisco 49ers
165) New Orleans Saints (from Philadelphia)
166) Kansas City Chiefs
167) Los Angeles Rams (Compensatory Selection)
168) Arizona Cardinals (Compensatory Selection)
169) Dallas Cowboys (Compensatory Selection)
170) Green Bay Packers (Compensatory Selection)
171) Los Angeles Rams (Compensatory Selection)
172) New York Giants (Compensatory Selection)
173) San Francisco 49ers (Compensatory Selection)
174) Las Vegas Raiders (Compensatory Selection)
175) Tampa Bay Buccaneers (Compensatory Selection)
176) Indianapolis Colts from Dallas Cowboys (Compensatory Selection)
177) Los Angeles Rams (Compensatory Selection)
178) Kansas City Chiefs (from Chicago through Miami)
179) Tampa Bay Buccaneers (from Houston)
180) Arizona Cardinals
181) Tampa Bay Buccaneers (from Indianapolis)
182) Los Angeles Rams
183) Detroit Lions (from Denver)
184) New England Patriots (from Las Vegas)
185) Jacksonville Jaguars (from N.Y. Jets)
186) Tennessee Titans (from Atlanta)
187) New England Patriots (from Carolina)
188) Houston Texans (from New Orleans)
189) Los Angeles Rams (from Tennessee)
190) Cleveland Browns
191) Los Angeles Rams (from Green Bay)
192) New England Patriots
193) Washington Commanders
194) Detroit Lions
195) Denver Broncos (from Pittsburgh)
196) Tampa Bay Buccaneers
197) Miami Dolphins
198) Seattle Seahawks
199) Baltimore Ravens
200) Los Angeles Chargers
201) Houston Texans (from Minnesota)
202) Jacksonville Jaguars
203) Houston Texans (from N.Y. Giants)
204) Las Vegas Raiders (from Dallas)
205) Buffalo Bills
206) Cincinnati Bengals
207) New York Jets (from San Francisco through Houston)
208) Jacksonville Jaguars (from Philadelphia)
209) New York Giants (from Kansas City)
210) New England Patriots (Compensatory Selection)
211) Minnesota Vikings (Compensatory Selection)
212) Dallas Cowboys (Compensatory Selection)
213) Arizona Cardinals (Compensatory Selection)
214) Las Vegas Raiders (Compensatory Selection)
215) Washington Commanders (Compensatory Selection)
216) San Francisco 49ers (Compensatory Selection)
217) Kansas City Chiefs (Compensatory Selection)
218) Chicago Bears
219) Philadelphia Eagles (from Houston through Minnesota)
220) Las Vegas Raiders (from Arizona)
221) Indianapolis Colts
222) San Francisco 49ers (from Denver)
223) Los Angeles Rams
224) Atlanta Falcons (from Las Vegas)
225) Atlanta Falcons
226) Jacksonville Jaguars (from Carolina)
227) New Orleans Saints
228) Tennessee Titans
229) Cleveland Browns
230) Houston Texans (from N.Y. Jets through Tampa Bay)
231) Las Vegas Raiders (from New England)
232) Green Bay Packers
233) Washington Commanders
234) Pittsburgh Steelers
235) Green Bay Packers (from Detroit through L.A. Rams)
236) Indianapolis Colts (from Tampa Bay)
237) Seattle Seahawks
238) Miami Dolphins
239) Los Angeles Chargers
240) New York Giants (from Baltimore)
241) Pittsburgh Steelers (from Minnesota through Denver)
242) Green Bay Packers (from Jacksonville)
243) New York Giants
244) Dallas Cowboys
245) New England Patriots (from Buffalo through Atlanta)
246) Cincinnati Bengals
247) San Francisco 49ers
248) Philadelphia Eagles
249) Kansas City Chiefs
250) Kansas City Chiefs (Compensatory Selection)
251) Los Angeles Rams (Compensatory Selection)
252) Tampa Bay Buccaneers(Compensatory Selection)
253) San Francisco 49ers (Compensatory Selection)
254) New York Giants (Compensatory Selection)
255) San Francisco 49ers (Compensatory Selection)
256) Green Bay Packers(Compensatory Selection)
257) New Orleans Saints (Compensatory Selection)
258) Chicago Bears (Compensatory Selection)
259) Houston Texans (Compensatory Selection)