Georgia DT Jalen Carter returns to Combine after arrest on fatal vehicle crash
By Frank Cooney, NFLDraftScout.com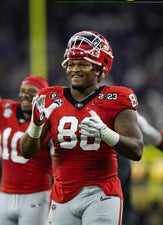 Jan 9, 2023; Inglewood, CA, USA; Georgia Bulldogs defensive lineman Jalen Carter (88) against the TCU Horned Frogs during the CFP national championship game at SoFi Stadium. Mandatory Credit: Mark J. Rebilas-USA TODAY Sports
INDIANAPOLIS -- Georgia star defensive tackle Jalen Carter reportedly returned here to the Combine Thursday after his departure Wednesday following his arrest on reckless driving and racing connected to a fatal vehicle crash in January.
The incident resulted in the deaths of a Bulldog teammate and a recruiting staff member.
Carter, NFLDraftscout.com's top rated defensive tackle and No. 4 overall prospect, returned to combine to finish team interviews, measurements, among other activities, according to ESPN's Adam Schefter. Carter was not expected to participate in workouts even befor his arrest Wednesday.
He was booked on the pair of misdemeanors at 11:33 p.m. ET Wednesday and released at 11:49 p.m. after posting a $4,000 bond, according to online records. An arraignment hearing in the case was set for April 18. The Atlanta Journal-Constitution reported Wednesday that Carter was present at the scene of the crash and later provided shifting accounts of the incident to police.
Carter released a statement on social media Wednesday afternoon that he expected to be "fully exonerated of any criminal wrongdoing."
The Athens-Clarke County (Georgia) Police Department issued an arrest warrant, obtained Wednesday by The Associated Press, which alleges Carter was racing his 2021 Jeep Trackhawk against the 2021 Ford Expedition driven by the recruiting staffer, 24-year-old Chandler LeCroy, which led to the Jan. 15 wreck.
Devin Wilcock, an offensive lineman for the Bulldogs, and LeCroy were killed in what police initially reported as a single-vehicle accident.
Reckless driving and racing are both misdemeanors in Georgia. Carter's representatives told police that they were "making arrangements for [Carter] to turn himself in," according to Shaun Barnett, a spokesperson for the Athens-Clarke County Police Department.
Details of the investigation, released Wednesday, cited evidence that Carter and LeCroy were "operating their vehicles in a manner consistent with racing" shortly before the crash.
"The evidence demonstrated that both vehicles switched between lanes, drove in the center turn lane, drove in opposite lanes of travel, overtook other motorists, and drove at high rates of speed, in an apparent attempt to outdistance each other," the police statement said.
Police investigators have determined that "alcohol impairment, racing, reckless driving, and speed were significant contributing factors to the crash." A toxicology report indicated that LeCroy's blood alcohol concentration was .197 -- more than twice the legal limit in Georgia -- at the time of the crash, according to police.
The SUV driven by LeCroy was traveling about 104 mph shortly before the crash.
"The charges announced today are deeply concerning, especially as we are still struggling to cope with the devastating loss of two beloved members of our community," Georgia coach Kirby Smart said in a statement. "We will continue to cooperate fully with the authorities while supporting these families and assessing what we can learn from this horrible tragedy."
According to documents and recordings of 911 calls reviewed by the Journal-Constitution, at least two vehicles driven by Georgia football players had been at the scene, including the Jeep driven by Carter, who left the scene before police or emergency personnel arrived.
Carter returned to the scene less than two hours later, according to the paper, which reported that he was asked by police whether he had been racing the vehicle that crashed.
Documents reviewed by the Journal-Constitution show that Carter first told police that he heard the crash from a nearby apartment complex, but then later told an officer he had been driving both behind and beside the SUV driven by LeCroy.
The Journal-Constitution also obtained surveillance video footage from multiple downtown locations in Athens taken the night of the crash. The footage, which also has been reviewed by police, shows three vehicles leaving the area at the same time: Carter's Jeep, LeCroy's Ford and a 2019 Dodge Charger driven by Bulldogs linebacker Jamon Dumas-Johnson.
Carter denied racing to the officer, who observed no signs that the 310-pound defensive lineman had been drinking, according to the Journal-Constitution.
The crash occurred hours after the Bulldogs celebrated winning back-to-back national championships with a parade and ceremony at Sanford Stadium. Willock was pronounced dead at the scene. He was 20. LeCroy died shortly after being taken to a hospital.
Police investigators said the Ford driven by LeCroy "failed to negotiate a left curve, resulting in the vehicle striking the curb with its front passenger tire and leaving the roadway on the west shoulder."
The SUV struck a Georgia Power pole and another utility pole, slicing the poles in half, before striking a tree on the rear passenger quarter panel. That sent the vehicle spinning in a clockwise direction before it slammed into another tree on the driver's side -- where LeCroy and Willock were sitting.
Offensive lineman Warren McClendon, who had just announced plans to enter the NFL draft, sustained minor injuries. Georgia football staffer Victoria Bowles was hospitalized with more serious injuries.
Georgia athletic department officials have stated that the SUV driven by LeCroy was to be used only for recruiting activities, not personal use.
---
Other Recent Stories
Frank discussion on top QB prospects with Panthers head coach: Is it revealing?
   With all eyes on the NFL Draft that begins April 27, Carolina Panthers head coach Frank Reich is On The Clock with the first pick in the 2023 player lottery. ...
read the full story
Shh, listen: Hear the NFL's quarterback frenzy getting even crazier
  The NFL's hyperactive quarterback scene was turbocharged the last two days at the Owners Meeting in Phoenix and elsewhere, not only by what was said, but by what ...
read the full story
Pro Day tracker for top 2023 quarterbacks
Despite reservations about the realistic value of Pro Day shows, NFLDraftScout.com dutifully tracks these hyped events for your edification. For our perspective ...
read the full story
Pro Daze: NFL's annual traveling circus is less than advertised
Updated March 30, 2023    Etiquette probably dictates that some subjects should be introduced by first saying, with all due respect.     So, there it is.     Now. ...
read the full story
Top DT Jalen Carter pleas no contest, limits legal exposure
Jalen Carter, NFLDraftScout.com's top-rated defensive tackle in the 2023 draft, pleaded no contest Thursday to misdemeanor charges of reckless driving and racing, ...
read the full story
Latest Player Notes
Ohio State Mitchell Melton
Mar 09, 2023: Defensive lineman Mitchell Melton has been medically cleared to participate in individual drills for Ohio State during spring ... read full note
Texas Quinn Ewers
Mar 09, 2023: Every position is open for the Texas Longhorns this spring. Every player will earn his starting role. For that reason, Quinn ... read full note
Texas Tech Cade Briggs
Mar 09, 2023: Backup offensive lineman Cade Briggs, who played in two games last season, was removed from the Texas Tech roster on Tuesday. ... read full note
Washington Dylan Morris
Mar 09, 2023: Dylan Morris came under heavy criticism as the starting quarterback for the Washington Huskies during their 4-8 season in ... read full note
South Florida Gerry Bohanon
Mar 09, 2023: Almost three months to the day after his hiring, new USF coach Alex Golesh staged the first spring practice of his tenure ... read full note
Washington Edefuan Ulofoshio
Mar 10, 2023: On the first day of his last year of college football, Edefuan Ulofoshio was back in the middle of it all Monday morning ... read full note
Washington State Isaiah Paul
Mar 10, 2023: Two months after joining Washington State's football team, Isaiah Paul is heading back to the portal. The senior linebacker, ... read full note
Southern California Eric Gentry
Mar 10, 2023: Linebacker Eric Gentry will miss all of spring practice following ankle surgery last month, Riley said. Gentry suffered a ... read full note
Ohio State Jack Sawyer
Mar 07, 2023: Where is Jack Sawyer? The former five-star recruit never really took that Year 2 jump some may have anticipated. His raw ... read full note
Colorado Cormani McClain
Mar 07, 2023: Getting two of the best young cornerbacks in the country to come to Boulder was the first step. Now, the Colorado coaches ... read full note