Finally — Aaron Rodgers officially traded to Jets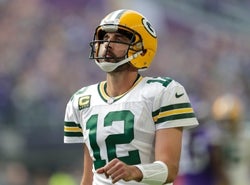 Green Bay Packers quarterback Aaron Rodgers (12) reacts after wide receiver Christian Watson (9) dropped a wide open long pass against the Minnesota Vikings on the first play from scrimmage during their football game Sunday, September 11, 2022, at U.S. Bank Stadium in Minneapolis, Min. Mjs Apc Packvsvikings 0911220140djp 114193024
Time to change those mock drafts.
Lengthy negotiations finally culminated Monday when the Green Bay Packers traded quarterback Aaron Rodgers — the longest-tenured player in franchise history — to the New York Jets.
The Packers move up two spots in the first round of Thursday's NFL draft, taking the Jets' No. 13 overall pick while giving up the No. 15 selection, according to multiple sources. The Packers also receive a second-round and sixth-round pick this year and a conditional 2024 second-round pick that becomes a first if Rodgers plays 65% of the offensive snaps this season.
Thus ends the ongoing drama that began in mid-March when Rodgers said he wanted to be transferred to the Jets. The four-time MVP was initially leaning towards retirement after a disappointing 2022 season, which ended with Green Bay missing the playoffs for the first time since 2018.
Now Rodgers goes into his 19th season with a Jets team that showed plenty of ability last year and seemed one quarterback away from making the playoffs.
Now the Jordan Love era begins for the Packers. Love made Rodgers' departure inevitable when they used a first-round pick in 2020 on the new quarterback.
The deal accelerates more than $40 million worth of dead-contract money onto the Packers' cap. Rodgers, who has a $31.6 million cap charge for 2023, is owed a $58.3 million bonus by the start of the regular season, but said previously said that might be negotiable.
Curiously, fifteen years after acquiring Brett Favre from the Packers, the Jets receive another multiple-MVP winner from Green Bay.
The Jets finished 7-10 last season, which ended with a six-game losing streak that took them out of the AFC playoff race. Starting quarterback Zach Wilson, the second overall pick of the 2021 draft, was the lowest-rated passer (72.8) among those who qualified in 2022.
The Packers stock up on draft picks to help them rebuild around Love as the team tries to get back on the winning track. Green Bay hasen't taken a pass-catcher in the first round since Javon Walker in 2002. Green Bay's draft-day shopping list is topped by tight end, offensive line and defensive back.