E-W Shrine Highlights : Hope you took the under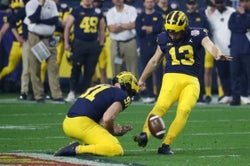 Michigan punter Brad Robbins holds the ball for Michigan kicker Jake Moody as he makes a 59-yard field goal in the second quarter of the Fiesta Bowl on Saturday, Dec. 31, 2022, in Glendale, Arizona.
The 98th annual East-West Shrine Bowl featured defense and kicking as the East prevailed, 12-3, Thursday night at Allegiant Stadium in Las Vegas.
So, aside from the children that benifit from this great classic, the biggest winners may have been those who took the under -- with over/under set at 37 points.
There were no touchdowns, but Michigan kicker Jake Moody went 4 for 4, hitting two field goals of 51 yards and two tries from 35 yards and won the Offensive MVP honor.
"It's a dream come true," Moody told NFL Network's Mike Yam after the victory. "I got to give a shout out to my holder and my snapper, (Penn State's) Chris Stoll and (Oklahoma's) Michael Turk. They did a great job. Made my job really easy. Shout out to the O-line as well. Blocking for me, that's not a fun job. I got to give them all the credit in the world. They allowed me to do my job."
The two teams combined for only 427 yards and each had two turnovers, with Defensive MVP Trey Dean III accounting for a pivotal takeaway. The Florida safety picked off a pass from Minnesota quarterback Tanner Morgan that bounced off his intended target's hands on first-and-goal for the East team late in the first half, ending a precious scoring chance.
Running backs had the most explosive plays of the night, with the East's Jordan Mims (Fresno State) dashing for a 30-yard run and the West's Xazavian Valladay (Arizona State) collecting a a game-high 76 yards on 13 carries (5.8 yards per rush).
The week-long all-star event functions as a job interview for 100-plus of the 2023 NFL Draft's top prospects, who were coached by the staffs of the Atlanta Falcons and New England Patriots. Patriots wide receivers/kickoff returners coach Troy Brown served as head coach of the West team, while the Falcons special teams coordinator Marquice Williams was head coach of the East squad.
"These guys came out and they played hard. They prepared well all week long," Brown told Yam. "The bottom line is we just had to come out on top some kind of way. And these guys did it. Thank God we had a great kicker on our football team, too."
Last year's East-West Shrine Bowl included Offensive Rookie of the Year finalist Brock Purdy among its participants, along with 13 of the 2022 NFL Draft's top 150 picks.
Here are some observations from the Patriots coaches, per Patriots.com and NFL Network.
-- According to the NFL Network broadcast, the Patriots coaching staff was raving about three players during prep meetings with the broadcast team: Southern Miss corner Eric Scott Jr., NC State linebacker Isaiah Moore, and Utah linebacker Mo Diabate. Diabate is an athletic, versatile linebacker who took over for Devin Lloyd in the middle of the Utes' defense last season. A solid pro comparison for him would be Pats linebacker Mack Wilson. As for Scott, he has traits to play in a press-man system and could be the next late-round or UDFA find for New England at the position.
Moore was added late to the roster and didn't stand out during live practice viewings. However, after reviewing the practice film, you see an impressive ability to diagnose plays against the run. He made a great play in coverage during the game, where he carried the tight end up the seam to break up the pass. Moore was also a three-time team captain for the Wolfpack. Take note.
-- Shrine Week Standouts CB Nic Jones, S Trey Dean, and DE Haba Baldonado continue to Improve Draft Stocks.
Observers raved about Ball State's Nic Jones and Florida safety Trey Dean, and they came through in the game. Jones' footwork, cover talent to mirror receivers in man coverage, and breaks on the ball with above-average length are coveted traits for New England. He also made up for a holding call that wiped out an interception by picking off a pass later on as a cover-two corner in the flat, where he fell underneath the crosser.
--Defensive MVP: Dean and the football meet up a high percentage of thee time. The Florida safety showed in the game how he can aggressively attack the line of scrimmage in run support, play in the slot or second level of the defense, and be a ball magnet as a deep safety. Dean's versatility, play demeanor, and ability to find the football scream Patriots safety, and it helps that he balled out on their squad.
--Pittsburgh's Haba Baldonado has a great story and is a good football player. Baldonado is from Rome, Italy, and only played one year of high school football in the United States. Despite being inexperienced, Baldonado has an impressive feel for the game and is an explosive athlete. He logged two quarterback pressures and a TFL on Thursday night, closing the game with a great T/E stunt that forced an incomplete pass on fourth down. Baldonado has a Patriot-like skill set.
--West Team and Former UCLA QB Dorian Thompson-Robinson had a heavy workload.
Most of the reps under center for the West team went to UCLA quarterback Dorian Thompson-Robinson, who impressed scouts as a passer in Vegas. DTR has been working with throwing coach Jordan Palmer, leading to more velocity on his throws. The Pats coaching staff also put DTR back in the game for the two-minute drill to end the first half. He didn't lead a scoring drive, but he did throw a hail mary over 60 yards in the air.
Thompson-Robinson made great throws over the middle of the field, especially off play-action, where we saw some Patriots staples. Above, the West team ran play-action from the gun, and DTR threw with anticipation while the pocket was collapsing to throw the glance route open in the second window on the other side of the linebacker. Thompson-Robinson is a great runner, flashing his elusiveness on Thursday night. But he improved his draft stock as a thrower.
-- Due to the setup on the practice fields at UNLV, kickers were not that obvious during practice. They worked inside the Raiders practice facility on the final day of practice, so Thursday night's game was Moody's job interview. The Michigan kicker passed the test by drilling all three field goals, including two 51-yarders, and had two touchbacks. With Patriots kicker Nick Folk getting up there in age, Moody, who won the Lou Groza Award for the top kicker in the nation for the 2021 season, could be worth a look for New England.
--Can Stephen F. Austin EDGE BJ Thompson get a Combine Invite?
Despite being an absolute freak athlete, Thompson still needs to be invited to the NFL Scouting Combine. During workouts at Stephen F. Austin, Thompson put on a show by broad jumping over 11 feet at 6-5, 238 pounds. At that size, Thompson projects as a developmental situational pass-rusher in a small school Josh Uche mold.
Although the DLs struggled during practice, in the game, Thompson showed sensational, first-step explosiveness and ability to bend around the corner, looking very much like the guy who did indeed turn in an 11-foot standing broad jump.
--Cliff Harris Award winner Caleb Murphy flashed his pass-rushing talent in one-on-ones during practice, which continued in the game. Murphy had an NCAA record 25.5 sacks for Ferris State last season, winning the small college Defensive Player of the Year award. Who won the award for the 2021 season? Patriots sixth-rounder Sam Roberts, who also played in the Shrine Bowl.
Murphy's sack came in the two-minute drill for the West squad, where the East defense held them out of scoring territory. Although the initial pressure came from Ikenna Enechukwu, Murphy continued to work on the right tackle to get the quarterback on the ground. Murphy uses power to dent the edge, and we also saw a quick inside counter when tackles overset. Although Ferris State is a division two program, 25.5 sacks in 15 games is absurd.