CFB Rivalry Week: Feel Free to Hate Thy Neighbor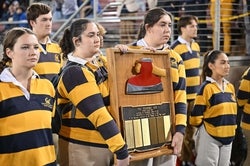 Nov 18, 2023; Stanford, California, USA; Members of the California Golden Bears axe hold the Stanford Axe during the stare down with members of the Stanford Cardinal axe committee during the fourth quarter at Stanford Stadium. Mandatory Credit: Robert Edwards-USA TODAY Sports
Editor's note: Versions of this story are published here and there every year and we love every one of them. This is our take this year, and we are sticking to it.
This is the time of the college football season to be even more irrational and one-sided than usual. It will become so wild that somebody on ESPN's College GameDay, heavily sponsored by Dr. Pepper, might even sneak a Coca-Cola on the set.
This is college football rivalry week, where two schools in close proximity all over the country get a major attitude and play for some trophy symbolic of their vitriol towards each other.
Inside story, video on Kick Six, historic Iron Bowl game
Growing up, or at least aging, in the San Francisco Bay Area, the big college football hubbub at this time of the year is between Cal and Stanford, which carries a misnomer of a title most seasons -— THE BIG GAME!
When we began covering college games all over the country in the 1960s, it became obvious that the annual Cal-Stanford battle for "The Axe" is pretty tame compared to other neighborhood or regional rivalries, that Cal kickoff return into the Stanford band in the end zone notwithstanding.
We were particularly overwhelmed by a ruckus in the Deep South between Auburn and Alabama, known as "The Iron Bowl," a series that included unforgettable games with names, including "Punt-Bama-Punt," Kenny Stabler's fabled "Run in the Mud," and "The Kick Six."
This was the final year for Cal and Stanford's Big Game as part of the Pac-pick-a-number-Conference, known, in order of historical growth as:
—The Pacific Coast Conference (Dec. 2, 1915), Athletic Association of Western Universities (AAWU), the Big Five, Big Six.
—The Pacific-8 after Oregon and Oregon State joined in 1962.
—The Pacific-10 with the addition of Arizona and Arizona State in 1978
—The Pacific-12, or Pac-12, after Colorado and Utah joined in 2010.
Nicknamed the "Conference of Champions," the Pac-12 won more NCAA national championships in team sports than any other conference in history, according to its website, which must be correct, right?
Anyway, they snuck in the so-called Big Game before Rivalry Week as Cal beat Stanford, 27-15, last Saturday to keep The Axe and maintain bowl hopes with a 5-6 record. This Saturday, Cal faces UCLA, which also got the jump on Rivalry Week last Saturday by unceremoniously dumping defenseless — very defenseless — USC, 38-20. Stanford, 3-8, will end its season this weekend against Notre Dame.
So, a minute of silence for our revered memories going back to the Pac-8, when we covered games that included great players, coaches and characters such as Dan Fouts, Jim Plunkett, Chuck Muncie, Wes Walker, Joe Roth, O. J. Simpson, Warren Moon, Sonny Sixkiller, Dee "The Great Pumpkin" Andros, Bill "Earthquake" Enyart, John McKay, Jim Sweeney, John Ralston, John Elway, Mark (NCIS) Harmon (whom I once referred to on deadline by his Heisman-winning father's name, Tom) and so many more.
58, 59, 60…reminiscing time is up.
Back to Rivalry Week:
Here is a quick look at 13 rivalry games this weekend:
All times Eastern
Thursday
Ole Miss @ Mississippi State
AKA: The Egg Bowl
Kickoff: Thursday, 7:30 p.m., ESPN & ESPN App
Series: Ole Miss 64-47-6 (according to Ole Miss); 66-46-6 (according to Miss. State)
Streak: Mississippi State, 1
Summarizing Rivalry: C.R. "Dudy" Noble, the namesake for Mississippi State's baseball field, played four sports at Mississippi State (then known as Mississippi A&M), then coached baseball, basketball and football at Ole Miss for parts of the 1917–'19 seasons, before returning to coach at Mississippi State, most notably baseball. He later became Mississippi State's longtime athletic director. Noble famously told a sports writer: "I already know what hell is like. I once coached at Ole Miss." A close second place in the quote department goes to former Mississippi State coach Jackie Sherrill. When Sherrill was hired in 1991, Ole Miss coach Billy Brewer called Sherrill a "habitual liar." Sherrill countered by saying that Brewer "didn't know what the word habitual meant."
Oregon State @ Oregon
AKA: The schools did away with Civil War moniker in 2019
Kickoff: Friday, 8:30 p.m., Fox
Series: Oregon, 67-49-10 (acc. to Oregon State); Oregon, 66-51-10 (acc. to Oregon)
Streak: Oregon State, 1
Summarizing Rivalry: At the risk of leaving out "No Natty for you" guy, this quote by running back Ryan Nall in advance of the 2017 matchup sums up the dynamic the two schools have with each other: "I remember [at last year's game] seeing that our sideline was jumping around, and we didn't have raincoats on," Nall said. "And then I saw the fancy Nike Duck raincoats on. And I remember thinking, 'We're going to beat them. They're not prepared for these elements.'" Nall was right. Oregon State beat the Ducks that day. But his trash talk was thrown back in his face during the 2017 game, as Oregon trounced the Beavers 69-10.
Saturday
Ohio State @ Michigan
​​AKA: The Game
Kickoff: Saturday, noon, Fox
Series: Michigan, 60-51-6
Streak: Michigan, 2
Summarizing Rivalry: "I can assure you that you will be proud of our young people in the classroom, the community and, most especially, in 310 days in Ann Arbor, Michigan." — new Ohio State coach Jim Tressel at a Buckeyes basketball game, after being hired to replace John Cooper, who went 2-10-1 against Michigan.
Kentucky @ Louisville
AKA: Governor's Cup
Kickoff: Saturday, noon, ABC and ESPN App
Series: Kentucky, 19-15
Streak: Kentucky, 4
Summarizing Rivalry: Although the two schools initially played in 1912, the rivalry went dark from 1924 until 1994. When the rivalry kicked off again, Louisville was considered an upstart program, while Kentucky was already battling in the difficult SEC East. Former Kentucky coach Bill Curry summed up the general feeling for the Wildcats, who saw the game as an obstacle, while Louisville saw opportunity: "To add another stem-winder, another gut-check game, was just not smart scheduling on our part, whereas for Louisville, it was a great thing." Kentucky prevailed 20-14.
Texas A&M @ LSU
AKA: Nothing, but Les Miles once had an idea: "We need a trophy. Somebody needs to come up with a trophy. There's so much petroleum right? On both ends. Maybe some kind of big petroleum something. No, not a barrel. A wrench or something."
Kickoff: Saturday, noon, ESPN and ESPN App
Series: LSU, 35-23-3
Streak: Texas A&M, 1
Summarizing Rivalry: "I hope they enjoyed it. I hope they put the score of last year's game too. I bet they didn't sell many cups on that one." — Orgeron to WAFB-TV in the spring of 2020, following LSU's 50-7 defeat of the Aggies in 2019, after Texas A&M sold cups at Kyle Field concessions stands with 2018's 74-72 score on them.
Alabama @ Auburn
AKA: Iron Bowl
Kickoff: Saturday, 3:30 p.m., CBS
Series: Alabama, 49-37-1
Streak: Alabama, 3
Wildest Game: Kick Six. At first, it looked as if the official review might save Alabama, which was one win away from reaching the SEC title game in 2013 and a shot at a third consecutive BCS National Championship appearance. With the contest tied at 28, running back T.J. Yeldon sprinted across midfield and ran out of bounds right as the play clock hit 0:00 on the field. But officials took another look and decided one second should be placed back on the clock — enough time for Alabama coach Nick Saban to have his place-kicker attempt a 56-yard field goal.
And just like that, the Kick Six was born. Adam Griffith's kick fell short. Chris Davis caught the ball in the back of the end zone, started running toward the middle of the field, then veered to his left. Alabama's field goal team was late getting into coverage and couldn't stop Davis from breaking containment, and he danced down the sideline for a touchdown. Auburn won the game, fans stormed the field and Alabama was stunned. Auburn went on to the SEC championship game and the BCS title game.
"First time I've lost a game that way," Saban said. "First time I've ever seen a game lost that way."
Summarizing Rivalry: From 1904 to 1988, every Iron Bowl was played in Birmingham, which was only an hour's drive from the University of Alabama but twice as far from Auburn. When Pat Dye took over as coach at Auburn in 1981, he wanted to change that. But his former boss, Bryant, said they'd never agree to it as long as he was still coaching. To which Dye famously replied, "You ain't gon' coach forever." Bryant reminded Dye that they had a contract to play in Birmingham through 1988. Fine, Dye said, they'd play the game in Auburn in 1989 then. And they did. The 11th-ranked Tigers upset No. 2 Alabama 30-20 in the first rivalry game ever played in their home stadium. Afterward, Dye told his team how much that meant to him: "Sure I'd like to be 11-0, but I wouldn't swap this year for any year that I've been at Auburn."
Arizona @ Arizona State
AKA: Territorial Cup
Kickoff: Saturday, 3:30 p.m., ESPN and ESPN App
Series: Arizona, 50-46-1
Streak: Arizona, 1
Summarizing Rivalry: "This rivalry goes back [to 1899]. The Territorial Cup has really emotional fan bases when it comes to this football game. It's one of longest rivalries in college football, so that's always good. The guys that have played in this game have competed in it; they understand the validity of it." — Sun Devils coach Herm Edwards, 2018.
Virginia Tech @ Virginia
AKA: Commonwealth Cup
Kickoff: Saturday, 3:30 p.m., ACC Network and ESPN App
Series: Virginia Tech, 60-38-5 (acc. to Tech); Virginia Tech, 58-38-5 (acc. to UVA)
Streak: Virginia Tech, 2 (and 17 of the past 18)
Summarizing Rivalry: In 1989, former Virginia Tech coach Frank Beamer was dealing with heart problems, which raised alarms when he collapsed on the sideline during the Hokies game with Virginia that year. It turns out, Beamer had actually been on the receiving end of an errant elbow during a tackle attempt. "So, I got this heart issue going," Beamer said, "I got a tooth knocked out, and we lost the game." No doubt the score was the one that bothered Beamer most.
Washington State @ Washington
AKA: Apple Cup
Kickoff: Saturday, 4 p.m., Fox
Series: Washington, 75-33-6
Streak: Washington, 1
Summarizing Rivalry: "One game doesn't make a season, but the people who say that haven't participated in the Apple Cup." — former WSU coach Mike Price
Florida State @ Florida
AKA: Sunshine Showdown
Kickoff: Saturday, 7 p.m., ESPN and ESPN App
Series: Florida, 37-27-2
Streak: Florida State, 1
Summarizing Rivalry: "You know what FSU stands for, don't you? Free Shoes University." — Spurrier
Georgia @ Georgia Tech
AKA: Clean, Old-Fashioned Hate
Kickoff: Saturday, 7:30 p.m., ABC and ESPN App
Series: Georgia, 70-39-5 (acc. to Georgia); 70-41-5 (acc. to Tech)
Streak: Georgia, 5 (and 18 of the past 21)
Summarizing Rivalry: "Lose to Tech, you don't put up a Christmas tree. That's my rule." — Erk Russell, whose family apparently went without the holiday tradition only four times in his 17 seasons as Georgia's defensive coordinator from 1964 to 1980.
Clemson @ South Carolina
AKA: Palmetto Bowl
Kickoff: Saturday, 7:30 p.m., SEC Network and ESPN App
Series: Clemson, 72-43-4
Streak: South Carolina, 1
Summarizing Rivalry: "They ain't Alabama. They ain't LSU. And they're certainly not Clemson. That's why Carolina's in Chapel Hill and USC's in California and the university in this state always has been, always will be, Clemson." — Tigers coach Dabo Swinney, 2011
North Carolina @ NC State
AKA: Carolina-State
Kickoff: Saturday, 8 p.m., ACC Network and ESPN App
Series: UNC, 68-38-6
Streak: NC State, 2
Summarizing Rivalry: "You might not hear much about that game around the country, and that's fine. But if you ever walk into a bar anywhere in the state of North Carolina and you see a guy in khakis and his Carolina polo staring at a guy in his jeans and an NC State T-shirt, clear the room, because it's about to go down." — Philip Rivers, NC State quarterback, 2000-03, who posted a 3-1 record vs. UNC