Top DT Jalen Carter pleads no contest, limits legal exposure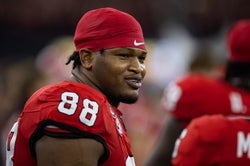 Jan 9, 2023; Inglewood, CA, USA; Georgia Bulldogs defensive lineman Jalen Carter (88) against the TCU Horned Frogs during the CFP National Championship Game at SoFi Stadium. Mandatory Credit: Mark J. Rebilas-USA TODAY Sports
Jalen Carter, NFLDraftScout.com's top-rated defensive tackle in the 2023 draft, pleaded no contest Thursday to misdemeanor charges of reckless driving and racing, a move that will limit his legal exposure going forward.
His punishment will be 12 months of probation, a $1,000 fine, 80 hours of community service and he must attend a state-approved defensive driving course.
His attorney, Kim Stephens, told ESPN that this will prevent the state from bringing additional charges against Carter. This is an important development as Carter must eliminate concerns of his availability for whatever NFL team opts to select him, which will probably be within the first five picks.
"We are happy that we were able to work with the solicitor general's office to reach a resolution that was fair and just based on the evidence in this case," Stephens said. "Mr. Carter continues to grieve for the loss of his friends and continues to pray for their families, as well as for the continued healing for injured friends."
In a statement to ESPN, Stephens said Carter did not cause a car wreck on Jan. 15, in which Georgia football player Devin Willock and recruiting staffer Chandler LeCroy were killed. Police alleged that LeCroy was driving an SUV that was racing Carter's SUV before the wreck. According to police, LeCroy's SUV was going 104 mph when it left the road and hit two power poles and several trees. Police said her blood alcohol concentration was .197, about 2 ½ times the legal limit in Georgia.
"If the investigation had determined otherwise, Mr. Carter would have been charged with the far more serious offenses of vehicular homicide and serious injury by vehicle under Georgia law, both felony offenses, and would have faced a lengthy prison sentence," Stephens said in a statement.
Stephens said Carter never left the accident scene without being told he could leave. According to Stephens, Carter stopped his car and ran toward the wrecked car while his passenger called 911.
"Even after being informed that he could leave, Mr. Carter returned to the scene at the request of the Athens-Clarke County Police Department to answer additional questions and continued to cooperate in the investigation," Stephens said.
Stephens said Carter had not been drinking alcohol and was not under the influence of alcohol or any illegal substances.
"If there had been any suspicion that Mr. Carter had consumed alcohol or used an illegal substance when Athens-Clarke County police officers and investigators spoke to him at the scene, following the accident, they would have arrested him for DUI," Stephens wrote.
The no-contest plea came one day after Carter worked out in front of scouts and coaches from all 32 NFL teams at Georgia's pro day. He didn't speak to reporters Wednesday after missing his media session at the NFL scouting combine two weeks ago.
Carter weighed 323 pounds at the pro day — nine pounds heavier than he was at the combine. He only did position drills, which he didn't finish, and did not take part in other tasks, including the 40-yard dash and cone drills.
Carter worked out in front of scouts and coaches from all 32 NFL teams in Georgia's indoor facility. Three head coaches — the Falcons' Arthur Smith, Bears' Matt Eberflus and Steelers' Mike Tomlin — were in attendance.
Carter, 6-foot-3, also didn't work out in front of scouts at the NFL combine in Indianapolis on March 2. He was only measured and had interviews with NFL teams. He did not speak to reporters in Athens on Wednesday after missing his media session at the combine.
Carter had to leave the combine on March 1 to return to Georgia, where he was arrested on misdemeanor charges of racing and reckless driving. Carter was briefly jailed before posting bond and returning to the combine.
Stephens, told ESPN on Tuesday that Carter will be required to appear in Athens-Clarke Municipal Court on April 18, nine days before the start of the NFL draft. Georgia coach Kirby Smart spent time speaking to Tomlin, Smith and others on Wednesday.
"I can speak to the competitive character of the young man," Smart told ESPN. "I got to see it every day in practice and every day in games. It shows tremendous committed character to have two injuries that you could have quit playing [but came back]. He could have sat out the rest of the year.
"He wanted to come back. He wanted to win football games. One of the greatest traits Jalen has is his teammates, his brothers. He endears himself to his teammates and wanted to come back for those guys."