Pro Day Calendar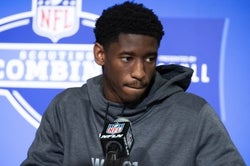 Mar 3, 2023; Indianapolis, IN, USA; Southern California wide receiver Jordan Addison (WO01) speaks to the press at the NFL Combine at Lucas Oil Stadium. Mandatory Credit: Trevor Ruszkowski-USA TODAY Sports
With the Indianapolis Combine in the books, the annual road trip to campus Pro Day workouts is next.
While there were some standout performances at the Combine, several top players deferred to their Pro Day, including quarterbacks Bryce Young of Alabama and (March 23) and Ohio State's C. J. Stroud, who appear in contention as the first two quarterbacks in the draft.
Here is a calendar on the Pro Days. We will report results as they are verified.
Date College
03/07/23 Indiana
03/08/23 Columbia
03/08/23 Miami (OH)
03/08/23 UNLV
03/08/23 Hawaii
03/09/23 Harvard
03/09/23 Nevada
03/09/23 Texas State
03/09/23 Illinois State
03/09/23 Texas
03/09/23 Prairie View AM
03/09/23 Monmouth (NJ)
03/09/23 Purdue
03/10/23 Illinois
03/10/23 Rice
03/10/23 Southeast Missouri
03/12/23 Grand Valley State
03/13/23 Oregon State
03/13/23 South Carolina
03/13/23 Western Michigan
03/13/23 Coastal Carolina
03/13/23 Louisiana-Monroe
03/14/23 Northwestern
03/14/23 Oregon
03/14/23 Clemson
03/14/23 Louisiana Tech
03/15/23 Mercer
03/15/23 Michigan State
03/15/23 Minnesota
03/15/23 UCLA
03/15/23 Louisiana
03/15/23 Central Michigan
03/15/23 Kent State
03/15/23 Air Force
03/15/23 Georgia
03/15/23 Colorado
03/16/23 Eastern Michigan
03/16/23 Tulane
03/16/23 Army
03/16/23 Arizona
03/16/23 Georgia Tech
03/16/23 Georgia State
03/16/23 Buffalo
03/17/23 Michigan
03/17/23 San Diego
03/17/23 Georgia Southern
03/17/23 San Diego State
03/20/23 Iowa
03/20/23 James Madison
03/20/23 Syracuse
03/20/23 Toledo
03/20/23 Bowling Green
03/20/23 Northern Iowa
03/20/23 Stony Brook
03/20/23 South Alabama
03/21/23 Maine
03/21/23 Ohio
03/21/23 Princeton
03/21/23 Stephen F. Austin
03/21/23 Troy
03/21/23 Auburn
03/21/23 Iowa State
03/21/23 Rutgers
03/21/23 Liberty
03/21/23 Southern California
03/22/23 Alabama-Birmingham
03/22/23 Ohio State
03/22/23 Bryant
03/22/23 Connecticut
03/22/23 Stanford
03/22/23 Temple
03/22/23 Texas-San Antonio
03/22/23 Weber State
03/22/23 Southern Methodist
03/22/23 Delaware
03/22/23 Nebraska
03/22/23 Utah State
03/22/23 New Mexico State
03/22/23 Virginia
03/22/23 Virginia Tech
03/22/23 Marshall
03/23/23 Alabama
03/23/23 Cincinnati
03/23/23 Houston
03/23/23 Holy Cross
03/23/23 Utah
03/23/23 William & Mary
03/23/23 Wisconsin
03/23/23 Yale
03/23/23 California
03/23/23 Massachusetts
03/23/23 Merrimack
03/23/23 Eastern Kentucky
03/23/23 Northern Illinois
03/24/23 Boston College
03/24/23 Kentucky
03/24/23 Missouri
03/24/23 Old Dominion
03/24/23 San Jose State
03/24/23 Brigham Young
03/24/23 Penn State
03/24/23 Texas Southern
03/24/23 Notre Dame
03/27/23 Boise State
03/27/23 Memphis
03/27/23 North Carolina
03/27/23 West Virginia
03/27/23 Miami
03/27/23 Sam Houston
03/27/23 Duke
03/27/23 Jackson State
03/27/23 Ball State
03/27/23 Southern Miss
03/27/23 Arkansas-Pine Bluff
03/27/23 Tennessee-Martin
03/27/23 Florida International
03/27/23 Baylor
03/27/23 Arizona State
03/28/23 Arkansas State
03/28/23 North Carolina State
03/28/23 Shepherd
03/28/23 Texas AM
03/28/23 Vanderbilt
03/28/23 East Carolina
03/28/23 Tulsa
03/28/23 Central Arkansas
03/28/23 Middle Tennessee
03/28/23 Mississippi State
03/28/23 California (PA)
03/28/23 Florida Atlantic
03/28/23 Washington State
03/28/23 Louisville
03/29/23 Arkansas
03/29/23 LSU
03/29/23 Maryland
03/29/23 Incarnate Word
03/29/23 North Dakota State
03/29/23 North Texas
03/29/23 Oklahoma State
03/29/23 Pittsburgh
03/29/23 Wake Forest
03/29/23 Washington
03/29/23 Western Kentucky
03/29/23 Texas Tech
03/29/23 Morgan State
03/29/23 North Dakota
03/29/23 Akron
03/29/23 Duquesne
03/29/23 South Florida
03/29/23 Mississippi
03/29/23 Central Florida
03/30/23 Appalachian State
03/30/23 Oklahoma
03/30/23 Texas Christian
03/30/23 Ouachita Baptist
03/30/23 Tennessee
03/30/23 Florida
03/30/23 Charlotte
03/30/23 Fresno State
03/30/23 Wyoming
03/31/23 Florida State
03/31/23 Kansas
03/31/23 Kansas State
03/31/23 Chattanooga
03/31/23 South Dakota State
03/31/23 Colorado State
04/05/23 Montana State
---