Tracking Top Prep QB recruits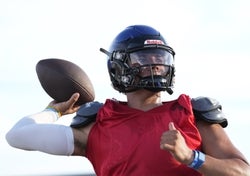 Quarterback Dylan Raiola throws during a scrimmage when he was still in Arizona
Most high school teams played at least one game. Working off 247 Sports Composite list, with comments from prep journalists such as The Athletic's Grace Raynor, we follow the action from top 2024 quarterback recruits through the season
Among the top 10, only No. 9, Georgia commit Ryan Puglisi did not play. His first game is Sept. 9.
This week's observations:
1. Dylan Raiola
School: Buford (Ga.) High
Committed to: Georgia
Ranking: No. 1 nationally, No. 1 QB
Raiola transferred from Pinnacle High in Phoenix to Buford High — just outside of Atlanta — in June. Raiola seems settled in according to Buford offensive coordinator Gus Condon. The Wolves are 2-0, thanks to an 18-0 win over national power Baltimore St. Frances in Week 1 and a 10-7 victory at Mallard Creek (N.C.) High on Friday night.
Raiola was 15-of-27 passing against Mallard Creek for 188 yards and a touchdown, and 13-of-25 for 184 yards and two touchdowns against St. Frances, the home of Oregon quarterback commit Michael Van Buren and seven 2024 prospects bound for the Power 5. St. Frances' defensive front, Condon said, was as dominant of a group as Buford will see all season.
"If you look at his completion percentage without the drops, he's clicking on about 70 percent," Condon said. "He's 28-of-52 right now, which is about 54 percent, but (we had) two drops in Week 1 and then six drops Friday.
"He's operating really efficiently. His presence in the pocket, his ability to move and navigate a chaotic pocket — he's levelheaded and he doesn't get rattled. So that's really impressive."
Condon said Raiola has impressed him with his ability to pick up Buford's system in just about seven weeks and that both his football knowledge and pedigree as the son of former Detroit Lions center Dominic Raiola have been on full display. Condon asks much of the quarterbacks in his system, which includes setting protections in the passing game, shifting those protections if necessary and identifying the mike linebacker in the run game.
"Six seconds before the snap is most important for him," Condon said. "And that's where he operates at his best."
Raiola has also been masterful at squeezing throws into tight windows and anticipating where his receivers will be before he lets go of the ball. Florida State safety commit KJ Bolden, who plays both ways for Buford, has been a popular target, with the duo already linking up for touchdowns in each of the Wolves' first two games.
Condon has been impressed with Raiola's intangibles. The quarterback shows up for a 6:15 a.m. workout before school three times per week — independent of his required football activities. He meets with Condon frequently. And he's fitting in well with his new teammates.
Next up: The Wolves travel to North Cobb, a top-10 Georgia team, on Friday.
"It's been first class. He brings the offensive line donuts, he brings teammates to his house," Condon said. "Kids get caught up in numbers and all their production and it's a me, me, me deal, and he's not that guy. He puts his team before himself. He puts this program before himself."
2. Julian Sayin
School: Carlsbad (Calif.) High
Committed to: Alabama
Ranking: No. 5 nationally, No. 2 QB
Sayin and Carlsbad beat Mater Dei Catholic 48-14 on ESPN2 late Saturday night, and to say the future Alabama quarterback put on a show would be an understatement.
Sayin finished with 200-plus all-purpose yards and three touchdowns. This came a week after Carlsbad beat Inglewood 29-6 in the season opener.
3. Air Noland
School: Fairburn (Ga.) Langston Hughes
Committed to: Ohio State
Ranking: No. 22 nationally, No. 3 QB
Ohio State's future quarterback opened the season Aug. 18 with a national matchup against Carrollton (Ga.) High, the home of four-star Alabama tight end commit Caleb Odom and the top quarterback in the Class of 2026, recent USC commit Julian Lewis.
Noland and Langston Hughes trailed the Trojans in the nationally televised matchup that aired on ESPN2. With 1:20 to play and Langston Hughes down a point, coaches called a corner post for Noland's tight end. But Noland, the experienced senior, saw that his outside receiver would be open on an out-and-up and made the decision to follow his intuition.
"He just gave (the receiver) the out-and-up signal and he ran it," Langston Hughes coach Daniel "Boone" Williams said. "Air wanted to create a few more seconds, he said, so he could set his feet and get a good throw. And he did.
"Sometimes he and the receivers have full autonomy. If they see something they like, they can take it. I don't have a problem with it. And that was one of those situations."
Noland also had this throw on the run, which showed how innovative he can be at any given moment:
"His pocket presence has been — he's been touched, let's say, 12 times in high school. So he's very aware," Williams said. "Some plays take a little bit longer to develop, and he understands those. He always has a sense for if the pocket collapses."
On Friday, Langston Hughes beat McEachern (Ga.) High 40-9 to improve to 2-0.
Nolan is 21-of-34 for 325 yards with three touchdowns and no interceptions.
"It wasn't a crisp 40-9," Williams said. "At halftime, I think we were up 14-9, so he took the offense by storm at halftime and an offensive coach didn't say anything to them. He said something to them. He self-reflected in front of everybody at halftime, and it was big.
"He's a great kid. Phenomenal."
4. DJ Lagway
School: Willis (Texas) High
Committed to: Florida
Ranking: No. 27 nationally, No. 4 QB
Willis opened its season Friday night against Rudder (Texas) High with a 52-21 victory in which Lagway absolutely dazzled.
The Florida commit was 21-of-23 passing for 436 yards and seven touchdowns. He also rushed for 35 yards and another score. Willis coach Trent Miller said Lagway played about seven snaps in the third quarter, with the Wildcats running the ball on all seven plays — meaning Lagway amassed his 400-plus passing yards in the first half alone.
"He played tremendous," Miller said. "Everybody in the country has high expectations for him every time he touches the field, and we certainly do, too. He's had a tremendous offseason, and he got up and got to the school (Friday) morning and he just had that look in his eye."
Miller said Lagway's most impressive throw had to have been a 50-yarder to wide receiver Imauree Holmes, whom he hit in stride for a touchdown after he was blitzed off the edge, shuffled to his left and threw the ball off his back foot.
Had it not been for two mishaps with receivers, Miller believes Lagway would have been a perfect 23-of-23 on the night.
"He played lights out. I don't think he threw an incompletion until his ninth or 10th throw of the night," Miller said. "He was in midseason form, for sure."
5. CJ Carr
School: Saline (Mich.) High
Committed to: Notre Dame
Ranking: No. 45 nationally, No. 5 QB
Before his future team, Notre Dame, clobbered Navy 42-3 in Ireland, Carr's Saline team beat Brighton (Mich.) High by the same score Thursday.
Carr was 21-of-28 passing for 309 yards, one touchdown and one interception, according to the Detroit Free Press.
Carr was impressive with his legs:
The Fighting Irish could be in an ideal scenario at the quarterback position, presuming Sam Hartman continues to play at his usual level this season before Carr comes in next year. As our Pete Sampson wrote this weekend from Ireland, the Fighting Irish's disadvantage at quarterback has been the program's biggest issue in the College Football Playoff era. Suddenly, things are looking up — both in the present day and for the foreseeable future.
6. Luke Kromenhoek
School: Savannah (Ga.) Benedictine Military School
Committed to: Florida State
Ranking: No. 47 nationally, No. 6 QB
In an upcoming recruiting Q&A, 247Sports analyst Cooper Petagna mentions that Kromenhoek is probably his favorite prospect in the Class of 2024.
Kromenhoek didn't have the most flashy week one performance , statistically, but he showed impressive plays playing only three quarters in a 43-0 win.
The Florida State commit is still learning the ins and outs of the quarterback position, having played safety, receiver and tight end for his first two years of high school. But he's off to a strong start for his senior season, with Benedictine Military having defeated Julius Chambers (N.C.) High 42-9 on Friday. Kromenhoek and the Cadets also beat Jenkins (Ga.) High 42-0 to open the season last week, with the game ending after three quarters due to multiple fights among fans, according to The Savannah Morning News.
7. Jadyn Davis
School: Charlotte (N.C.) Providence Day School
Committed to: Michigan
Ranking: No. 66 nationally, No. 7 QB
The Michigan commit has wasted no time in getting off to a scorching start with Providence Day, which includes:
Going 24-of-35 for 499 yards and five touchdowns in a 42-35 season-opening win against Rock Hill (S.C.) Northwestern.
Completing 16 of 19 pass attempts for 250 yards and three touchdowns in a 47-7 win against Asheville (N.C.) High.
This throw, with defenders dripping all over him and his receiver in double coverage, should have Michigan fans amped for his arrival:
And his connection with fellow Michigan commit Channing Goodwin shows a glimpse of what the Wolverines can expect in the future:
Michigan QB commit Jadyn Davis (@iamjadyndavis) hits fellow Michigan commit Channing Goodwin (@ChanningGoodwin) for an 80-yard TD.
This 2024 class has been very impressive to open the season, but Davis might be the MVP through the first two weeks.
8. Jake Merklinger
School: Savannah (Ga.) Calvary Day School
Committed to: Tennessee
Ranking: No. 95 nationally, No. 8 QB
Merklinger was off this week after Calvary Day beat Savannah (Ga.) Islands High 49-8 on Aug. 18. It was an easy outing for Merklinger, who was 9-of-16 passing for 199 yards and four touchdowns with no interceptions.
Merklinger threw for 2,107 yards as a freshman and 2,513 yards as a sophomore before throwing for 1,987 yards as a junior a season ago. Expect another big season for the senior, who threw for 32 touchdowns against just two interceptions last year.
No. 9. Ryan Puglisi
—DNP—
10. Elijah Brown
School: Santa Ana (Calif.) Mater Dei
Committed to: Stanford
Ranking: No. 145 nationally, No. 10 QB
Brown's Mater Dei team might have a new head coach for the first time in 30-plus years, but the Monarchs are still playing at the same standard, opening the season 2-0.
Mater Dei first beat Centennial 28-14 before beating Bingham (Utah) High 48-14 this week. Brown, who has still lost only one game in his high school career, seems to be in midseason form: