Prep Week 8: Mater Dei, Buford get back on track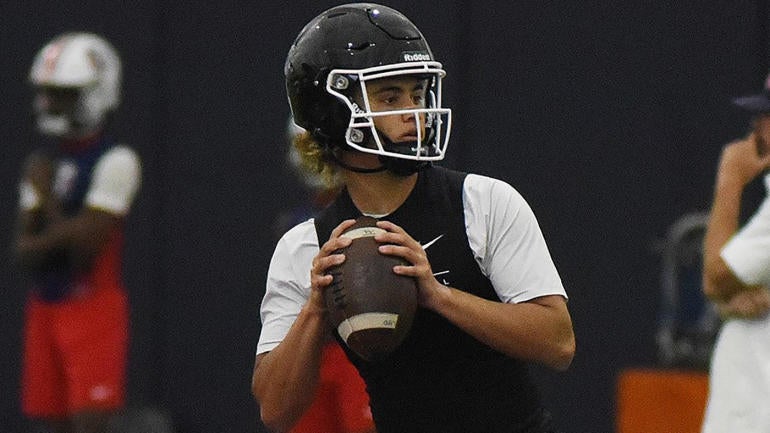 Sophomore quarterback sensation Julian Lewis
Two of the best prep teams in the nation bounced back from losses by running roughshod over opponents this week as No. 3 Mater Dei (CA) blasted Orange Lutheran, 55-12, Thursday night, and No. 12 Buford (Ga.) demolished Dacula, 66-0, Friday night.
In other notable games Friday, No. 1 St. John Bosco (CA) handled JSerra, 42-20; No. 2 Bishop Gorman (Las Vegas) beat Coronado (Henderson, NV), 49-7, and, in a matchup of two Hollywood, Florida high schools, No. 3 Chaminade-Madonna (Fla.) crushed Avant Garde Academy, 66-0.
Chaminade-Madonna was dominant and needed only a modest contribution by wide receiver Jeremiah Smith in his first game after being promoted to the No. 1 overall 2024 recruit by several services, including NFLDraftScout.com.
Smith caught four passes for 32 yards and a touchdown in the easy win. In September, the 6-4, 210-pound receiver gained attention, and a boost in his rating, with 17 catches for 328 yards and three touchdowns to hand Bergen Catholic what is still its only loss, 61-21.
See NDS Prep Player Ratings here.
Looking further into the future of top recruits, No. 44 Carrollton (Ga.) and sophomore quarterback sensation Julian Lewis, a 2026 commit to USC, continued to roll since a season-opening 39-34 loss to Langston Hughes (Fairburn, Ga.). The Trojans made it eight consecutive wins with a 31-7 victory over Westlake.
Southern California power Mater Dei was No. 1 before losing to regional rival St. John Bosco last week, 28-0, and Buford was No. 8 until being surprised by Mill Creek, 31-24.
Mater Dei scored points on nine of its 10 possessions in a Trinity League matchup at Orange Coast College.
Mater Dei senior quarterback Elijah Brown was efficient and deadly as he went 7-of-8 passing for 191 yards and four touchdowns.
Mater Dei touchdowns were scored by Ajon Bryant on runs of 25 and 65 yards as well as (deep breath) Nathaniel Frazier on a 65-yard reception and on a 1-yard run, Marcus Brown on a 26-yard catch, Jonah Smith on a nine-yard reception, and Mark Bowman on a 45-yard reception. Joseph Gutierrez and Dominic Zante kicked field goals for the Monarchs.
Mater Dei wide receiver Marcus Brown, left, beats Orange Lutheran defensive back Nico Marchello to make the touchdown catch in the opening minutes of the Trinity League game against Orange Lutheran in Costa Mesa on Thursday, October 19, 2023. (Photo by Paul Rodriguez, Contributing Photographer)
Mater Dei first-year head coach Frank McManus liked how his team recovered so well from last week's loss.
"I think there was a renewed focus, a renewed energy after the guys got past the depression. All the angers you go through when you have a tough game," McManus said. "I was really most happy with our execution."
Mater Dei junior linebacker Nasir Wyatt collected three sacks, giving him nine sacks this season.
Wyatt said Mater Dei saw Thursday's game as an opportunity to reestablish its status.
"Today was our statement game," Wyatt said. "We definitely feel like we're the best team. We still feel like we're the No. 1 team in the country."
Mater Dei is 8-1 overall and 3-1 in the Trinity League. Orange Lutheran, ranked No. 2 in the county, is 5-4 overall and 2-2 in league.
Mater Dei closes out the the regular season Friday, Oct. 27, with a league game at Santa Ana Stadium against Santa Margarita. Orange Lutheran plays St. John Bosco in a league game Friday, Oct. 27, at Orange Coast College to conclude the regular season.
In Georgia, Buford scored early and often with Maverick Schippman igniting the offense with a 14-yard run midway through the first quarter, before KJ Bolden scored twice in 2:30: once on a 27-yard run; the second on an 18-yard pass from Dylan Raiola to give Buford a 21-0 lead after the first.
Raiola is the top-rated quarterback in the 2024 recruiting class.
Buford continued to roll after halftime as Bolden took the opening kickoff 80 yards for a touchdown to extend the lead to 31-0. Just 20 seconds later, Dylan McCoy scored from 23 yards away after the Falcons turned it over. Bolden then picked off a Dacula pass and returned it 13 yards to the house to push the score to 45-0 not even a minute into the second half.
Raiola got one more opportunity before the fourth quarter, finding Jeremiah Colbert for an 89-yard passing score before two touchdowns in the fourth gave Buford the big win.
The Wolves finished with 397 yards of offense, led by Raiola's 12-of-18 passing performance for 235 yards and a pair of scores.
Buford will host Mountain View next week.
See games streamed live here.
WANT TO WATCH HIGH SCHOOL GAMES LIVE? TRY THIS
Go to https://www.nfhsnetwork.com/
Subscribe and see if your high school is streaming
(This is NOT a paid ad, but we found the service compelling.)