Prep Recruiting: Top Edge Blount jumps to FSU and 2024 class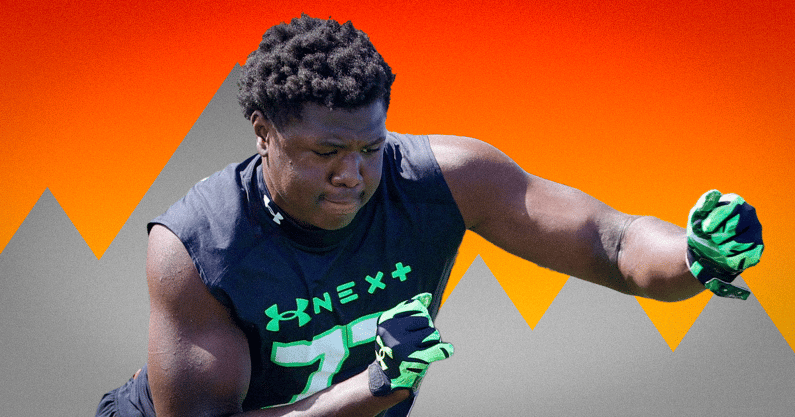 Armondo Blount commits to FSU for 2024. Graphics from On3.com
Five-star Miami Central defensive lineman Armondo Blount is doing more flipping than an Olympic gymnast these days.
First he announced on social media Sunday that he flipped from U of Miami to Florida State. Then he announced he flipped from the class of 2025 to 2024.
He was rated as the No. 2 defensive lineman and No. 5 overall recruit for 2025. Now NFLDraftScout.com (NDS) must calculate where he fits in the 2024 class. NDS currently lists Missouri commit Williams Nwaneri, a 6-6, 265-pound EDGE, as the top D-lineman and No. 2 overall for 2024. Texas commit 6-2 1/2 EDGE Colin Simmons from Duncanville (Texas) is next at No. 5 overall.
Blount, 6-3 1/2, 250, might fit into the top 10 in that 2024 class.
Check our current prep ratings for the 2024 class and return next week to see were Blount fits in.
Blount previously played at Dillard, where he was an All-County First-Team selection after the 2022 season. He made 63 tackles (30 for loss) and 16 sacks with the Panthers last season. Blount made 32 tackles (10 for loss) and had eight sacks through five games this season.
"This is home!" Blount wrote on X, referring to Florida State. "I have been discussing with family and I have decided that Florida State is where I am meant to be! I want to thank everyone who have been a part of my recruitment process. I am locked in with my decision."
He originally committed to Miami in September, after the Hurricanes beat Texas A&M at Hard Rock Stadium.
Blount was named a Freshman All-American and a Sophomore All-American by MaxPreps. He also won a state title in the shot put last year, earning Sun Sentinel All-County honors in track and field.
In changing to FSU, Blount joins one of the country's best recruiting classes.
He decided to the pull the trigger after visiting Tallahassee last weekend for the 'Noles game against Duke. He sounds ready to play for Mike Norvell.
"I had a feeling before the visit that I was going to end up at Florida State," he added. "This weekend made it official though. That feeling was there. The environment and staff were big reasons why I chose Florida State. They can develop me as a person and man. I believe in them, and I am close to Mike Norvell and Coach Odell Haggins."
Longtime Miami high school analyst Larry Bluestein calls Blount the "total package," and people have been aware of his ability to dominate games ever since his freshman season at Fort Lauderdale Dillard.
Blount transferred to Miami Center ahead of the 2023 season and cemented his status as one of the best prospects to come out of South Florida in recent memory.
Along with football, Blount is also one of the best shot-put throwers in the Sunshine State. He finished fifth in the 2023 state championships with a throw of 16.75 meters. Before his junior season, Blount was already a two-time Miami Herald All County selection.
Washington's residual benefits from win over Oregon
When Washington beat Oregon 36-33 in a battle of Top 10 teams at Husky Stadium on Oct. 14, it caused a response among prep recruits.
Two top recruits who attended that game — three-star 2024 defensive lineman Keona Wilhite and three-star 2025 quarterback Jackson Kollock — announced verbal commitments to UW on Monday.
The 6-foot-5, 240-pound Wilhite originally committed to his hometown Arizona Wildcats but backed off Oct. 2 — two days after attending the team's 31-24 home loss to Washington. He took an official visit to UW on June 22.
A Salpointe Catholic High School (Tucson, Ariz.) star, Wilhite is ranked as a three-star recruit, the No. 12 player in Arizona and the No. 77 defensive lineman in the 2024 class by 247Sports. He also earned offers from Oregon State, UCLA, Arizona State, BYU, Colorado and Nebraska.
In eight games this fall Wilhite made 33 tackles with 14 for a loss, six sacks and four passes defensed.
Kollock, meanwhile, is the Huskies' verbal pledge of the 2025 cycle. The 6-5, 215-pound passer told 247Sports he committed to UW offensive coordinator/assistant head coach Ryan Grubb the day after concluding his Oregon visit, but waited another week before announcing the news.
An ascending signal-caller at Laguna Beach (Calif.) High, Kollock is ranked as a three-star recruit and the No. 39 quarterback in the 2025 class by 247Sports. He also reported offers from Cal, Colorado, Colorado State, Minnesota, UNLV and Campbell.
In nine games this fall Kollock completed 60 percent of his passes and threw for 2,564 yards with 38 touchdowns and three interceptions, adding 311 rushing yards and six more scores.
MSU commitment by Marsh is in quicksand
In River Rouge, Michigan, four-star wide receiver Nick Marsh (NDS 2024 Class No. 104 overall, No. 20 WR) remains committed to Michigan State. Well, sort of. He let it be known he is still open to recruitment and scheduled a couple of official visits.
Marsh set official visits with both Georgia Tech and Colorado. The 6-foot-3, 200-pounder is set to be in Atlanta this weekend, Oct. 28 for his visit with the Yellow Jackets, while his official visit with the Buffaloes is set for Dec. 15-17.
Marsh was also in Boulder on a visit to Colorado at the end of September when the Buffaloes fell to USC, 46-41, but the wideout was able to experience an impressive atmosphere at Folsom Field.
"My experience was pretty good, just going down there to a game that had over 7 million viewers was kind of crazy," Marsh said. "Being on the sidelines, coming into the locker room, the energy, the voices I was hearing, got to see a lot of big time people … It was a great atmosphere. Watching the game, watching them be down and just keep fighting and come back into the game and have a pretty good game was pretty awesome."
In October, Marsh mentioned the likes Georgia, UCLA, Oklahoma, Pittsburgh and Penn State as he ponders the uncertainty surrounding Michigan State following the firing of head coach Mel Tucker.
"As far as right now, i'm still committed (to Michigan State) and we've just been taking the process a little bit slow, keeping a little bit of options open just in case coaches leave," Marsh said. "Just keeping the options open and just preparing for the worst, we're just looking around …we've been taking it pretty lightly."