Raiola: Top-Rated 2024 QB Recruit, Rolls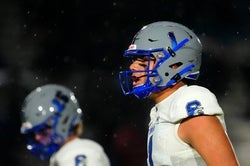 December 3, 2022; Chandler, Ariz; USA; Chandler quarterback Dylan Raiola calls out a play to his team against Basha during the Open Semfinal at Dobson High School. Football Chandler At Basha Hs Football Chandler At Basha
Dylan Raiola, top-rated quarterback recruit for 2024, pushed Buford High to a 3-0 record with another impressive performance Friday.
Raiola is showing that his transfer from Arizona is working well. He was originally a Ohio State commit but switched to Georgia early this year.
Also, a pair of top-five cornerbacks -- Ohio State-bound Bryce West (No. 29 overall in 2024) and Florida State-bound Charles Lester III (No. 33 overall in 2024) -- came up with big plays Friday night to help their respective schools (West with Glenville High School in Ohio and Lester with Venice
How some of the nation's top recruits fared this week:
QB Dylan Raiola, Buford (Ga.) High
Ranking: No. 1 QB
Raiola, who transferred from Pinnacle High in Phoenix to Burford in Georgia, put on a good display for a third week.
In a 45-28 win over North Cobb (Georgia) Friday, Raiola completed 12 of 16 passes for 284 yards and three touchdowns. Buford exploded to a 21-0 lead and cruised.
Buford is 3-0. Previous week's win was most impressive as Raiola hit 13-of-25 for 184 yards and two touchdowns against St. Frances, the home of Oregon quarterback commit Michael Van Buren and seven 2024 prospects bound for Power 5 teams.
k and No. 2 overall prospect was efficient during Buford High's (Georgia) 45-28 win over North Cobb (Georgia) Friday.
Buford burst the game open with 21 consecutive points to build a 45-21 advantage in the fourth quarter.
Raiola is one of 19 ESPN 300 pledges for Kirby Smart and the Bulldogs, pacing the country's top-ranked class.
WR Bryant Wesco (Clemson)
Wesco, No. 22 overall in the 2024 ESPN 300 and one of two ESPN 300 wide receivers (T.J. Moore, No. 220) in the Tigers' class, had a big night Thursday for Midlothian High School (Texas).
The 6-foot-2, 175-pound Wesco hauled in seven passes for 74 yards and two touchdowns in a 32-17 victory over Ennis High School (Texas).
Clemson's class is 11th -- second in the ACC -- in ESPN's latest rankings.
QB Jadyn Davis (Michigan)
Davis, Michigan's first ESPN 300 signal-caller since J.J. McCarthy in 2021, was on point early in Providence Day's (North Carolina) game Friday against Charlotte Catholic (North Carolina). Davis (No. 114 overall in 2024), the third-best dual-threat quarterback in the cycle, threw for 264 yards and three touchdowns in a 42-7 victory.
The Wolverines currently own a top-10 class, sitting at eighth overall.
RB Quinton Martin (Penn State)
Penn State struck gold with a pair of freshman running backs in the 2022 class with ESPN 300 tailbacks Nicholas Singleton and Kaytron Allen, who combined for 1,928 yards and 22 touchdowns last fall.
With Singleton, Allen and true freshman London Montgomery (No. 233 overall in 2023) already in the stable in Happy Valley, Martin's versatility will add even more to a stout running attack.
Martin (No. 46 overall in 2024), the cycle's third-best running back, rushed for three touchdowns in Belle Vernon High School's (Pennsylvania) 40-0 shutout of Laurel Highlands (Pennsylvania) on Friday.
QB Ethan Grunkemeyer (Penn State)
Grunkemeyer (No. 88 overall in 2024) is a key cog of Penn State's recruiting class, which is ranked ninth in ESPN's latest rankings.
James Franklin secured a pledge from the 6-foot-2,190-pound Grunkemeyer out of Buckeye territory in May.
Grunkemeyer, the sixth-best pocket passer in the class, threw three touchdown passes, leading Olentangy High School (Ohio) to a 31-14 win over Westerville South (Ohio) on Friday night.