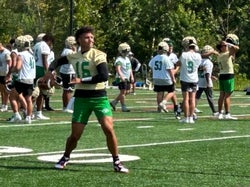 Buford High quarterback Dylan Raiola, a UGA commitment, at practice on July 24, 2023.
Two of the top five teams in national high school rankings were upset this weekend as No. 9 St. John Bosco manhandled No. 1 Mater Dei, 28-0, in a Southern California annual rivalry and, in Georgia, No. 25 Mill Creek held off No. 5 Buford and top-rated 2024 quarterback recruit Dylan Raiola, 31-24 in a nationally televised battle.
Well, mostly nationally televised. Buford was driving and after Raiola threw an incomplete pass into the end zone, ESPN switched to an NBA game between the Golden State Warriors and Los Angeles Lakers. We scrambled and found a blog out of Georgia, where they don't care about the NBA, and learned that Buford's drive ended with a final incomplete pass by Raiolo, a big deal in that state as a Georgie commit who some think is better than the current Bulldog quarterbacks.
Mill Creek scored the go-ahead touchdown from quarterback Shane Throgmartin to Justin Contin for 21 yards with 1:20 left and then held on.
But Buford moved to the MC eight-yard line and, with five seconds left, Raiola was chased around and threw an incomplete pass in the end zone and the home-field Mill Creek fans erupted in celebration.
Raiola, under pressure on almost every drop-back, was plagued by about 10 dropped passes by our count and completed 19 of 43 passes for 259 yards and two touchdowns. Tyshun White caught five passes for 94 yards. But the Buford running game was non-existent. The Wolves rushed for only 10 yards.
Mill Creek had a balanced attack with running back Cam Robinson running 29 times for 115 yards while Throgmartin completed 14 of 30 passes for 206 yards and two touchdowns. He was intercepted once. Trajen Greco, a two-way player who committed to Georgia Tech, caught eight passes for 121 yards.
Buford had a 17-10 halftime lead thanks to a pair of Raiola touchdown passes, both to Wright, an 18-yarder and a 7-yard on a nice scramble with 7.4 seconds left in the half. The Wolves also got a 30-yard field goal from Mario Ventura. Mill Creek scored on a 36-yard field goal by Brady Lane to open the game and a 2-yard second-effort sneak by Throgmartin.
Mill Creek tied the game 17-17 at 8:43 in the third quarter. Buford's Jordan Allen fumbled a punt and Kaymon Bolden recovered for the Hawks. Mill Creek went 38 yards on a pass from Throgmartin to Jaiden Patterson to the 1 and Robinson scored on the next play.
Buford drove 84 yards to the 1 when Mill Creek came up with a goal-line stand. On fourth-and-goal, Raiola fumbled the exchange and the Hawks took over on downs and drove for the go-ahead touchdown when Throgmartin threw to Greco for a sprawling one-handed catch in the end zone.
****
The big California prep game was not nearly as dramatic and was televised only by a hard-to-find high school network via Bally, but there was an overflow crowd of more than 7,000, including more than two dozen college coaches who wanted to see the 76 players who are among the top 350 national recruits over the next two years.
John Bosco grabbed sole possession of first place in the Trinity League and take a huge step toward securing the top seed for the CIF Southern Section Division 1 playoffs.
Mater Dei (7-1, 2-1) entered with a No. 1 ranking in several rational polls while St. John Bosco (7-1, 3-0) was ranked ninth nationally by MaxPreps.
The Braves snapped a four-year league losing streak to Mater Dei and handed the Monarchs their first shutout loss since 2011 to Orange Lutheran. John Bosco held Mater Dei to 182 yards on offense.
The schools' rivalry centers on the Division 1 title and that's ultimately what senior-led Mater Dei wants, especially after the way last season ended at the Rose Bowl.
Mater Dei quarterback Elijah Brown said before this season that his squad was seeking "redemption" for a 24-22 loss against St. John Bosco in the 2022 Division 1 final in Pasadena. The Stanford-bound senior said his class felt somewhat responsible for the defeat, which marked the final game of legendary Mater Dei coach Bruce Rollinson.
Mater Dei's trademark so far under McManus, a defensive back coach under Rollinson, has been defense. The Monarchs entered the showdown having allowed only 29 points on defense.
But St. John Bosco's defense held the advantage from the start, recording three sacks to help the Braves take a 14-0 lead at intermission.
UCLA committed running back Cameron Jones (138 yards rushing) took care of the early offense for St. John Bosco.
The 6-foot-2, 235-pound senior scored on a 1-yard run on third-and-goal in the middle of the second quarter as the Braves opened a 7-0.
It was the first time Mater Dei trailed on the season.
Jones set up the score by breaking a 37-yard run — the longest play of the game — to the Mater Dei 5-yard line.
To make matters more grim for Mater Dei, running back Jordon Davison walked off at halftime with the aid of crutches. He finished with one carry and one reception.
St. John Bosco extended its lead to 21-0 in the middle of the third period as it executed a double-pass. Wide receiver Stacy Dobbins took a lateral from Sanchez and threw to a wide open Tommy Maher for a 28-yard touchdown on the trick play.
The Braves added a 9-yard TD run by Chauncey Sylvester in the fourth and sealed the shutout with a late interception in the end zone by Frankie Edwards III.
St. John Bosco held Mater Dei to 121 yards passing and 61 rushing. The Monarchs threw 23 passes and rushed the ball 23 times.
The Braves rushed for 163 yards and passed for 143 to outgain the Monarchs 306-182.
McManus credited St. John Bosco's offense for motioning and shifting into different formations.
Next week, Mater Dei plays on Thursday, Oct. 19 when it takes on Orange Lutheran at Orange Coast College. St. John Bosco travels to JSerra on Oct. 20.
--Data acquired via Atlanta Journal-Courier and Orange County Register