Michigan commit, RB Jordan Marshall, gets eighth straight 100-yard game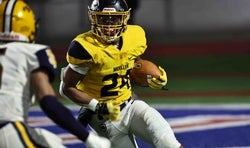 Moeller running back Jordan Marshall runs the ball during the Crusaders state semifinal against Springfield Friday, Nov 25, 2022. Moeller2
Michigan commit tracker: Recruits look good on both sides of the ball
Last week was a good one for Michigan football recruits.
There were many standout performances on both sides of the ball for Wolverines' verbal pledges.
Let's take a look at the stats and highlights from last week's games.
The Wolverines hold 25 verbal pledges in the 2024 class and two in 2025.
Four-star running back Jordan Marshall, Cincinnati (Ohio) Archbishop Moeller
The top-100 recruit rushed 17 times for 139 yards, including a 63-yard touchdown in a 28-20 win over La Salle. He has rushed for over 100 yards in eight straight games.
Four-star quarterback Jadyn Davis, Charlotte (N.C.) Providence Day
NFLDraftScout.com's No. 71 overall prospect nationally continues to put up video game numbers during his senior season. After the team had a bye last week, it returned with a 59-21 win over Arden (N.C.) Christ School to improve to 5-0. Davis completed 15 of 18 passes for 272 yards and three touchdowns. He has completed 76.6% of passes this season with 17 touchdowns to zero interceptions.
Three-star receiver Channing Goodwin, Providence Day
The 6-foot-1, 180-pounder, who is ranked No. 554 in the country, remains a top target for Davis and caught six passes for 184 yards and two scores against Christ School. Fellow Providence Day receiver Jordan Shipp, a four-star prospect, remains on Michigan's radar, despite being committed to North Carolina. He had eight receptions for 184 yards and two touchdowns.
Three-star cornerback Jo'Ziah Edmond, Nappanee (Ind.) Northwood
Edmond once again shined on both sides of the ball, catching four passes for 100 yards and a score in a 42-7 win over Plymouth (Ind.). The No. 710 overall prospect also recorded five tackles and an interception on defense.
Four-star safety Jacob Oden, Harper Woods
Oden plays all over the Harper Woods secondary and receiver on offense. In a 49-0 win over Bloomfield Hills, he had nine tackles, including three for loss, an interception and four catches for 60 yards and a touchdown. His highlights can be watched here. He is ranked No. 197 nationally.
Four-star defensive lineman Owen Wafle, Princeton (N.J) Hun School
The No. 407 overall prospect had another dominating performance in a 52-6 victory over Oakdale (Conn.) St. Thomas More, finishing with seven tackles, including four for loss and three sacks.
Four-star tight end Brady Prieskorn, Rochester Adams
Prieskorn hauled in two catches for 23 yards, including this touchdown grab, in a 36-32 loss to West Bloomfield. The 6-foot-6, 225-pounder is ranked No. 74 nationally.
Three-star linebacker Cole Sullivan, Pittsburgh Central Catholic
Just like Edmond, Sullivan is a two-way standout. He had a stellar performance on both sides of the ball in a 50-22 victory over North Allegheny, catching four passes for 38 yards and two scores on offense and registering eight tackles, a sack, two forced fumbles and a fumble recovery on defense.
Four-star linebacker Jaden Smith, West Charlotte (N.C.)
The No. 269 prospect recorded seven tackles and a sack as West Charlotte improved to 5-0 with a 42-8 win over Charlotte West Mecklenburg.
Four-star receiver I'Marion Stewart, Chicago Kenwood Academy
The No. 315 overall prospect had two receptions for 42 yards and carried once for 2 yards in a 51-6 win over Chicago Hyde Park.
Three-star running back Micah Ka'apana, Las Vegas Bishop Gorman
Ka'apana had just one carry for 17 yards in another blowout victory for Bishop Gorman, which blanked Las Vegas Silverado 55-0. The 5-foot-11, 195-pounder is ranked No. 494 nationally.
Three-star linebacker Zach Ludwig, South Park (Pa.)
Ludwig played both sides of the ball in a 38-0 loss to Pittsburgh Avonworth. He was 0 for 3 with an interception passing and had six tackles on defense.
2025 CLASS
Four-star cornerback Chris Ewald, Hollywood (Fla.) Chaminade-Madonna
Ewald continues to play a key role for undefeated Chaminade-Madonna and racked up seven tackles and had two pass breakups in a 31-28 victory over Miami Central. He is a top-100 prospect in the 2025 cycle.
Four-star defensive lineman Bobby Kanka, Howell
The No. 328 overall player totaled four tackles in a 32-12 loss to Northville.
-- Data from ANN ARBOR NEWS.