Alabama Football Commits Shine on ESPN, Internationally in Week 1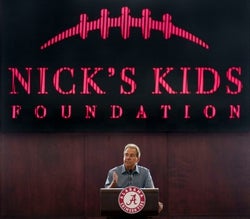 Alabama head coach Nick Saban speaks during the Nick's Kids Foundation luncheon Wednesday Tuesday, Aug. 2, 2023, in Bryant-Denny Stadium.
The next generation of Alabama football talent was on display over the weekend.
While UA is fourth in the 247Sports team recruiting rankings for this current cycle, it features some of the best athletes in the country. Multiple Crimson Tide commits in the class of 2024 and 2025 had excellent early-season performances, highlighted by two stars that played on ESPN. Here are the standouts.
2024 QB Julian Sayin sets career-high
Carlsbad (Calif.) High beat Mater Dei Catholic in a blowout on Saturday night. Sayin didn't have to play into the fourth quarter, throwing for 138 yards (12-for-14) and two touchdowns. The quarterback posted a career-high with 63 rushing yards. An 11-yard scramble on his last drive was Sayin's pocket awareness and athleticism at its best.
5-star DB Jaylen Mbawke starts QB year
For his final year at Clay-Chalkville, one of the country's best cover cornerbacks will actually be orchestrating the offense. Mbakwe's transition to quarterback started well with a 12-of-18 night passing the ball for 116 yards and a touchdown. He also ran for 64 yards and another score as Clay beat Briarwood Christian, 31-0.
4-star Rico Scott comes in clutch
Bishop (Pa.) McDevitt trailed in the fourth quarter, then the electrifying Rico Scott started touching the ball. He scored a pair of late touchdowns and helped convert a 4th-and-21, eventually punching in the game-winner to beat Mt. (Pa.) St. Joseph 20-14. Scott finished with nine catches and 124 yards.
4-star WR Amari Jefferson goes international
Notre Dame versus Navy wasn't the only football game in Ireland this weekend. Part of an international series of high school teams, Jefferson's Baylor (Tenn.) School routed New Jersey's Seton Hall Prep, 42-7. Jefferson had touchdown catches of 50 and 47 yards.
2025 WR Ryan Williams is the future
One of the top recruits in his year, Williams is known as a scoring threat every time the ball gets in his hands. And on ESPN's High School kickoff on Friday night, the 2025 five-star helped Saraland beat Tennessee's Lipscomb Academy with a 10-yard end-around keeper. — BIRMINGHAM NEWS LOADED