QB Drake Maye: Blend of toughness and character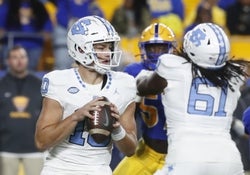 Sep 23, 2023; Pittsburgh, Pennsylvania, USA; North Carolina Tar Heels quarterback Drake Maye (10) looks to pass against the Pittsburgh Panthers during the first quarter at Acrisure Stadium. Mandatory Credit: Charles LeClaire-USA TODAY Sports
PITTSBURGH – Seven teams were represented Saturday at Arcisure Stadium where projected first round pick Drake Maye of North Carolina would be doing his best to help the Tar Heels remain undefeated against the Pitt Panthers.
Maye would help lead the team to a 41-24 victory, scoring three touchdowns and making a spectacular left-handed touchdown pass. What made it so impressive is that Maye isn't a southpaw, he throws with his right arm.
"The play that Drake made with his left arm is maybe the best play I've ever seen in college football," Tar Heels head coach Mack Brown said after the game. That's saying something since Brown's first coaching experience came as a student coach of the wide receivers at Florida State in 1973.
Maye kept the ball and rolled left out of the pocket, seven yards from the end zone. Pitt senior linebacker Nate Temple had Maye in his clutches and was about to engulf the North Carolina quarterback for a tackle for loss but somehow, Maye got the football into his left hand and tossed a floating duck to Tar Heels sophomore wide receiver Kobe Paysour for the touchdown!
"It was unbelievable. I sat there and looked at it and wanted to run it back when I looked up at the jumbotron. I told him that if you win the game, it will be No. 1 on SportsCenter. I was shocked. I have never seen him do that. He is really a good player."
The play ended up being No. 5 on the Top Ten list on ESPN but nonetheless it showed the improv ability Maye possesses. A Patrick Mahomes-type trait, where ability takes over and natural instincts supersede over other players.
"Hey, I'm just playing football out there," Maye said. "It's just part of growing up and playing sports."
Maye explained that his basketball instincts took over, mentioning it was like dishing off a left-handed pass to his older brother Beau who plays basketball for the Tar Heels. Those types of intangibles are one of the reasons he is projected to be one of the top picks in the 2024 NFL Draft.
The redshirt sophomore set the ACC on fire last season by passing for 4,381 yards and 38 touchdowns. It places Maye directly in the conversation of Heisman contention, as well as hearing his name called first overall when the NFL Draft takes place in Detroit next April.
"He's a really good player," Coach Brown said after his 278-career win. "He makes slippery plays. He can run and find (guys). He knows now and is doing a better job of finding out where that first down marker is and sliding. I'm just so proud of him."
Maye's personality seems like an easy one to win over his teammates in the locker room. Fidgeting around with his pants prior to beginning the press conference afterwards, Maye might remind you of your cousins who come home from college at Christmas.
Youthful and energetic, he provides star quality on the field and is a real personality off it. Many times in the college setting these young men can be a bit robotic in their conversations in front of the microphones but Maye was opposite of the prototype.
The exuberant and fun loving Maye is also a warrior on the field. Early in the second quarter with the Tar Heels trailing 14-7, Pitt defensive end Dayon Hayes was called for roughing the passer after a punishing hit on Maye. The North Carolina quarterback stood his ground, delivered a 40-yard completion to tight end John Copenhaver and took the brunt of Hayes' 6-foot-3 and 265-pound frame.
For those seven NFL teams in attendance, clearly that was a play they were going to admire and mention in their notes when heading back to headquarters. It's those types of plays, along with improvising in the moment with a left-handed touchdown pass that will help build one heck of an NFL Draft resume for Maye.
"Yeah man I got hammered," Maye said. "I was asking the white hat (referee) to look at it or something. Targeting or getting the guy out. I thought it was very unnecessary. He double forearmed me to the face. One of those feelings is when you get it in the face and your ears are kind of ringing. Kind of like getting a basketball in the face. I told those guys they are going to have to drag me off the field."
Maye had to sit out one play before returning and running the quarterback sneak in for the touchdown. He's the Tar Heels third leading rusher on the season with 119 yards on 38 carries and three touchdowns. His 1,187 passing yards ranks him 15th in the nation. The only early blemishes are the four interceptions in four games, since he only threw seven the entire year last season.
Watching him against the Panthers, Maye showed toughness and creativity from the position. His ability to be accurate on the run proved to be one of his top qualities, while Maye's mechanics looked to be in sync. His footwork was fluid and he was in command with where to go with the football throughout the game.
The Tar Heels have developed two quarterbacks since 2017 that have been drafted. First was Mitchell Trubisky, who went second overall in 2017 to the Chicago Bears. Second, was Washington Commanders' fifth round pick Sam Howell (2022). Undoubtedly, Maye is going to be the third quarterback drafted out of North Carolina in the last eight years.
It's a pretty remarkable accomplishment, as there have only been 79 quarterbacks chosen since 2017—yet two have played their college football wearing Carolina blue and white. Trubisky was scrutinized heavily during his time with Chicago as a starter and Howell has four starts under his belt (3-1 record) for the Commanders.
Maye has plenty of games to go before he arrives on stage in Motown for the NFL Draft. Until then, those in Chapel Hill are going to enjoy their Saturday's watching number 10 develop into one of the top prospects in the country.
For full All-Access Football coverage click here to subscribe
DRAKE MAYE A BLEND OF TOUGHNESS & CHARACTER