CFB Week Five: 2024 Draft Watch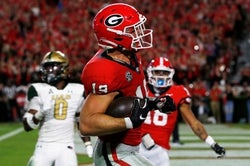 Georgia tight end Brock Bowers (19) drives in for a touchdown during the first half of a NCAA college football game against UAB in Athens, Ga., on Saturday, Sept. 23, 2023.
For full All-Access Football coverage click here to subscribe
We enter Week 5 of the college football season 'NFL Draft Watch' series with a look at some teams on the brink. We know that the defending back-to-back National Champion Georgia Bulldogs are for real. How about Auburn under new head coach Hugh Freeze? The Tigers have almost matched last year's win total and the contest against Georgia will be a good barometer of just how far they've come, or how much they still have yet to go in the SEC.
Over in the ACC, the kinks in the armor are starting to crack for the Clemson Tigers. How will they respond after a gut-wrenching loss to the Florida State Seminoles? A loss to undefeated Syracuse would drop the Tigers below .500—Clemson hasn't finished with a losing record since 2010, Dabo Swinney's third year as head coach. Even without top playmaker Oronde Gadsden II, the Orangemen have shown they can compete with anyone on any given Saturday.
The Boise State Broncos have made great strides in a short period of time under head coach Andy Avalos in the Mountain West. This week's contest against Memphis promises to be an exciting game with plenty of scoreboard action. While these two schools don't produce high-caliber NFL prospects, each team features a handful of potential next level priority free agents with 'make it' traits.
No. 1 Georgia (4-0) at Auburn (3-1)
Saturday, September 30, 2023, 3:30p ET | CBS
Five to Watch: Georgia Bulldogs
#19 Brock Bowers, TE, 6036, 240, 4.45, Jr, Rd1 | One of the top prospects regardless of position, Bowers possesses great size, insane athleticism, and reliable hands. He's also is a crafty, capable blocker. Known as a maniacal worker, his reputation of being a "machine" is, according to the Georgia coaching staff, quite deserved.
#78 Nazir Stackhouse, DT, 6030, 320, 5.05, Sr, Rd2 | Manning the middle of the Bulldogs defense, Stackhousse is a pure run-stuffing nose guard. A TikTok star off the field, on the field he has been a consistent anchor, but needs to improve his pass-rush technique.
#3 Kamari Lassiter, CB, 5116, 180, 4.47, Jr, Rd2 | A foot injury limited Lassiter during training camp, but there doesn't seem to be any ill effects, as he has shown the same fast, physical presence he always has. His experience, cover skills and willingness to stick his nose in against are also appealing traits.
#2 Smael Mondon, ILB, 6032, 227, 4.49, Jr, Rd2 | Blessed with incredible instincts, intelligence and tenacity, Mondon is quick to close to the ball carrier. The coaching staff praises his leadership and he possesses rare athleticism. Conditioning seemed to be an issue early in '23 as he missed the offseason due to a foot injury.
#63 Sedrick Van Pran, C, 6026, 310, 5.27, rJr, Rd2 | A three-year starter, Van Pran has been a model of dependability and durability. His prototypical size, when combined with his mauling run-blocking at the point of attack and effectivness in getting to the second level of the defense, should put him in the running as the first center off the board come draft day.
Five to Watch: Auburn Tigers
#2 DJ James, CB, 6002, 164, 4.44, rSr, Rd2 | One of the more underrated players, James doesn't receive national recognition but is one of the top lock-down corners in the country. He spent three season at Oregon prior to becoming a prime-time player in the SEC. The Mobile, AL, native is a cinch to land in the Senior Bowl.
#1 Nehemiah Pritchett, CB, 6002, 185, 4.44, rSr, Rd2 | A disruptive corner, Pritchett has a lengthy physique who is pesky in short areas. He draws tons of press alignments both to the field and boundary. An fluid athlete, who can play tight man coverage, he's quick to break on the ball.
#36 Jaylin Simpson, FS, 5116, 180, 4.47, rSr, Rd2 | Shot out of a cannon, Simpson has an interception in each of the first three games. His athleticism, ball instincts, vertical game and versatility will make him a hot commodity come April. He could be viewed as a safety/nickel type in the pros.
#9 Eugene Asante, OLB, 6006, 225, 4.59, rSr, Rd3 | A rapidly ascending player, Asante has taken a huge step in his development this year, demonstrating a high motor and an explosive burst. Maybe his best attribute is his relentless style of play, though Asante attributes his success to his physical and mental maturation.
#27 Jarquez Hunter, RB, 5090, 210, 4.47, Jr, PFA | While he flashed power and explosiveness early in his career, Hunter has yet to find his footing since taking over the lead role from Tank Bigsby (Jaguars). He missed the first game of '23 in what is believed to be a suspension for a sex video that surfaced during the summer.
Clemson (2-2) at Syracuse (4-0)
Saturday, September 30, 2023, 12:00p ET | ABC
Five to Watch: Clemson Tigers
#0 Barrett Carter, OLB, 6010, 230, 4.52, Jr, Rd1 | A do-it-all 'backer, Carter is relentless in pursuit, demonstrates incredible closing speed and owns the prototypical frame of the modern-day LB. He's also capable of dropping back into coverage and covers running backs or tight ends equally well.
#54 Jeremiah Trotter Jr., ILB, 5116, 230, 4.62, Jr, Rd1 | You may not find a more complete linebacker at the college ranks than Trotter Jr., with his ability to cover ground, blitz when called upon, or drop into coverage. He has done well living up to his father's legacy. The only knock will be his size.
#3 Will Shipley, RB, 5112, 210, 4.44, Jr, Rd2 | The versatile Shipley is a sharp, explosive runner, with great burst and change of direction yet plays with tremendous toughness and keeps his feet churning upon contact. He is also effective receiver and adequate blocker.
#33 Ruke Orhorhoro, DT, 6040, 290, 4.85, rSr, Rd4 | An agile and mobile defensive lineman, Orhorhoro has specialized as a run-stuffer, primarily lining up at the 3-technique. He boasts a high motor and great power. Despite moving to the United State at the age of nine, the Nigerian native hails from a football family.
#1 Andrew Mukuba, SS, 5116, 196, 4.49, Jr, Rd2 | The Tigers are hopeful that Mukuba can nip the injury bug. He battled through elbow and knee injuries all last season, then suffered another injury during the first game of '23. A difference-maker when healthy, his draft status will likely be predicated around his medical report.
Five to Watch: Syracuse Orange
#3 Isaiah Johnson, CB, 6030, 205, 4.54, rSr, Rd6 | The long, physical Johnson was quick to endear himself to the Syracuse coaching staff after transferring from Dartmouth. He's quick to diagnose and react, solid against the run and has proven durable during his career. In addition, Johnson is a special teams ace and stars as a gunner.
#4 Caleb Okechukwu, DE, 6026, 270, 4.72, rSr, Rd7 | It has been an arduous journey for Okechukwu, who has overcome rhabdomyolysis (damaged muscle tissue that releases proteins and electrolytes into the blood). He has become a three-year starter and pass-rush specialist for the Orangemen. His frame and size could mean he's dubbed tweener.
#6 Garrett Shrader, QB, 6044, 225, 4.55, rSr, PFA | A quarterback with toughness and moxie, Shrader is also a big, dangerous, dual-threat quarterback. A former high school basketball standout who transferred from Mississippi State, the 'Cuse captain knows where to go with the football and is a speedy, elusive runner.
#2 Marlowe Wax, ILB, 6003, 230, 4.68, rJr, PFA | The "Mob Boss" of the Syracuse defense, Wax makes plays all over the field as a tackler, pass-rusher and cover man. An incredible athlete, he also possesses some of the best hands on the team and was a standout running back in high school, a position NFL scouts might consider for him.
#15 Derek McDonald, OLB, 6036, 224, rSo, PFA | One prospect worth monitoring is McDonald, who has two more years of eligibility remaining but has emerged as a cog on defense. His size, athleticism, quickness and versatility are all positive attributes—he has played every linebacker position.
Boise State (2-2) at Memphis (3-1)
Saturday, September 30, 2023, 4:00p ET | ESPN2
Five to Watch: Memphis Tigers
Blake Watson, RB, 5094, 195, 4.55, rSr, PFA | Stepping in for the injured Brandon Watson, the compact and elusive Watson has caught the eye of NFL scouts. Most impressive might be his pass-catching prowess out of the backfield. The Queens, New York, native could work his way into the late-round mix.
#2 Seth Henigan, QB, 6026, 212, 4.76, Jr, PFA | When you look at recent NFL trends, quarterbacks who possess experience, football intelligence and grit, such as Henigan, often provide late-round value. While limited, he can make all the throws required.
#4 Josh Ellison, DT, 6026, 300, 4.95, rSr, PFA | Arriving from Oklahoma via Blinn College, Ellison fell out of favor with the new Sooners staff and brings vast experience. His size, power, leadership and love for the game are the attributes that pop up most when assessing his talent.
#22 Jaylon Allen, DE, 6027, 242, 4.70, rSr, PFA | There have been glimpses from the fifth-year Allen, who is skilled at one thing scouts love to see from edge rushers: converting speed to power. Evaluators for NFL teams may prefer him as a 3-4 outside linebacker at the next level. He demonstrates nice hand combat and the ability to bend at the edge.
#9 Geoffrey Cantin-Arku, ILB, 6030, 240, 4.65, rSr, PFA | A big-bodied, athletic linebacker who roams sideline to sideline, Cantin-Arku has been a consistent player over his four years as a starter (two seasons each at Memphis and Syracuse). The Quebec City native will also be CFL draft-eligible.
Five to Watch: Boise State Broncos
#71 Cade Beresford, OT, 6062, 308, 5.20, rSr, Rd7 | Boise State has been developing a reputation over recent seasons for churning out quality NFL tackles, and Beresford appears to be next in the pipeline. Coaches have praised his willingness to double down in the weight and film rooms. The former high school quarterback spent the first half of his career at Washington State.
#24 George Holani, RB, 5104, 210, 4.56, rSr, PFA | A tremendous multifaceted back, there have been too many DNPs in Holani's career. His overall skill-set (runner, pass-catcher, returner), along with his combination of power and burst, makes him draftable — but durability is a concern.
#69 Garrett Curran, OG, 6046, 305, 5.25, rSr, PFA | The sixth-year senior and team leader has stepped in flawlessly at center this year, after having started at tackle and guard in previous seasons. His size, coachability, versatility and experience should bode well when he transitions to the NFL; will have every opportunity to stick.
#8 Markel Reed, CB, 5116, 185, 4.50, rSr, PFA | The perseverance and competitiveness of Reed is what the coaches will mention most about this lanky cover man with long arms. He's coming off a torn ACL injury after enduring a torn labrum the year before, while rehabbing from three surgeries. A top performer, when healthy.
#10 Taylen Green, QB, 6056, 222, 4.56, rSo, PFA | An appealing prospect due to his size, dual-threat abilities and potential, Green has dazzled at times. What's holding him back is inconsistency. Until he can remedy some of his accuracy woes, Green will be viewed as a developmental prospect.
All Access Football is a reader-supported publication. To receive new posts and support my work, consider becoming a free or paid subscriber.