No. 36 overall TE Michael Trigg leaves Ole Miss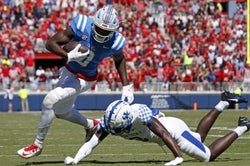 Oct 1, 2022; Oxford, Mississippi, USA; Mississippi Rebels tight end Michael Trigg (0) runs after catch during the fourth quarter against the Kentucky Wildcats at Vaught-Hemingway Stadium. Mandatory Credit: Petre Thomas-USA TODAY Sports
Ole Miss tight end Michael Trigg -- rated No. 36 among NFLDraftScout.com's 655 tight ends -- left the program in his second season since transferring.
Coach Lane Kiffin on Wednesday confirmed previous reports Trigg left the team.
An item in NFLDraftScout.com last month hinted Trigg was battling for a job:
Memphis transfer Caden Prieskorn appears to have the lead over Michael Trigg, who is returning for his second season at Ole Miss after transferring from USC.
Prieskorn caught 48 passes for 602 yards and seven touchdowns on his way to being named a Mackey Award semifinalist last season with the Tigers.
"Prieskorn has fit in really well," Kiffin said. "The players put him on the leadership committee already after not being here very long. It says a lot. So, he's extremely mature. We're excited about him. Trigg has done some good things. We're still pushing him forward. It's still early in camp."
Trigg played in 10 games since transferring from USC along with quarterback Jaxson Dart before last season. He caught 21 passes for 221 yards and four touchdowns at Ole Miss. That includes four catches for 65 yards and a touchdown in three games this season.
"We wish him nothing but the best," Kiffin said. "He's not part of our program."
Trigg's bio has been removed from the website of No. 20 Ole Miss, bu t you can read about his college career here.
Ole Miss brought in transfer Caden Prieskorn, who missed the first three games with an injury before making his debut against Alabama