Lott IMPACT POW: You make the Call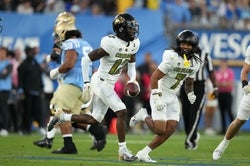 Oct 28, 2023; Pasadena, California, USA; Colorado Buffaloes cornerback Travis Hunter (12) celebrates after intercepting a pass against the UCLA Bruins in the first half at Rose Bowl. Mandatory Credit: Kirby Lee-USA TODAY Sports
Here are the Week 9 candidates for Lott IMPACT Trophy Player of the Week.
TRAVIS HUNTER, DB, Colorado, Sr.- Intercepted two passes to go with four tackles in the Buffaloes 28-16 loss at #23 UCLA.
JARED IVEY, DE, Ole Miss, Sr. - Completed 2.5 sacks, among five tackles in the Rebels 33-7 win over Vanderbilt.
TYSHEEM JOHNSON, DB, Oregon, Jr. - Made two interceptions, to go with a pair of tackles, in the Ducks 35-6 win over #13 Utah.
JACOB MANU, LB, Arizona, So.- Had eight tackles, 0.5 for a loss, with two QB hurries and a pass broken up in with Wildcats 27-24 win over #11 Oregon State.
JAYLEN REED, S, Penn State, Jr. - Led team with eight tackles, one for a loss, and had an interception in the Nittany Lions 33-24 win over Indiana.
Check back Wednesday for results.
About the Lott IMPACT Trophy:
Named after Pro Football Hall of Fame member, Ronnie Lott, The Lott IMPACT® Trophy is awarded to college football's Defensive IMPACT Player of the Year. Founded in 2004 by The Pacific Club IMPACT® Foundation, The Lott Trophy is the first and only college football award to recognize both athletic performance and the personal character attributes of the player.
The Lott IMPACT® Trophy is given to the player who exhibits the same characteristics Lott embodied during his distinguished career: Integrity, Maturity, Performance, Academics, Community and Tenacity. Voters for the award include selected members of the national media, previous finalists, the Board of Directors of the Pacific Club IMPACT® Foundation and a distinguished group of former college football head coaches.
To date, the Foundation has donated more than $1.8 million to numerous charities and scholarships. The 20th Annual Lott IMPACT® Trophy Award Presentation will be held December 10th. To purchase tickets for the event, click here or for more information on The Lott Trophy visit: www.LottImpactTrophy.org
NFLDraftScout.com/Lott IMPACT