Raiders Reject Patriotizing: Fire Coach McDaniels, GM Ziegler, OC Lombardi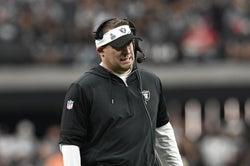 Oct 15, 2023; Paradise, Nevada, USA; Las Vegas Raiders head coach Josh McDaniels looks down field against the New England Patriots in the fourth quarter at Allegiant Stadium. Mandatory Credit: Candice Ward-USA TODAY Sports
Updated 3 p.m. PT, Nov. 1
A couple of hours before midnight on Halloween, 2023, the Las Vegas Raiders shed their Patriots costume. It was a bad fit.
In his best move since hiring Jon Gruden, Raiders owner Mark Davis fired head coach Josh McDaniels and general manager Dave Ziegler, whose experiment to Patriotize the Silver and Black was a disaster.
"After much thought about what the Raiders need to move forward, I have decided to part ways with Josh and Dave," Davis said in a statement Tuesday evening. "I want to thank them both for their hard work and wish them and their families nothing but the best."
Linebackers coach Antonio Pierce will take over as interim coach. Champ Kelly, the Raiders' assistant general manager, will replace Ziegler at least for the rest of the season.
Offensive coordinator Mick Lombardi was also fired. Lombardi was not calling plays. McDaniels was guilty of that charge. The Raiders also have Mick's brother, Matt Lombardi, on staff as an offensive assistant/assistant receivers coach.
"It just didn't seem like it was jelling," Davis said Wednesday afternoon. "And as you watched it, it just seemed like it was very important that we made a change.
"What I thought was, let's try to figure out a way to fix this and see what we can do," Davis said. "We still have a shot. We're out here to play for a championship."
Along the same lines, Davis is looking forward to rookie Aidan O'Connell replacing Jimmy Garoppolo as the starting quarterback.
In a curious coincidence, Peter Schrager of NFL Network's Good Morning Football, dressed as former Raiders owner and Mark's father Al Davis for the Tuesday show. All day he was overwhelmed with social media reaction from Raider Nation, asking him to fire McDaniels and Ziegler.
Although some may see this midseason move as a surprise, it was actually overdue less than two seasons into their tenures and a day after a horrid showing on the national TV stage of Monday Night Football.
The Raiders won only nine of their 25 games under the two, who arrived from New England in January 2022. That includes a 6-11 finish last season and the 3-5 start to this season.
McDaniels and Ziegler filled the Raiders roster with 15 former Patriots, including Garoppolo, originally drafted by New England before going to the 49ers. He leads the league with nine interceptions, one reason he will be replaced by O'Connell.
After an embarrassing performance in Monday night's 26-14 loss at Detroit, the Raiders made no moves before the Tuesday player trade deadline. It is doubtful players would want to join a team in such disarray. In fact, Vegas' All-Pro wide receiver Davante Adams tried his best to say nothing to the media after he caught only one pass in the game and was missed at least twice on potential touchdowns.
Adams displayed his emotions after being overthrown while open by ten yards. He went to the bench and slammed his helmet to the ground.
During the game, defensive end Maxx Crosby led the team with ferocious tackling and even stripped the ball for a recovered fumble when the Lions were inside the 5-yard line. Running back Josh Jacobs who led the NFL in rushing last year but did not have his option picked up, ignited the Raiders' one impressive scoring drive, which featured power running that John Madden would have loved.
The Raiders played consistently bad football under McDaniels, whose strength was supposed to be on offense. The Raiders' performance on offense this year is one of the worst in the league.
McDaniels failed to get much out of the quarterback position, with Derek Carr's play languishing down the stretch last season before he was benched and later released. His replacement, Garoppolo, ranks as one of the worst quarterbacks in the league this season.
Except for perhaps Urban Meyer and his debacle in Jacksonville, McDaniels may be the worst NFL head-coaching hire of the past two decades. Depending on how you keep stats, this can be considered the third time he vacated an NFL head coaching job before the end of a season.
That is counting his 2018 misadventure with the Indianapolis Colts. His hiring was announced and the team began to prepare for the season. But McDaniels decided to opt out and return to New England, where many believe he thought he would be the successor to Bill Belichick. Well, Belichick didn't leave. Tom Brady did and the Pats have struggled ever since. Colts fans cheered on social media when the Raiders fired McDaniels.
In his first head coaching job, McDaniels went to Denver to take over for Mike Shanahan in 2007.
He alienated 25-year-old Pro Bowl starting quarterback Jay Cutler, traded him away and drafted Tim Tebow. McDaniels was fined for videotaping a 49ers practice in London, reportedly told his players he could turn any high school quarterback into an All-Pro and started 6-0. However, he lost 12 of the next 17 games and was fired before the end of his second season.
What's next?
The Raiders must seek leadership and coaching that knows how to build on, rather than destroy, the few positives still on the team, including Adams, Crosby, and for a time, Jacobs. Raider Nation expects Raider Football, a term that has been hollow noise for so long that the current generation of fans is surviving on glorious tales of yore, when "The autumn wind is a Raider" meant something.
Yes, there was that playoff team in 2021. That was just before the McPatriot regime came aboard.
For McDaniels? The NFL doesn't have a three-strike rule, so anything is possible. The glow of his Patriot connection has dimmed, as has the team itself. In fact, that job he coveted so much in New England may be open after this year.
Stranger things have happened, right? Right?
Frank Cooney covered the Raiders since 1968, full-time between 1975 and 1981. For 33 years he has represented the franchise as a member of the Pro Football Hall of Fame Selection committee and Seniors Committee, during which time 23 of the 30 Hall of Fame Raiders players, coaches and executives were inducted.