NFLPA: Players demand grass fields amid turf injury concerns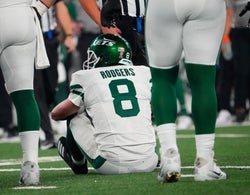 Sep 11, 2023; East Rutherford, New Jersey, USA; New York Jets quarterback Aaron Rodgers (8) sits on the field after a sack by Buffalo Bills defensive end Leonard Floyd (not pictured) at MetLife Stadium. Rodgers left the game with an injury after the play. Mandatory Credit: Robert Deutsch-USA TODAY Sports
Sept. 13 (UPI) -- NFL players overwhelmingly prefer grass fields and demand that stadiums move on from artificial surfaces as soon as possible, citing injury data, NFLPA executive director Lloyd Howell said Wednesday.
The request for urgency came just two days after New York Jets quarterback Aaron Rodgers sustained a season-ending Achilles tear on the synthetic surface of MetLife Stadium in East Rutherford, N.J. The injury prompted several players to call for the surface change, as they did in previous seasons.
"Moving all stadium fields to high quality natural grass surfaces is the easiest decision the NFL can make," Howell said in a news release.
"The players overwhelmingly prefer it and the data is clear that grass is simply safer than artificial turf. It is an issue that has been near the top of the players' list during my team visits and one I have raised with the NFL."
Howell also criticized NFL teams for putting in grass surfaces for soccer games and plans to make the same move for the upcoming World Cup, but not doing so for football players.
"While we know there is an investment to making this change, there is a bigger cost to everyone in our business if we keep losing our best players to unnecessary injuries," Howell said. "It makes no sense that stadiums can flip over to superior grass surfaces when the World Cup comes, or soccer clubs come to visit for exhibition games in the summer, but inferior artificial surfaces are acceptable for our own players.
"This is worth the investment and simply needs to change now."
The union announced Howell as its new executive director, replacing DeMaurice Smith, in June. Smith, who held the role since 2009, and union president J.C. Tretter previously called on the league to change to grass fields on multiple occasions.
A union and league approved study, sponsored by the NFL through research contracts with IQVIA and BioCore and published in 2018 in the American Journal for Sports Medicine, found that play on synthetic turf resulted in a 16% increase in lower extremity injuries per play than on natural turf.
The data showed significant increased rates for non-direct contact, missed time injuries sustained on synthetic surfaces.
A review from another study, which examined 53 articles published between 1972 and 2020, found similar overall injury rates for athletes on the surfaces, with higher foot and ankle injury rates on artificial turf. Similar knee and hip injury rates were found on the surfaces, but evidence showed football players were more likely to sustain knee injuries on artificial turf.
Data released in November from the research compiled for the league, showed that rates for non-contact injuries to knees, ankles and feet narrowed on natural and artificial surfaces from 2018 to 2021. That data showed a 0.042 rate for those injuries on synthetic surfaces in 2021, compared to 0.041 on grass.
At that time, NFL executive Jeff Miller said that evidence showed "no difference" between injuries on synthetic surfaces and grass.
"As the NFLPA knows from the meeting of our joint field surface safety and performance committee earlier this month, there was no difference between the number of injuries on synthetic surfaces versus grass," Miller said in a statement in November.
"While slit-film surfaces, one type of synthetic material, have 2-3 more injuries per year, most of them are ankle sprains -- a low-burden injury -- whereas slit film also sees a lower rate of fewer high-burden ACL injuries compared to other synthetic fields. As a result, the league and NFLPA's joint experts did not recommend any changes to surfaces at the meeting but agreed more study is needed."
Dallas Cowboys owner Jerry Jones expressed similar sentiment, telling 105.3 The Fan last year that owners "don't see issues" related to the injuries on the surfaces.
Tretter wrote in an April letter that the union believes the evidence found from the 2021 season "was an anomaly," citing data that showed higher injury rates on synthetic surfaces over the past decade. He also showed data from the 2022 campaign, which listed injury rates at 0.048 on synthetic surfaces and 0.035 on grass.
"The NFL and the NFLPA have access to the same injury information, which is collected by independent experts and shared at the CBA-mandated joint field surface safety and performance committee meetings," Miller said in April.
"The committee, including the NFLPA's experts, believe that simply playing on natural grass is not the answer to this complex challenge. Some artificial turf surfaces have a lower injury rate than some grass fields -- and some grass fields have a lower injury rate than some artificial surfaces.
"Our goal is to decrease injuries on all surfaces. There are no simple answers, but we are committed to the substantial, ongoing work with the players and their expert advisers to make the game safer."
The NFL did not immediately respond when asked for comment on the union's most-recent call for the field surface change.