NFL Week 4 Preview and Predictions: Miami Dolphins at Buffalo Bills Takes Center Stage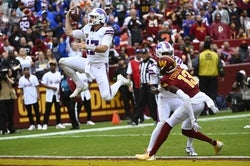 Sep 24, 2023; Landover, Maryland, USA; quarterback Josh Allen (17) and the Buffalo Bills get ready to host the Miami Dolphins in a possible Week 4 shootout. Mandatory Credit: Brad Mills-USA TODAY Sports
We're pretty much at the quarter pole of the NFL season, and the Week 4 schedule boasts games that will result in some thoroughbreds moving to the front of the race, while the weaker mounts fall further from the lead.
Much focus is on the potentially titanic matchup between the host Buffalo Bills and the undefeated Miami Dolphins, whose fans, after last week's 70-point spectacle, will be a tough lot to impress. The winner will likely join Kansas City at the top of team rankings in the AFC. Other games of interest include the Patriots visiting Dallas — will the Cowboys right themselves after Week 3's surprising (yet unsurprising) loss? — and Cleveland hosting Baltimore, in what's expected to be a bruising divisional collision.
The arrival of Week 4 also means football in London. So set the alarm early and have the crumpets and beans-n-toast ready for what promises to a cracking day of "gridiron."
NFL WEEK 4 PREVIEW
Detroit (2-1) at Green Bay (2-1) (Thurs): The last time these two division rivals met at Lambeau, Week 18 of last season, the Lions won 20-16, knocking the Packers out of the playoffs. Of course, Aaron Rodgers was leading the Pack then; now it's Jordan Love and a young Green Bay offense probably still glowing from their big comeback win over New Orleans. The Packers hope for the return of talented RB Aaron Jones and a strong running game to keep Detroit star DE Aidan Hutchinson from teeing off in passing situations. Love should also have back promising wide receiver Christian Watson.
Detroit's season is still seeking a normal rhythm after the Lions' big opening-weekend win over Kansas City. For this Thursday, specifically, the Lions are hoping to get a strong effort from a defense that's been either quite good or rickety through three weeks. Love and the Packers still feel like a work in progress. Jared Goff and the Lions' offense — look for rookie RB Jahmyr Gibbs to have a productive day — seem ready to break out. Detroit 31, Green Bay 20.
Atlanta (2-1) at Jacksonville (1-2) (London, UK): Atlanta looks to get back on the winning track after getting put in its place last week in Detroit. As we projected after his selection in last May's draft, RB Bijan Robinson is having an impressive rookie campaign, averaging 5.5 yards per carry, along with 14 catches. But he and last year's No. 1 pick, TE Kyle Pitts, need to get the ball more to help QB Desmond Ridder maximize whatever potential he has.
Sometimes you have get far from home to find yourself — at least that's what those kids from Jacksonville are hoping happens in their gap week in the UK. The Jags posted over 400 yards of total offense in the loss to the Texans, but had trouble punching it in once they reached the red zone. Quarterback Trevor Lawrence (84.5 QB rating) needs to be more efficient. The Falcons don't have much of a pass rush, so we see Lawrence getting into a rhythm and celebrating afternoon tea with a much-needed win. Jacksonville, 28, Atlanta 13.
Miami (3-0) at Buffalo (2-1): Easily the most anticipated matchup of Week 4 as two longtime AFC East rivals and budding 2023 powers square off. Everyone's eyes will be magnetized to what Miami can do for an encore to its 70-point outburst versus Denver last week. (Be prepared Dolphins fans: it wasn't like Wilt scored 101 his next time on the floor.)
Tua Tagovailoa's decision-making, ball distribution and accuracy have been off the charts this season, and he'll be getting WR Jaylen Waddle back in the lineup. However, Mike McDaniel's offense faces his biggest test this week in a Buffalo D ranked No. 6 through three weeks and which held its last two opponents to under 190 yards net passing.
On offense, QB Josh Allen was focused and receiver Stefon Diggs at his All-Pro best in the win over Washington last week. But overlooked by Miami's offensive fireworks this season has been the solid play of its defense, which is in the top half of the league. Defensive coordinator Vic Fangio is one of the game's greats and will have packages ready to disrupt and confuse Allen. It'll work just enough for Miami to win a barnburner. Miami 34, Buffalo 28.
Minnesota (0-3) at Carolina (0-3): The Vikings are a talented group on offense, but 2023 has been a parade of misfortune: Justin Jefferson fumbling a ball out of the end zone against the Eagles; a game-winning TD pass ricocheting off the normally sure-handed T.J. Hockenson for a game-losing interception (San Diego). Compound those snake bites with perhaps the worst defense in the NFL — allowing a whopping 382 yards per game — and you've got a broken-mirror image of last year's 13-4, win-every-close-game-imaginable season.
This week, Carolina gets back No. 1 overall pick Bryce Young, who missed last week's loss in Seattle with an ankle injury. Against a porous Minnesota defense, this seems like an ideal game for Young to announce himself to the NFL. But Carolina's offensive line is equally leaky, and Kirk Cousins and Co. will make enough plays to put the pieces of that broken-mirror back in place…at least for one week. Minnesota 24, Carolina 17.
Denver (0-3) at Chicago (0-3): As unappealing as the Miami-Buffalo game is inspiring, this dog of a matchup sees Denver dragging its charred and tire-tracked backside into Chicago to take on the hapless Bears. The new approach that was to liberate Bears QB Justin Fields didn't work against a tough Kansas City D last week; expect the atmosphere at Soldier Field to turn ugly if he struggles early against a Broncos defense that just gave up 70. (How bad has Denver's defense been? The 2000 Rams offense — aka "the Greatest Show on Turf" — averaged 7.0 yards per play. Denver's defense is allowing 7.2 yards per play this season [a number no doubt skewed by the Dolphins debacle].)
Despite the epic shellacking in Miami, Denver's Russell Wilson must be relieved that the ire of Bronco fans shifted away from him, even if just for a week. But in fairness to the veteran QB, he's had a solid season. We think his growing chemistry with receivers Jerry Jeudy and Marvin Mims Jr. to be just enough Sunday, especially against a Bears secondary depleted by injuries, to give the Broncos their first win. Denver 26, Chicago 13.
Baltimore (2-1) at Cleveland (2-1): An AFC North matchup that leaves the winner atop the division. Watching Lamar Jackson being chased around by Cleveland DE Myles Garrett is always a treat, but what the Ravens' QB will likely understand Sunday is that the rest of the Cleveland defense under coordinator Jim Schwartz plays with a Garrett-like fury and want of havoc.
Browns QB Deshaun Watson has been inconsistent through three weeks, but was borderline brilliant against Tennessee in the offense's first full game without injured star running back Nick Chubb. (Watson did miss practice this week with a shoulder issue, but no word yet about his availability Sunday.) With one foot firmly planted on the Browns bandwagon, we'll take Cleveland at home. Cleveland 23, Baltimore 20.
Pittsburgh (2-1) at Houston (1-2): Pittsburgh looked decent Sunday night against the Raiders, until a late Vegas charge made things a bit uncomfortable (as charges made late in Vegas are known to do). Steeler QB Kenny Pickett and the rest of the offense finally had a decent first half Sunday, and they'll want to have another this week so as not to give the young Texans and their Reliant fans any reason for hope.
The Texans might have have made their season in their surprising road win over the Jaguars. Rookie wideout Tank Dell looks like a find. And the rookie throwing him the ball, QB C.J. Stroud, has played quite well in back-to-back weeks. Whether that trend continues will likely depend on T.J. Watt — Houston right tackle Tytus Howard will draw the assignment of blocking Watt and will likely need (and get) help against the All-Pro end.
But here's the wrinkle: Houston's Pro Bowl left tackle Lamar Tunsil AND his backup Josh Jones are to miss this game. Does Pittsburgh keep Watt at left DE or decide to move him to the other side (where Watt has said he does not like to play) to match up against a the bottom of the depth chart? Let the chess match begin. We anticipate Watt to be disruptive no matter where he lines up. Pittsburgh 20, Houston 14.
Los Angeles Rams (1-2) at Indianapolis (1-2): The Rams, if their loss to Cincinnati on Monday is any gauge, are starting to look the like the team that experts projected them to be in 2023 — not terribly good. Despite the brilliant start by rookie wideout Puka Nucua (30 catches), Matthew Stafford misses Cooper Kupp, who'll remain sidelined this week. Even more than Kupp, the veteran QB pines for pass protection, and how Los Angles' OL handles Indy's defensive front will likely determine the winner of this game.
Indy's offense hopes for the return of rookie QB Anthony Richardson, who's had his moments this season, but a time-consuming running game led by Zach Moss will be the key Sunday in keeping the ball away from the Rams offense. We don't think that — or enough Matt Gay field goals from 50+ yards — will happen as much as it needs to. Los Angeles 21, Indianapolis 13.
Tampa Bay (2-1) at New Orleans (2-1): Both teams come into this matchup for the NFC South lead looking to rebound from tough losses, and doing so with similarly limited offenses. The Saints should be 3-0, save an injury to QB Derek Carr and a surprising defensive collapse against the Packers. Carr is not expected back this week, but his backup, Jameis Winston, is an experienced signal-caller, RB Alvin Kamara is back in the lineup and the New Orleans defense can be especially dominant at home.
Tampa Bay and Baker Mayfield are likely still recovering from the MNF beatdown administered by the Eagles. On defense, the Bucs might be missing their top two corners this week due to injury, but it's not clear that the Saints' offense has the weapons to take advantage and keep the Bucs from hanging around. New Orleans 17, Tampa Bay 10.
Washington (2-1) at Philadelphia (3-0): Another team, the Commanders, that really got exposed in Week 3. Now, Washington heads to Philadelphia and faces an unbeaten team starting to find its championship stride.
Two things need to happen If Washington is to have any chance of the upset: their front seven on defense will have to present more of a challenge to the Eagles' formidable offensive line than did Tampa Bay's; Washington QB Sam Howell needs to revert to his play in the Week 2 win at Denver and not show up as the turnover machine (four INTs) he was against Buffalo.
The Commanders' front seven is good enough to make some plays, but the Eagles' defense may be the best in the league and will have Howell undone by the second half. Philadelphia 30, Washington 13.
Cincinnati (1-2) at Tennessee (1-2): The Bengals started to look more like their normal selves in the second half against the Rams, Monday. Joe Burrow's injured calf is reportedly improving, and that bodes well for an offense looking to get untracked against a sorry Tennessee pass defense. Anticipate Cincy's offense to continue featuring Ja'Marr Chase this week, after the wideout had a career-best 12 grabs against Los Angeles. But keep an eye on Chase's running mate Tee Higgins, who has had a string of big games against the Titans.
Tennessee really needs this contest to keep their season relevant. Their pass defense, however, hasn't been able to keep games close enough to allow Derrick Henry to have his usual impact. The workhorse back hasn't cracked 100 yards this season and has had 15 or fewer carries in two of the three games. We say the Bengals passing game has a big day, and Henry has fewer than 20 carries. Cincinnati 23, Tennessee 9.
Las Vegas (1-2) at San Diego (1-2): An AFC West matchup that could be a fun one, since both teams boast big-time wide receivers playing at the top of their respective games. Davante Adams was tremendous against Pittsburgh but needs help from others on the Vegas offense if they're to match San Diego's firepower. And that help starts with Jimmy Garoppolo, who has alternated between making plays for his team and for the opposition (six INTs through three weeks). A dinged-up Chargers defense — hamstring issues kept both DE Joey Bosa and safety Derwin James out of practice this week — could be vulnerable if Jimmy G can limit the mistakes.
Adams' counterpart for San Diego, Keenan Allen, looks to build on his phenomenal 18-catch day in Week 3, but the Chargers offense has to move forward without stud wideout Mike Williams, done for the year with a knee injury. QB Justin Herbert has been special in 2023 (six TDs, zero interceptions) and faces a Raiders defense with their best player, DE Maxx Crosby, limited by a knee injury. We anticipate the Chargers rolling in Week 4. San Diego 37, Las Vegas 24.
New England (1-2) and Dallas (2-1): Which Cowboys team will show up Sunday? The juggernaut of Weeks 1 and 2? The unfocused puzzle of Week 3? Who knows, but that's why keeping tabs on Dallas from week to week can be habit-forming. The Cowboys will look to its defense, which reeled from the injury to star corner Trevon Diggs, to reassert itself. New England's offense is as middle of the pack as it gets, ranked 13th overall and averaging under 20 points per game, and QB Mac Jones will need help from a strong running attack against Dallas in order to keep Micah Parsons and the Dallas front from wrecking the passing game.
The Cowboys have a solid running game with Tony Pollard as the featured back, but they need to diversify their passing game and improve their red-zone efficiency — CeeDee Lamb's 19 catches puts him near the top of the NFC, but he's yet to find the end zone and no other Cowboys wideout has double digits in receptions. This week, that changes: Lamb gets two scores and Dallas gets back on track. Dallas 28, New England 20.
Arizona (1-2) at San Francisco (3-0): Whether on paper or a computer screen, this game looks like a comfortable San Francisco win, especially since the powerful Niners are coming off 10 days between games. But division clashes often have a way of equalizing things, and the Cardinals are somehow making do with a waiver-wire roster — they have mostly been the better team in each of their three contests this year. QB Josh Dobbs will likely need another efficient performance like he had against Dallas (17-of-21 and two touchdowns) in order to keep the Cardinals within contact.
For the 49ers, they'll look to clean up some things on offense. Though he's played very well through three weeks, QB Brock Purdy has left some big plays on the field. This week he and the offense get back WR Brandon Aiyuk. We like the home team in this one but predict a one-possession game heading into the fourth before the Niners put it away. San Francisco 30, Arizona 17.
Kansas City (2-1) at New York Jets (1-2) (Sunday Night): What looked like a marquee matchup before the Jets' fourth play of the season now seems poised to be a deflating public spectacle. In its loss to New England on Sunday, New York couldn't run the ball and put QB Zach Wilson and his sputtering offense behind the chains all day.
Conversely, Kansas City clicked on all cylinders in Week 3, thanks in part to TE Travis Kelce and his new life coach. (Rumors are swirling that coach Andy Reid plans to break out a new play against the Jets, the "Swift-n-tuck," which has Kelce running a reverse while wearing cashmere.) True, the Jets' defense is much stronger than Chicago's, but it's hard to imagine New York's offense not littering the field with three-and-outs (or short drives) and giving Mahomes, Kelce et al. too many opportunities to take control of the game — which they'll do. Kansas City 27, New York 6.
Seattle (2-1) at New York Giants (1-2) (MNF): The other team that calls MetLife Stadium home seems to be in only a slightly better New York state of mind. The Giants welcome the return of running back Saquon Barkley, whose presence should help QB Daniel Jones. The other thing that'll help Jones? The Seahawks' secondary has been surprisingly bad through three weeks.
On defense for New York, it'll be interesting to see whether the Giants blitz Seattle QB Geno Smith with the same abandon they did — and with limited success — Brock Purdy and the 49ers. Seattle has put together two nice wins since their disappointing season opener. One thing that bodes well for Seattle: QB Smith has been consistently good on the road over the past two seasons. Another thing: RB Kenneth Walker is really good and consistently so. We like the 'Hawks. Seattle 24, New York 20.