NFL Power Rankings, Week 2: 49ers Jump to No. 1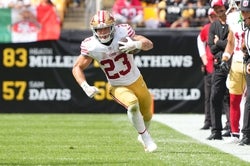 Sep 10, 2023; Pittsburgh, Pennsylvania, USA; San Francisco 49ers running back Christian McCaffrey (23) runs with the ball against the Pittsburgh Steelers during the second half at Acrisure Stadium. Mandatory Credit: Gregory Fisher-USA TODAY Sports
Week 1 is always good for a few surprises, even if a lot of them ultimately end up looking less shocking when we glance back later in the year.
That said, one massive development has sobering staying power: Aaron Rodgers suffering a torn Achilles just a few minutes into his New York Jets debut on Monday Night Football.
That staggering buzzkill permanently impacts Gang Green's season. Can Robert Saleh and Co. overcome this gutting turn of events? More on that below. Rodgers' injury is clearly the biggest story in the league entering Week 2, but it's not the only story in this 32-team rundown.
While much has transpired since the Kickoff Game last Thursday the 2023 NFL campaign is just getting started. I promise not to overreact to some of the strange results from Week 1, but a few things I saw simply can't be ignored.
On to the rankings (Move up or down in parenthesis):
Rank 1 (up 3) San Francisco 49ers, 1-0
The 49ers dominated the first half against the Steelers and delivered the knockout blow to Pittsburgh two plays into the third quarter. Christian McCaffrey's 65-yard run started with perfect execution up front. McCaffrey spun past the Steelers' Levi Wallace and was aided by blocks from WRs Brandon Aiyuk and Ray-Ray McCloud III. It was just a devastating play from a 49ers offense that was in full command on the road in Week 1. I suspected San Francisco's defense would pick up where it left off, and it did just that. But the offensive explosion was the Week 1 headline, answering any questions anyone might have about the ability or health of QB Brock Purdy. Truly brilliant stuff.
Rank 2 (down 1) Kansas City Chiefs, 0-1
Now that we've all had time to breathe — and watch the other Week 1 games — the Chiefs' loss to the Lions doesn't feel quite as cataclysmic. Travis Kelce is making progress in his recovery from a knee injury, while Chris Jones will be back now that he and the team have agreed to a new one-year deal. Furthermore, the Raiders being the only AFC West team to win was another nice development for K.C. All that said, there's no getting over the fact that Kadarius Toney and Skyy Moore had a bad, no-good season opener. They combined for one catch (and three drops) on eight targets and 3 yards on two rushes. These are two players the Chiefs were -- and, I think, still are -- counting on pretty heavily this season. Can one of them step up? I think so, but Toney's performance in Week 1 scares me.
Rank 3 (down 1) Philadelphia Eagles, 1-0
One drive and two Patriots turnovers helped the Eagles build a 16-0 lead a little over 12 minutes into Sunday's game, yet it was an absolute slog offensively from that point on. Philadelphia totaled 151 net yards and nine first downs over their next 10 possessions and ended up converting just four of their 13 third-down attempts. Despite benefitting from a few Patriots penalties, the Eagles' offense at no point resembled the group we saw become an elite unit in 2022. Perhaps the rust was expected based on the opponent, location and lack of preseason reps for the first-team offense. A quick turnaround for Thursday's game against the Vikings should reveal if these are chronic issues.
Rank 4 (up 2) Dallas Cowboys, 1-0
The Cowboys had a pedestrian night offensively — two of their five touchdowns came via the defense/special teams — and utterly dominated the Giants in MetLife Stadium. Even we true believers could not have imagined a defensive performance like that, rainy conditions or not. It took Dan Quinn's unit about five plays to settle in and then completely dismantle the Giants' offense in a performance that won't quiet the Super Bowl talk in Dallas. The one interesting offensive wrinkle for the 'Boys: a package of plays for KaVontae Turpin. After logging a grand total of four offensive touches in 2022, he had five on Sunday night. And they were pretty effective, too! Who said Mike McCarthy isn't a clever play-caller?
Rank 5 (up 3) Miami Dolphins, 1-0
The Dolphins' performance against the Chargers should absolutely frighten the heck out of the rest of the league. The Fins fell flat offensively when they visited the Bolts last December, but they delivered a pretty big message on Sunday, racking up 536 yards in the shootout win. Miami didn't go two straight possessions without scoring and crossed Los Angeles' 30-yard line on every possession but one. I love how Mike McDaniel's schemes build room for his speedsters to get close to max mph as they get the ball. Most teams can't deal with the Dolphins' speed, I suspect. Sure, the defense must tighten up, especially against the run. But this has to be demoralizing game tape for Miami's opponents to watch.
Rank 6 (up 5) Detroit Lions. 1-0
Dan Campbell probably couldn't have scripted his team's road triumph over the Chiefs any better than it turned out. The Lions sent a big message to the rest of the league. Campbell's "I didn't learn anything" comment after the game might feel like a trope, but this team had me believing. Did the offense sputter a bit more than I expected against a Chris Jones-less Chiefs defense? It did. Am I worried? Not particularly, especially if Jahmyr Gibbs' role is expanded a bit more. And how about that rookie class? With Gibbs and Sam LaPorta on offense and Jack Campbell and Brian Branch on defense, those first four picks look terrific so far. This roster oozes young, exciting talent.
Rank 7 (up 2) Jacksonville Jaguars, 1-0
Early mistakes put the Jaguars in a hole against the Colts, but it says something that the team could coolly move ahead late with some offensive flourishes and win comfortably enough on the road. Calvin Ridley is the real deal, as he and Trevor Lawrence looked like a perfect match in their first regular-season outing together. The early returns for Tank Bigsby were less encouraging. His go-ahead TD in the fourth quarter put the Jags ahead for good, but the rookie dropped a pass that became a pick in the second quarter and he lacked awareness on a bizarre play that led to a Colts defensive TD. Doug Pederson has trusted the third-round pick to this point, but Bigsby needs to tighten things up.
Rank 8 (down 5) Buffalo Bills, 0-1
Buffalo's 11-play, 75-yard drive in the second quarter on Monday night -- capped by a fabulous Josh Allen-to-Stefon Diggs touchdown against a very good Jets defense -- felt like a massive statement. The message? "We're back." Then the Bills were held out of the end zone for the next 35 minutes of football. After the touchdown, Allen threw two picks (giving him three total on the night) and lost a fumble. Just too many careless passes and poor overall ball security. Allen made big throws late, and his offensive line gave up a number of pressures, but he just seemed to make his job a lot harder than it needed to be. The Bills have a Super Bowl-caliber squad, but it's predicated on the offense being much better than what we saw in the season-opening loss to the Aaron Rodgers-less Jets at MetLife.
Rank 9 (up 1) New York Jets, 1-0
No team's offseason narrative was rewritten more in Week 1 than the Jets', who immediately encountered overwhelming adversity in the form of Aaron Rodgers' season-ending injury. But given the way New York gutted out the overtime victory over Buffalo, it's impossible not to respect this team. Such a bittersweet night for the Jets, who watched Breece Hall return from last season's ACL injury in style … Garrett Wilson author an early Catch of the Year candidate … Zach Wilson produce his biggest victory as a Jet … Jordan Whitehead pick off three Josh Allen passes ... and Hard Knocks star Xavier Gipson deliver a legendary walk-off score. Rodgers' injury cuts extremely deep. But New York's defense looks borderline elite, and the Hall-Dalvin Cook duo can handle the heavy lifting. Robert Saleh's team has plenty of grit and talent. I'm still in.
Rank 10 (down 3) Baltimore Ravens, 1-0
Even without Mark Andrews in Week 1, expectations for the new offense were higher than what the Ravens produced against the Texans. It wasn't bad, mind you, but it's clear Baltimore is still adjusting to new offensive coordinator Todd Monken's system. What was bad: losing three offensive players to injury in the game. We already know RB J.K. Dobbins is done for the year with an Achilles tear, while OLs Ronnie Stanley (knee) and Tyler Linderbaum (ankle) are considered week to week, per head coach John Harbaugh. Even if the latter two are ultimately not long-term worries, the setbacks compounded an underwhelming opening offensive performance. The pieces are there for Baltimore to be dangerous on that side of the ball, as first-round pick Zay Flowers had a strong debut and Lamar Jackson flashed occasional magic. But the room for improvement is obvious.
Rank 11 (down 6) Cincinnati Bengals, 0-1
What to do with the Bengals? On the one hand, it's easy to write off Week 1's disaster performance based on history. The Browns delivered a similarly humbling loss to Cincinnati last Halloween and have had the Bengals' number defensively in recent meetings. Cincy also stunk in Week 1 last year, dropping a five-turnover clunker to Pittsburgh. Plus, Joe Burrow missed nearly all of training camp, which clearly hurt his and the offense's timing. The Browns certainly deserve defensive credit. But it's just hard to imagine Burrow's struggles lingering or the Bengals enduring another game where Tee Higgins has eight targets and zero catches. Yet, like a year ago, the offensive line fell flat in the opener. That's the one issue that worries me long term.
Rank 12 (even) Los Angeles Chargers, 0-1
On a day when the offense was terrific, the defense turned in a mostly abysmal performance -- the kind that makes me question the Chargers. The Bolts' D, which is littered with talent, has continuity with nine returning starters. But the unit was picked apart by the Dolphins, one chunk play at a time, to the tune of 466 passing yards, the most ever allowed by any team with Brandon Staley as its head coach or coordinator, per NFL Research. Yes, Staley's defense looks worse than it did a year ago, even if one game is admittedly too small a sample size for grand pronouncements. The Chargers must find a way to avoid squandering Justin Herbert's prime, and right now that starts on D.
Rank 13 (up 5) Cleveland Browns, 1-0
I won't harp on this yet, because the Browns' revamped defense absolutely turned in a banner performance in working over the Bengals in Week 1, and that's a sign of progress. But it's a good thing Joe Burrow struggled more than Deshaun Watson did, because the Browns have some issues offensively, compounded by the season-ending injury on Sunday to RT Jack Conklin.The weather conditions in Cleveland were not ideal for pristine execution on Sunday, and it was encouraging to see the Browns try to stretch the field vertically and use Watson's legs as a real weapon, with the latter strategy at least being effective. But if Watson struggles again throwing the ball vs. an angry Steelers team in Week 2, I am prepared to dive in deeper there.
Rank 14 (up 2) New Orleans Saints, 1-0
Derek Carr got his first win as a Saint (which is not a commentary on the Raiders), and the defense carried an outsized load in the victory over the Titans. But let's talk special teams, because those units helped tip the game in New Orleans' favor. Rookie kicker Blake Grupe won a camp battle and showed why against Tennessee, making all three field goals (including a game-tying 52-yarder) and his only extra point. He also blasted five touchbacks. Punter Lou Hedley is just as inexperienced, but he averaged 48.2 yards on five punts. Zack Baun's blocked punt -- with Steve Gleason in the house! -- shows why he made the team despite having a minimal role on defense. The Saints have some things to clean up, but there were subtle shades of 2006 magic on Sunday.
Rank 15 (up 6) Green Bay Packers, 1-0
When you drill down on Jordan Love's performance in the 38-20 win at Chicago, certain things need refinement. The Packers didn't mount a true drive until the second half, having been gifted twice with short fields early. But once Love settled in, he was pretty terrific, all things considered. He had to know how big a test this game would be and how much Packers and Bears fans weigh this rivalry. Love (with help from Aaron Jones) delivered time and time again in the second half. The victory was also a celebration of some of the Packers' young defenders. Devonte Wyatt and Quay Walker, often disappointing as rookies last season, had big moments. Rookies Lukas Van Ness and Karl Brooks also showed up. This game checked a lot of boxes.
Rank 16 (up 1) Atlanta Falcons, 1-0
The run-heavy script was what we expected. But it's a little concerning that, of the Falcons' 18 throws in their win Sunday, only four went to Kyle Pitts and Drake London. And that was against a Carolina defense that was missing its best corner for much of the game. Pitts logged a few big catches, plus a 26-yarder called back on a London penalty, and running backs Tyler Allgeier and Bijan Robinson really looked great together. But otherwise, the offense didn't get it done. It was Week 1, sure, but even the respected O-line was a mixed bag. Desmond Ridder also didn't do much to quiet any doubters. The defense played great -- really, that unit won the game. Can the Falcons expect outstanding showings from Jessie Bates and Grady Jarrett every week? They might have to.
Rank 17 (down 2) Minnesota Vikings, 0-1
For all the encouraging signs Brian Flores' undermanned defense showed against Tampa Bay, the Vikings still couldn't take the ball away or get a crucial stop late. In the end, three offensive turnovers cost them dearly. Perhaps it's a sign that this year's Minnesota squad won't have the same fortune as the 2022 edition, which thrived in close-game situations. Then again, the Vikings almost won a game in which they were minus-3 in turnovers; teams that were minus-3 or worse in regular-season games in 2022 went 1-37. This was not a great Week 1 showing, but I am not ready to write this team off, either. It's just that there are enough tough games upcoming that it's hard not to be somewhat uneasy.
Rank 18 (down 5) Seattle Seahawks, 0-1
I don't know what it is about the Seahawks over the past few years, but it seems like once they patch one defensive hole, another leak springs. Last year, the run defense was that unit's Achilles' heel. In Week 1 against the Rams, the run defense was fine (except maybe in short yardage). The problem? Stopping the pass. Seattle allowed a Cooper Kupp-less Los Angeles offense to average nearly 9 yards per pass attempt. It looked like the Rams tried to spread the Seahawks out and make it a matchup game. Offensively, Seattle started out fine but completely fizzled after its defense blocked a field goal late in the second quarter. There was a lot to process from this game, but Sean McVay's Rams have traditionally given Pete Carroll's teams trouble, so I am not panicking -- yet.
Rank 19 (down 5) Pittsburgh Steelers, 0-1
Well, this didn't go as planned. The white-hot first-team offense we saw in the preseason was completely smothered early and only looked efficient for one have-to-have-it drive before halftime of Sunday's loss to the Niners. Kenny Pickett, who pledged to take a big step up this season, had two picks -- and he should have had a third, but Fred Warner just dropped a gift that hit him in the hands. Pickett's final stats (31-of-46 passing, 232 yards) put a cosmetic sheen on what was a bad day. His offensive line (he was sacked five times) and receivers (countless communication errors) did little to help. The run game was virtually abandoned after the early deficit was established. Sign of trouble or a one-game blip? Next Monday's game against the Browns, who dominated the Bengals defensively, will tell us a lot about the 2023 Steelers' offense.
Rank 20 (even) Denver Broncos, 0-1
The Broncos looked like a slightly cleaner version of what they were a year ago in Sunday's loss to the Raiders. (Yes, I realize that's about as nice a compliment as "you've lost some weight!") But ultimately, they lost another game they had ample chances to win -- a theme that was drilled home time after painful time last season. The lack of trustworthy weaponry worries me. Russell Wilson started the game cleanly, hitting 17 of his first 19 passes with two TDs, yet the Broncos ran out of gas thereafter. Ten penalties certainly hurt, but the lack of big-play threats with WR Jerry Jeudy sidelined for this game and TE Greg Dulcich knocked out with an injury felt stark. This wasn't a horrific start for the Sean Payton era, but it felt similar to an era most Broncos fans want to forget.
Rank 21 (up 2) Washington Commanders, 1-0
It wasn't the start Sam Howell and the offense wanted, especially in terms of pass protection. Turnovers, penalties and sacks were huge bugaboos in Week 1 against a rebuilding Cardinals team, yet Washington escaped with a four-point edge. That's worrisome, but not yet a travesty. The offensive line, Howell and offensive coordinator Eric Bieniemy all can share some blame for the pass-pro mistakes. The Commanders' defense showed it can take over games, but asking for that every week likely won't fly for very long.
Rank 22 (even) Tennessee Titans, 0-1
I have an enormous amount of respect for the way Mike Vrabel coaches, especially when it comes to in-game decision-making. So, when Vrabel opted to kick a field goal down four points on fourth-and-6 from the New Orleans 11-yard line with 2:20 remaining, it stunned me. Next Gen Stats favored going for it over kicking the field goal by 5.9 percentage points. The Saints drained the rest of the clock on the ensuing possession and earned a 16-15 victory. Vrabel also declined a holding penalty on a third-down play in the third quarter, giving the Saints a 52-yard field goal try (which they made) to tie the game instead of pushing them back 10 yards for another third-down play. Didn't love that, either. Even after listening to him explain the decisions on Monday, I felt like these were head-scratchers from an otherwise very good game-managing coach.
Rank 23 (up 4) Las Vegas Raiders, 1-0
It was an ugly win against Denver, no doubt, but I think what resonated most for me was the Raiders' grit and resolve in tough spots. That's exactly what they lacked last year. Heck, go back and look at the first month of the 2022 season, and you'll see they lost four of their first five games by a total of 14 points. On Sunday, from the final minute of the first quarter on, no team led by more than 6 points. The Raiders kept tradition alive by committing 10 penalties, several of them hair-pullingly maddening, and Jimmy Garoppolo's red-zone pick was a killer. But it's what the Raiders did after those mistakes that defined them in this game. It was a gutsy performance littered with reminders that living this dangerously every week will eventually come back to bite them.
Rank 24 (up 4) Tampa Bay Buccaneers, 1-0
Tampa Bay was lucky to not be behind at halftime of Sunday's win over Minnesota, thanks to three Kirk Cousins turnovers. Those takeaways only led to 3 points for the Bucs, but they did keep the Vikings off the scoreboard at least twice. Tampa's wide receivers stepped up in a big way, and offensive coordinator Dave Canales seemed dialed in late in his first game calling plays. But the offensive line and Baker Mayfield must improve going forward. Luke Goedeke and Robert Hainsey were flagged for holding, and Tristan Wirfs had a so-so day in his debut at left tackle. Mayfield got better as the game went on, and he avoided some would-be sacks, but his overall execution's lacking. His receivers bailed him out a few times.
Rank 25 (down 1) New England Patriots. 0-1
The Week 1 loss to the Eagles felt eerily similar to the Patriots' late-season defeat to the Bengals in 2022, in which New England fell behind 22-0 before coming up just short in a 22-18 final. Against Philadelphia, the early deficit was 16-0, and the final margin was 25-20. To me, these are testaments to Bill Belichick and his staff game-planning for a top-tier opponent very effectively, but they're also coming up short because of the talent differential. Yes, the Patriots were one Kayshon Boutte foot from perhaps winning the game. And though the Pats made up for lost time offensively, they must quickly find a way to avoid slow starts, or this team could find itself in holes it can't dig out of.
Rank 26 (up 4) Los Angeles Rams, 1-0
Sean McVay delivered a relative masterpiece of found art, if you will, leading a Cooper Kupp-less offense to a fairly dominant performance that saw the Rams control the ball for nearly 40 minutes with long, sustained drives -- and a few out-of-character wrinkles, to boot. Without Kupp, Los Angeles opted for more gap runs and power plays, and though 37 handoffs only netted 81 rush yards, the ground game served its purpose: keeping the Seahawks' offense off the field. The Rams also found a pretty good Kupp doppelgänger in rookie Puka Nacua, who had 10 catches (on 15 targets) for 119 yards, including a diving grab on the sideline to help ice the game late. Defeating Seattle might have been a stunning result, but don't forget that this McVay guy can coach a little.
Rank 27 (down 2) Carolina Panthers, 0-1
There have been far worse first starts in the history of the NFL, but I honestly thought Bryce Young would play a tad better than he did in Sunday's loss to the Falcons. Jessie Bates baited him into two picks, in virtually the same way both times. Those should provide a good lesson for the rookie: He can't always get away with some of those tight-window throws he loves. Yet, it was pretty clear that the game was not too big for Young -- and that's what makes me confident he'll be fine. The No. 1 overall pick misfired on some passes, including what could have been a 99-yard TD to Jonathan Mingo, but that was one of the few times a receiver had clear separation. Young struggled, but his playmakers didn't do him a ton of favors. He should settle in with more help.
Rank 28 (down 9) New York Giants, 0-1
The Giants had the most disheartening Week 1 performance. At the center of the struggles in the 40-zip home loss to Dallas: the team's past two first-round picks, its $40 million quarterback and the franchise-tagged running back. The Cowboys' pick-six off Saquon Barkley's hands really set the tone for a dismal night. Daniel Jones was sacked seven times and didn't complete a pass longer than 9 yards until Dallas was up 26-0. This year's first-rounder, CB Deonte Banks, left the game with cramps, and one of last year's first-rounders, Evan Neal, was worked over in pass pro. If you're a Giants fan, maybe you take solace in the fact that the 2022 Vikings lost 40-3 to the Cowboys at home last season before finishing 13-4. Or maybe you start worrying about four of the Giants' next five games being on the road.
Rank 29 (down 3) Chicago Bears, 0-1
There weren't a ton of positives to take away from the opener, which ended in a ninth straight loss to Green Bay. Justin Fields wasn't bad, per se, but he was hardly great -- and the overall offensive struggles were such that any offseason optimism anyone might have been feeling was severely tamped down. Netting 6 points on the first three possessions hurt, as the Bears turned the ball over on downs and got bogged down twice deep in Green Bay territory. The offensive line was a sieve. There were five offensive penalties. And Fields threw a horrific pick-six late that sealed it. On top of that, Chicago's defense fell flat, too: The Bears were inconsistent with their pass rush and coverage, generated zero turnovers and executed poorly on third and fourth down. There was more bad here than I imagined the Bears having in Week 1.
Rank 30 (down1) Indianapolis Colts. 0-1
Anthony Richardson's first NFL start was an interesting Rorschach test, simultaneously providing encouragement and a reminder of how far he and the Colts still must come. Elements of the Jalen Hurts playbook that made Shane Steichen a hot coaching candidate were on display, notably with Richardson's TD draw play. But part of what was missing was the downfield passing. Most of Richardson's throws were quick, and 136 of his 223 passing yards came after the catch. He also dealt with a knee injury (suffered in the first quarter) and ankle injury on Sunday, coming out of the game in the final minute. Richardson's running ability was as advertised, and there were impressive throws scattered throughout, but you can tell this offense is in its developmental infancy.
Rank 31 (even) Houston Texans, 0-1
C.J. Stroud made a respectable debut on Sunday, considering what he was up against. The Ravens' rush was in his face most of the day, as he took five sacks and spun out of at least that many more. Stroud showed good athleticism and escapability, even if the offensive line's performance makes you worry about Stroud getting hurt and, given the number of mistakes that unit made, wonder how productive he can be. Once Stroud settled in around the second quarter, there were some promising throws and plays — just not enough to compensate. The Texans need to insulate Stroud better, but I think I underestimated how important a guy like Robert Woods is going to be for the No. 2 overall pick this season. More than once on Sunday, the savvy Woods saved his QB's bacon by coming back to the ball or catching a pass that could have been picked. All in all, a solid Game 1, but it also served as a reminder of how far this team still needs to go.
Rank 32 (even) Arizona Cardinals, 0-1
Defensively, the Cardinals did everything one could have hoped for in the loss to Washington, holding the Commanders to 248 yards and a 4-of-12 conversion rate on third downs, forcing three turnovers and sacking Sam Howell six times. But it wasn't enough, as the offense — creative as it might have been — just couldn't sustain drives with placeholder QB Joshua Dobbs. Arizona tried throwing the kitchen sink at Washington with a Hollywood Brown end-around, a Rondale Moore wheel route and a flurry of formations and personnel groupings. And the offense totaled 210 yards and 13 first downs. Penalties also killed the Cardinals in all three phases. If Arizona wants to try to win games with good defense and not much offense, it can't be flagged nine times for 122 yards next week — or any week.