Arizona Cardinals Don't Need Caleb Williams When They Have Kyler Murray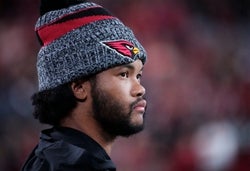 Arizona Cardinals quarterback Kyler Murray (1) arrives on the field during a preseason game against the Denver Broncos at State Farm Stadium in Glendale on Aug. 11, 2023
(Greg Moore strongly disagrees fellow Arizona Republic sports writer Bob McManaman, who published a story discussing the possibility of the Arizona Cardinals moving on from quarterback Kyler Murray, mentioning that USC's Caleb Williams will be available in the 2024 NFL Draft and the Cardinals may have the top two picks. So should the Cardinals tank for Caleb?)
Let me get this straight: The Arizona Cardinals have a perennial Pro Bowler at quarterback, a guy with the arm of Warren Moon and the legs of Barry Sanders, who was a legitimate threat to put up 4,000 yards passing and 1,000 yards rushing as a one-man gang of an offense in his second season and an MVP candidate the year after, despite a coach who looked like he was making things up as he went along, a player who's under contract for the next five years, and there are people who want to trade him?
It's preposterous.
The Cardinals shouldn't be considering moving on from Kyler Murray. They should be doing everything they can to make him happy enough that he doesn't try to force his way out of town.
All this comes as the Cardinals are going through a tear-down renovation project under new General Manager Monti Ossenfort, who seems to be facing no criticism for putting together a roster that's more likely to go winless than undefeated, the oldest trick in the book for front-office managers attempting to buy time and cover the fact that they don't know what they're doing.
To his credit, Ossenfort has made some smart trades, including a draft day deal that has the Cardinals in position to have a quarterback controversy that any rebuilding football executive would love: the aforementioned Murray vs. Heisman-trophy winner Caleb Williams.
Here's how it shakes out: If the Cardinals are the worst team in the league, they'll have the top pick in the 2024 NFL Draft. And by virtue of Ossenfort's April trade that made fools of the Texans, Arizona also will have a first-round pick from Houston.
The Texans are projected to be as bad as the Cardinals, if not worse. Arizona, therefore, has two chances to have very, very high draft picks, which would put Ossenfort in position to take Williams from USC, and that guy looks special.
There's a loud rumbling from fans and NFL observers that suggests the Cardinals would be better off taking Williams, who will have a low salary for his first few years, and trading Murray, who's one of the highest-paid players in the league.
The cheaper Williams would allow Ossenfort to get more expensive players at edge rusher, cornerback, wide receiver, you name it. And if Williams is as good as everyone thinks, the infusion of talent all around could make the Cardinals a Super Bowl contender in a few years.
I could not possibly disagree with this more.
Williams is amazing. I've seen him on TV and in person, watching him scorch the Sun Devils at the Coliseum last season.
He's being called "the next Patrick Mahomes."
But let's stop there.
That praise is too high. Williams is being compared to one of the greatest quarterbacks in the history of the sport before he's even played his first game. And let's not forget that Mahomes was the 10th player selected in 2017, after receivers Corey Davis and John Ross and quarterback Mitchell Trubisky.
You don't know how college prospects will turn out as pros. It's always been like that. It will always be like that. Williams could be amazing, but there's no guarantee. After all, he did struggle against San Jose State in the 2023 season opener.
The Cardinals have a bird in hand at the most important position on the field with Murray. Why give that up for two in the bush with Williams and another prospect?
Murray is out for the start of the season, recovering from a busted knee. But all reports are that he's taking his rehab work seriously and showing leadership in the locker room.
His teammates love him, in no small part because players recognize when they're around someone who can do things no one else can.
Have we forgotten the scramble and throw against the Bills in the 2020 "Hail Murray" play?
The 57-yard read-option run against the Colts in 2021?
The crazy 2-point conversion against the Raiders when literally half of the Las Vegas defense had a shot at him? Or how about the tight-window touchdown throw to Hollywood Brown that set up that staggering scramble?
And all of this with a head coach in Kliff Kingsbury, who couldn't win a home game and closed out seasons like he would rather go on vacation than to the playoffs?
At this point, I just don't know what more observers want from Murray. He was the offensive rookie of the year. He made the Pro Bowl twice in his first three seasons. And when the Cardinals were the best team in the league after a 7-0 start in 2021, Murray was an MVP candidate, having put up 2,000 yards passing with 17 touchdowns against 5 interceptions. (Also, for those who think Murray can't be effective as a primary passer, he barely used his legs during that two-month stretch, rushing for just 126 yards.)
The best-case scenario for the Cardinals is that Murray comes back from his knee injury and is as effective as ever while the Texans mess with futility.
If Ossenfort gets the top pick from Houston, he should trade it for all he can get and build around Murray.
Williams might become a generational talent, but Murray has already proved that he is one.
Arizona Republic LOADED: 09.04.2023