Domowitch to HOF selectors on DB Eric Allen --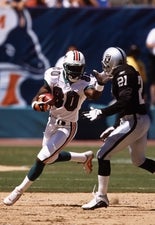 Sep 23, 2001; Miami, FL, USA; FILE PHOTO; Miami Dolphins receiver James McKnight (80) in action against Oakland Raiders defensive back Eric Allen (21) at Pro Player Stadium. Credit: Lou Capozzola-USA TODAY NETWORK
Below are some comments from former NFL MVP Rich Gannon on cornerback Eric Allen. Their careers overlapped. Gannon played against Allen for more than a decade. They later were teammates with the Oakland Raiders for three years.
You all know how I feel about Eric. He belongs in the Hall of Fame. He was an integral part of those great Eagles GangGreen defenses of Buddy Ryan and Bud Carson back in the late '80s and early '90s.
He's tied for 21st in career interceptions with 54. Had five or more picks in a season six different times, including six with the Raiders in his next to last year in the league (2000), at the age of 35. He's tied for eighth in career interception returns for touchdowns with eight.
He was a six-time Pro Bowler. A first- or second-team All Pro selection three times. A first-team All-Conference selection six times.
As I mentioned in an earlier letter of support for Eric, we put a lot of emphasis on whether a candidate made an All-Decade team. I understand why. But sometimes we have to consider the circumstances if they don't.
Eric played 10 of his 14 seasons in the '90s. The four corners on the All-Decade team of the '90s were Deion Sanders, Rod Woodson, Darrell Green and Aeneas Williams. Sanders and Woodson were voted into the Hall of Fame by us in their first year of eligibility. Green made it in his second year and Williams in his fifth.
This is Eric's 17th year on the modern-era ballot. All-Decade or no All-Decade, Eric Allen belongs in the Hall of Fame. I believe that and so does Gannon. He wanted me to share his thoughts about Eric with the selection committee:
"I played against Eric when he was with the Eagles. I played against him when he was with the Saints. And ultimately, he became my teammate with the Raiders for three years.
"I went against him in practice every day. I watched him cover Tim Brown and Jerry Rice in practice. We had Eric on one side and Charles Woodson on the other. So I have a pretty unique perspective on who he was and how good he was.
"When I work with quarterbacks, or even when I talk to defensive coordinators and coaches, I bring up Eric a lot. Eric was really, really good – the best I've ever played against – at disguising his intentions. He would show you press when he was playing down. He would play off five yards, then come up and jam.
"We would say, don't be the tell. Eric would never be that guy. He did a great job changing it up. From a quarterback perspective, it's the last thing you want. I'm trying to deal with fronts and rotations and pressures and blitzes and down-and-distance and all of those different things. The last thing I want to do is look out there and see a corner who isn't in a stationary position.
"He did a great job with his eyes. He read the eyes of the quarterback. His stop-and-start quickness was terrific. He was great playing the ball in the air. He was maybe 5-10. But he had tremendous leaping ability. He was ultra-competitive. A very good tackler. Showed up in run support. All the little things that you love.
"A quick story. I remember training camp in Napa. I remember Eric on the left side and Charles Woodson on the right. We had Tim Brown and Jerry Rice and we couldn't complete a pass. I remember Gruden coming to me before one afternoon session and saying, OK, this is our best shot. Maybe those guys aren't warmed up yet.
"At one point, I remember Gruden talking to both of them and saying, Hey, take it easy on these guys (Brown and Rice). Because, honestly, they were kicking the shit out of them. Eric was so competitive. He didn't care that it was training camp. That was Jerry Rice on the other side of the line. And Tim Brown. He wasn't a Raider when the ball was snapped.
"Eric was one of the smartest players I ever played against. You could talk to him during the week about Denver's offense or Kansas City's offense. Some defensive backs, particularly corners, it's, Uh, I'm covering this guy. It's either man or zone. That's all they know. Not Eric. He understood formations. He understood personnel groupings. He understood splits. Like, if a guy was gonna split two yards inside the numbers, Eric was calling out crosser, crosser, crosser.
"He was a great communicator on the back end. He did a great job helping young safeties. He was outstanding at processing information quickly and efficiently and getting himself in position, getting others around him in position. He was the communication hub of the secondary. That's not normally the case with a corner. That's usually left to the safeties. But Eric always was communicating back there.
"He did all of the little things right. He was a big part of that transformation in Oakland. He got there in '98. They were terrible. In '99, we finished 8-8, but all of our losses were one-score losses. We easily could've been 10-6. The next year, we went 12-4. He was a big part of that.
"'He was one of my favorite teammates. Always laughing, always smiling, always upbeat, always positive. Ultra-competitive. He was the real deal.
His next to last year in the league, he had six interceptions, including three pick-sixes. I played against a lot of great players in my career. Without question, he's in the top 5.