Butkus, Brutal but Beloved, Dies at 80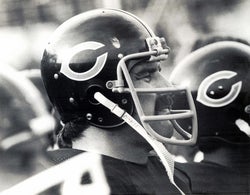 Sep 23, 1973; Chicago, IL, USA; FILE PHOTO; Chicago Bears linebacker Dick Butkus (51) on the sidelines during the game against the Minnesota Vikings at Soldier Field. Mandatory Credit: Malcolm Emmons-USA TODAY Sports
(For one of the greatest to play the game, the dateline on this story must be from the Hall of Fame)
CANTON, OHIO – Pro Football Hall of Famer DICK BUTKUS passed away early Thursday at his home in California at the age of 80.
The following is a statement from Hall of Fame President Jim Porter:
"Near universally, Dick Butkus, a hometown hero in Chicago, was considered the person who defined the position of middle linebacker. He established a level of production and intensity few have matched. USA Today once called him the 'gold standard by which other middle linebackers are measured.'
For more on Dick Butkus look here
"Playing in an era when middle linebacker became one of the game's glamor positions — and several of Dick's contemporaries also would end up in the Pro Football Hall of Fame — his name most often was cited first as the epitome of what it took to excel at the highest level.
"Our thoughts and prayers are with Dick's wife, Helen, and their entire family. We will preserve his legacy for generations to come."
Butkus played for nine years with only one goal in mind: to be the best. From the very start, he lived up to his own expectations.
In his rookie season, Butkus, a first-round draft choice, had one main challenger for the National Football League's Rookie of the Year honor: teammate Gale Sayers. That same year, Butkus was named first-team All-NFL, an honor he would record five more times. He also played in the Pro Bowl following his rookie season and in each of the next seven years.
His career statistics included 22 interceptions and 27 fumble recoveries. Butkus exuded drive, meanness, a consuming desire to pursue, tackle and manhandle — anything he could do to thwart the enemy on every play. He possessed the speed and agility to make tackles from sideline to sideline and to cover the best tight ends and running backs on pass plays. He had instinct, strength, leadership and, maybe most important of all, anger.
"When I went out on the field to warm up, I would manufacture things to make me mad," he once said. "If someone on the other team was laughing, I'd pretend he was laughing at me or the Bears. It always worked for me."
It was inevitable that injuries would eventually come to someone who threw himself so completely into a contact sport such as football. For Butkus, it was a serious right knee injury in 1970 that didn't respond completely to surgery. Three years later, he retired.
He was elected to the Pro Football Hall of Fame in 1979, his first year of eligibility. He was named to eight Pro Bowls and selected to both the NFL's 75th Anniversary Team and the All-Time NFL Team (selected in 2000).
The flag at the Pro Football Hall of Fame will be flown at half-staff in his honor.
Statement from NFL Commissioner Roger Goodell
"Dick Butkus was a fierce and passionate competitor who helped define the linebacker position as one of the NFL's all-time greats. Dick's intuition, toughness and athleticism made him the model linebacker whose name will forever be linked to the position and the Chicago Bears.
"We also remember Dick as a long-time advocate for former players, and players at all levels of the game. The Dick Butkus Award and his foundation honored achievement on the field and service to the community among high school, college and NFL linebackers. Dick was a champion of clean sports as his "I Play Clean" campaign helped raise awareness about the dangers of steroid use among high school athletes.
We send our deepest condolences to the Butkus family, the Bears organization and the many fans and people he impacted throughout his life."
The Bears paid tribute to Dick Butkus with a moment of silence before their game vs. the Commanders.