Bengals: One player in HOF, two on doorstep -- Willie Anderson and Ken Riley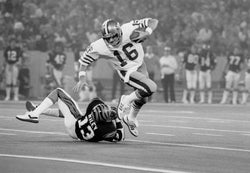 Jan 24, 1982; Detroit, MI, USA; FILE PHOTO; San Francisco 49ers quarterback (16) Joe Montana eludes Cincinnati Bengals defensive back (13) Ken Riley during Super Bowl XVI at the Silverdome. The 49ers defeated the Bengals to earn their first Super Bowl title 26-21. Mandatory Credit: David Boss-USA TODAY Sports Copyright David Boss
Cincinnati is only about a three hour drive from Canton Ohio, home of the Pro Football Hall of Fame, but for the Bengals it seems like a million miles away. In more than half a century, the Bengals have been to three Super Bowls. But there is only one player inducted into the Hall of Fame who was predominantly a Bengal -- offensive tackle Anthony Munoz.
So former Bengals tackle Willie Anderson was surprised to learn he was a semifinalist for the Class of 2023 and then a finalist along with the late, great defensive back Ken Riley.
Many wonder why Riley, who holds the Bengals career record of 65 interceptions, is not already in the Hall of Fame. Riley died two years ago and is a seniors candidate. He missed making it previously because, despite an outstanding career, Riley suffered from a typical Bengals problem -- playing his entire career in a small media market on a team that was usually so easy to overlook that he was never even selected to a Pro Bowl.
Anderson's situation was further impacted by the fact that, unlike Munoz, he played right tackle, which is the wrong tackle to get glory for defending the quarterback's blind side. Or so they say.
Never mind that he more than held his own against such sack artists as Julius Peppers, John Randle, Bruce Smith, Michael Strahan and Reggie White. Or that he blocked for nine 1,000-yard rushers, including Corey Dillon's two NFL record-setting games of 246 yards and 278 yards.
Strahan stands up for Anderson, pointing out that the Bengals' 6-5, 340-pound right tackle gave up only 16 sacks in 13 seasons despite blocking against nine of the top 11 sackers in the NFL at the time.
While offensive linemen are a tough pitch because of a lack of statistics, Anderson's backers engaged Pro Football Focus to dredge up data on him. The new world analytics group calculated that since 2006, Williams allowed the fourth fewest pressures in an NFL season with 11 in 2006. That trails Ronnie Stanley (6 in 2019), Jonathan Ogden (8 in 2006) and Andrew Whitworth (9 in 2014).
Hey, it's at least a stat for a right tackle, right?
Here is a summary of the careers of Riley and Anderson as the Bengals hope to get at least one more of their own into the Hall of Fame:
KEN RILEY (defensive back, 1969-1983)
BIOGRAPHY
- Defensive Back
- Born August 6, 1947 in Bartow, FL
- Passed June 7, 2020 in Bartow, FL
- Attended Florida A&M University
- Drafted in 1969, Round 6 (135 overall)
- 9 Year coaching career with the Packers and
Florida A&M, where he was the head coach.
QUICK HITS
- Won or shared the AFC interception title in
1976, 1982, & 1983
- Holds team record for career interceptions
(65)
- Holds team record for interception return yards (596)
- Holds team record for interception returns for touchdowns (5)
Ken Riley has the fifth most interceptions of all-time with 65. The second most by a pure cornerback.
It is one of those few numbers that age well. Since Riley retired in 1983, only one player, Rod Woodson, has had more interceptions. If you look at the number of chances Riley converted, it is miniscule compared to the players that came after him.
No quarterback attempted more than 500 passes in 1973. In 1983, five did. Twenty years later, it was a dozen and in 2020, nearly 40 years later, it was 15. In that stretch, only Rod Woodson has more interceptions than Riley and only Charles Woodson has as many and both finished their Hall of Fame careers as safeties.
Yes, Riley never made a Pro Bowl, but we already know the problems with Pro Bowl voting and it is just the kind of wrong the senior committee was designed to right.
And 65 picks are 65 picks. The four players ahead of him are in the Hall. So are the two behind him.
CHARLIE JOINER ON KEN RILEY:
Hall of Fame wide receiver Charlie Joiner practiced against Riley during four seasons as a Bengal and played against him as an Oiler and Charger:
"He didn't make mistakes. Lemar Parish was maybe more talented and more of a good man-to-man cover. But Ken Riley just played his job... He knew the game. He knew how to study film, how to understand receivers, study their tendencies, how the quarterback made calls...He encompassed the entire game, not just one play. Any time you lead the league in a career stat, I think you should be a
Hall-of-Famer."
JAMES LOFTON ON KEN RILEY:
"Ken Riley caused problems for a lot of receivers. I went to Cincinnati on a hot streak. (Lofton had 800 yards in the first eight games of 1983.) That's 100 yards a game. Easy math to do. I faced Ken Riley in Week Nine. After the game was over, I still had 800 yards. I did not catch a pass against Ken Riley or the Cincinnati Bengals that Sunday afternoon. Ken Riley gets my full-throated endorsement for the Pro Football Hall of Fame. When his name comes up, I'll be ready to cast my vote for him."
MEL BLOUNT ON KEN RILEY:
Hall of Fame cornerback Mel Blount broke in with the Steelers in 1970, a year after Riley arrived in Cincinnati. They both retired in 1983. Blount says he watched as much tape of Riley as he could:
"He was a student of the game. He had a high football IQ. I think that was coming from the offensive side being a quarterback. I think he kind of knew what formations were going to bring you. I think he knew the timing of it. I think he knew how the placement of the ball mattered because he was a quarterback on the other side of the ball. He had a higher I.Q. than most of us in the game.
"He kept that secondary in Cincinnati together … He was special
… You couldn't give the guy more accolades … The way he played for 15 years and he didn't make one Pro Bowl? That's a disgrace. I just can't believe that."
DICK LEBEAU ON KEN RILEY:
Hall of Fame cornerback Dick LeBeau coached Riley his last four seasons. He saw a lot of corners in 60 years playing and coaching in the league. He says Riley belongs:
"Kenny Riley represents what the Hall of Fame is all about, in my opinion. I think Kenny's stats merit that. I definitely do. Look at how many games, how many years that he played. The productivity he exhibited. The leadership that he exhibited."
WILLIE ANDERSON (Offensive tackle, 1996-2008)
- Tackle
- Born July 11, 1975 in Whistler, AL
- Auburn University
- Drafted in 1996, 1st Round (10th overall)
QUICK HITS
- 2000's All Decade Team (Pro Football
Reference)
- Three straight All Pro Honors (2004-2006). The first consecutive three-time All-Pro right tackle since Hall-of-Famer Dan Dierdorf in
the 1970s
- Four Pro Bowls and two alternate
PASS PROTECTION
- Pro Football Focus has him the highest graded pass blocker in the past
20 years
- For PFF total grades of recent Pro Football Hall of Fame linemen since
2006, Anderson is rated ahead of Orlando Pace Steve Hutchinson, Alan Faneca, Will Shields, and Kevin Mawae
- In 13 years allowed 16 sacks in 195 career games (team stats)
- Three years of no sacks (team stats)
- Faced nine of the top 11 all-time sackers, according to Pro Football
Reference, and allowed one sack:
Bruce Smith, Reggie White, Kevin Greene, Julius Peppers, Chris Doleman, Michael Strahan, Jason Taylor, Terrell Suggs, and Richard Dent. The lone sack vs Bruce Smith came in the last minute of a rout in Anderson's rookie year.
RUN BLOCKING
- Blocked for Bengals running back Corey Dillon on Oct. 22, 2000
vs. Denver when Dillon's 278 yards broke the 23-year-old NFL single game rushing record held by Walter Payton
- That same day the Bengals had 407 rushing yards, most since the merger
- Blocked for Dillon on Dec. 4, 1997 vs. Tennessee when Dillon broke the 40-year-old NFL single game rookie rushing record held by Jim Brown with 246 yards
- Blocked for nine 1,000 yards rushers (Dillon from 1997-2002 and
Rudi Johnson from 2004-2006)
FORMER BENGALS OL COACH PAUL ALEXANDER:
"Willie Anderson changed the game as the pioneer of independent hands pass pro techs rather than traditional two-hand punching. Techniques that the top OTs in the game use today."
PRO FOOTBALL HOF DEFENSIVE END MICHAEL STRAHAN:
"He's one of the best tackles of our time. … I consider him to be right there as the best right tackle of his generation … When I found out Willie wasn't in the Hall of Fame, I was surprised. Unbeatable."
PRO FOOTBALL HOF HEAD COACH BILL COWHER:
"Willie Anderson definitely belongs in the Pro Football Hall of Fame. The guy was an awesome run blocker. He would move the line of scrimmage and at the same time he was very light on his feet in pass protection. We had some pretty good outside linebackers in my day and I can just say, week in and week out as we went against different teams, Willie Anderson always stood out … This guy was a Pro Bowler year in and year out. One of the best in the National Football League. He didn't get the recognition he deserved.."