2023 NFL Draft: KC BBQ in the air as teams ask 'where's the beef?'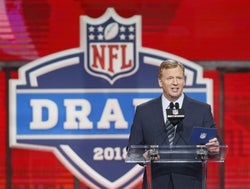 Apr 26, 2018; Arlington, TX, USA; NFL commissioner Roger Goodell speaks at the podium in the first round of the 2018 NFL Draft at AT&T Stadium. Mandatory Credit: Tim Heitman-USA TODAY Sports
On Thursday evening, April 27, as the aroma of famous Kansas City barbeque wafts over several hundred thousand fans surrounding Union Station, commissioner Roger Goodell will be lustily cheered and booed when he steps to the microphone and says, "With the first pick in the 2023 NFL draft, the Carolina Panthers select. . . "
His next words will launch one of the most intriguing drafts in recent history, not because of a deep pool of talent, but due to the debatable status of the top five rated quarterbacks, the NFL's glamor position.
Hold that thought.
Let's set the scene: another lavish setup with Academy Awards-like, red-carpet treatment and coverage by ESPN, ABC, NFL Network, ESPN Deportes, ESPN radio, and streamed on NFL+. Check your local listings. Only one round will be selected Thursday. The rest of the draft will play out Friday and Saturday.
Last year the raucous city of Las Vegas set a high bar for this event with a gaudy show witnessed by almost 11 million on television and an estimated 700,000 in attendance. In truth it was a mediocre draft talent-wise, but thanks to Vegas' verve, it had plenty of sizzle.
This year the 32 teams are seeking steak, some real meat. KC is known for that — Jones Bar-B-Q on Kaw Drive; Chef J BBQ of West 13th or Harp Barbeque in Raytown. They are among dozens of great barbeque venues in the area that may have better quality offerings than what is available in another draft only so-so in terms of depth of talent.
But controversy over quarterbacks trumps reality—and sanity. In a widespread, multimedia crescendo, the arguments have become ubiquitous and deafening. With as many as nine teams desperately needing a new quarterback and only five or six prime prospects in the draft, the clamor is understandable.
The top five quarterbacks, it says here, are C. J. Stroud (Ohio State), Bryce Young (Alabama), Will Levis (Kentucky), Hendon Hooker (Tennessee) and Anthony Richardson (Florida). That's not the popular sequence, but it is the order in which we rate them at NFLDraftScout.com. And we have them all drafted by No. 16 overall. It should be dramatic.
There are about seven other quarterbacks who could be selected among the 259 draftees as teams will optimistically recall that Brock Purdy was that final player taken last year and labeled "Mr. Irrelevant." But when injuries created an opportunity, Purdy bounced off the 49ers' bench, won seven games and was within one win of the Super Bowl when he, too, was injured.
Convoluting the quarterback issue even further, three veterans seem to be lingering on the open market: former MVPs Aaron Rodgers and Lamar Jackson, and perhaps Trey Lance, the 49ers' expensive No. 3 overall pick in 2021 (traded multiple first-round picks to get him). But Purdy said he may not be healed for this season, so Lance might get another chance,
The disparity between supply and demand at quarterback will probably inspire creative trades early in the first round, if not before. In fact, the Panthers put themselves on the clock weeks ago when they traded up from No. 9 overall to get the No. 1 spot from the Chicago Bears, who are apparently happy with quarterback Justin Fields.
Carolina head coach Frank Reich is seeking the face of the franchise, and, oh yes, the arm. Young is touted as the best talent, with the moves of a magician. But he measured only 5-10 1/8 tall and a questionable 204 pounds (thought to be water weight), a size that does not have a high ratio of success for NFL quarterbacks. Stroud, 6-3, 214, is a great quarterback in his own right and probably put on the best display of passing at the Indy Combine and his Pro Day.
Reich's decision will set the stage quickly. Houston drafts second and should take whomever the Panthers leave between Young and Stroud. For now, the third spot is with the Arizona Cardinals, who have an athletic, albeit controversial, quarterback in Kyler Murray. The Cardinals have lots of needs and are a prime target for a trade with any number of teams who are eyeing a specific player, probably a quarterback.
Yes, there are other positions of note in this event. Defensive edge players Will Anderson (Alabama) and Tyree Wilson (Texas Tech) will menace NFL quarterbacks even as rookies.
Running back Bijan Robinson looks like the leading candidate for offensive rookie of the year, with extraordinary ability on the ground and as a receiver.
Cornerbacks Devon Witherspoon (Illinois) and Christian Gonzalez (Oregon) rank at the top of the most talented position in the draft, with six or seven rated in the first round, 11 in two rounds and 15 through Round 3.
And there is defensive tackle Jalen Carter (Georgia), who is elite on the field and his own worst enemy off it. He was involved in a double fatal vehicle accident but seems to have skirted future legal problems.
Then, after he was unable to perform at the Indy Combine, Carter showed up at his own Pro Day well overweight and out of shape. He pooped out in the middle of position workouts and didn't run or jump. Finally, Carter announced he would not visit teams outside the top ten. But history tells us (hello, Warren Sapp) that his talent is too good to ignore and somebody will draft him in the top ten.
Make no mistake, the draft has come a long way from the days results were relegated to lines of agate in the back of newspapers. Once the NFL realized there was money to be made on this once perfunctory exercise, it became a front-page event. OK, a top item on your best sports app with 24/7 coverage on the league's own NFL Network. Experts sprouted everywhere. Mock drafts, an odd term for a weird craze, became caricatures of themselves.
The draft doesn't challenge the Super Bowl's 113 million television audience, but the appeal is broad and intense. Unlike the Super Bowl, fans of all 32 teams and even college teams, have a vested interest in the outcome. And, unlike the Super Bowl, what happens in the draft will continue to play out over the next few years, giving ongoing life to this year's debates.
And it all starts at 8 p.m. (ET) when Goodell quells the crowd by announcing that dramatic phrase, "With the first pick. . . . "