Unranked Duke Dumps Klutzy No.9 Clemson, 28-7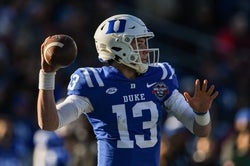 Dec 28, 2022; Annapolis, Maryland, USA;Duke Blue Devils quarterback Riley Leonard (13) throws from the pocket during the first half Central Florida Knights in the 2022 Military Bowl at Navy-Marine Corps Memorial Stadium. Mandatory Credit: Tommy Gilligan-USA TODAY Sports
Capping off college football's dramatic Week 1 play, unranked Duke stymied a clumsy No. 9 Clemson, 28-7, on a Monday Night television stage that left viewers wondering if the Tigers have fallen to Earth after almost a decade in the rarified air of the best teams in the game.
Duke deserves the highest praise for beating a top-10 team for the first time in 34 years.
With that nationally televised win at Wallace Wade Stadium, the Blue Devils snapped a streak that lasted 12,392 days. Duke last beat a top-10 opponent with a 21-17 win against No. 7 Clemson on Sept. 30, 1989, under Steve Spurrier.
Duke quarterback Riley Leonard scored the go-ahead touchdown, and the Blue Devils capitalized on five game-changing plays including two blocked field goals and a trio of fumble recoveries.
Clemson, the preseason ACC favorites, often looked very ordinary as the Tigers (0-1, 0-1) fell to Duke for the first time since 2004.
"An incredibly disappointing loss," said Clemson coach Dabo Swinney. "In all my years of football, I've never been part of a game like that...You've got to finish and obviously we did not do that. So many opportunities. Twice 1st-and-goal from the 1, you get no points, it's really really disappointing.
"Got to give (Duke) credit. They hung in there and made plays. We're not entitled to win. We've got to go earn it. And we had plenty of opportunity to get control of that game on multiple occasions, and we just didn't. And that's how you get beat."
Leonard was on the run for most of the first half against Clemson's impressive defensive line. On the first drive of the second half, Leonard powered through a would-be tackler in the backfield and tip-toed down the sideline for a 44-yard touchdown to give Duke the lead. The Blue Devils would lead the rest of the way.
Duke's special teams had a block party against the Tigers, blocking a pair of field-goal attempts. Defensive captain Ja'Mion Franklin swatted a kick in the first half and fellow defensive lineman Wesley Williams got his hand on another in the second half to keep the Blue Devils in command. Duke also had a pair of fumble recoveries and an interception in the second half to pull away.
Leonard completed 17-of-33 passes for 175 yards. He added 98 yards and one touchdown on the ground.
The Week 1 loss was offensive coordinator Garrett Riley's first game with Clemson, which hired Riley in January after he helped lead TCU to the national title game in the same position.
It is hard to say if this win catapults Duke into contention, since the outcome seemed to result as much from Clemson being uncharacteristically klutzy. Duke is a great academic school that can attract enough basketball players to be important, but, much like Stanford, it has difficulty collecting enough highly competitive student-athlete football players to be a consistent factor.
But it was one hell of a win.
The result of this game may be more telling on the status of football at Clemson, which enjoyed a run that ranked it with Alabama and Georgia. Well, almost. The tremendous Trevor Lawrence era is disappearing in the rear-view mirror, and visions of the pretty good old days of CJ Spiller are flickering in the minds of Tiger Nation.
Clemson needed to show that it had made progress from the 2022 season. The Tigers didn't even necessarily need to slam the door on an up-and-coming Duke team, but they had to prove that 2023 would not be more of the same. They needed to win. And they had to show that Riley and Klubnik were the answers in the post-Brandon Streeter-DJ Uiagalelei era.
Klubnik went 27-for-43 for 209 yards, throwing one touchdown and one interception in his first start. But Reilly's play-calling was conservative. Klubnik looked overwhelmed, and when he did make a few solid throws, his receivers dropped them. The miscues were atrocious.
In three of Clemson's trips to the red zone, the Tigers had a 23-yard field goal attempt blocked, a fumble at the 7-yard line and another fumble at the 3-yard line.
This loss was especially frustrating. While Swinney said he thought there are reasons to be optimistic about his team, the setback marked the Tigers' third loss in their past four games — something that hadn't happened since 2011. Meanwhile, the new-look offense with Klubnik at the helm and new coordinator Garrett Riley calling plays often looked as stunted as the units that engendered so much frustration for fans over the past two seasons with DJ Uiagalelei at QB.
Swinney didn't see it that way, however. He said the final score looked far worse than the actual performance on the field, and he said his expectations for this team haven't changed because of the loss.
"The good news is, if there is any good news, you didn't see a horrible football team out there," Swinney said. "You saw a bad result. But you didn't see a bad football team that can't play the game."
Maybe, maybe not. If Swinney doesn't fix this quickly, Clemson can easily slide into a season of mediocrity.