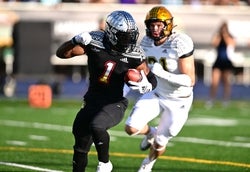 Great football in Honolulu, Hawaii. Jan 20, 2023.; Honolulu, Hawaii, US; Team Mauka wide receiver from Bishop Gorman high school Zachariah Branch (1, now with USC) breaks free past Team Makai linebacker from Manteca high school Blake Nichelson (21, now with Florida State)) for a touchdown during the first half of the Polynesian Bowl at Kunuiakea Stadium. Mandatory Credit: Steven Erler-USA TODAY NETWORK
Week 12 Rankings
Updated on November 8, 2023
While most of America was asleep Sunday morning, Hawaii's Mililani rocked the High School Football America 100. The Warriors took down No. 8 Kahuku by a score of 28-21 to claim the Oahu Interscholastic Association Open Division championship.
The win propelled Mililani from No. 298 to No. 53 in the HSFA 100, powered by NFL Play Football. Mililani, winners of ten straight since a season-opening loss to No. 264 Punahou (Hawaii), heads into the postseason as the top seed in Hawaii's Open Division.
Kahuku dropped out of the top 10 to No. 26 in the latest rankings. Kahuku was the architect of one of the biggest upsets of the high school season in Week 5, toppling St. John Bosco. Now, Kahuku will have to win their opening playoff game in order to earn a chance at a rematch with Mililani in the state championship game.
Another possible rematch looms in California, where national No. 1 St. John Bosco (California) and No. 2 Mater Dei (California) will begin their road through the CIF-Southern Section Division 1 playoffs. Bosco opens against No. 106 San Clemente (California), while Mater Dei plays No. 92 JSerra.
In the other quarterfinals, No. 20 Corona Centennial (California) plays No. 70 Orange Lutheran and No. 13 Sierra Canyon (California) takes on No. 79 Santa Margarita (California).
No. 3 Bishop Gorman of Las Vegas will have to wait two weeks before playing for its 13th Nevada state championship in the last 14 years. After rolling past unranked Coronado 63-12 Friday, the Gaels will square-off with No. 172 Liberty at Allegiant Stadium, home of the Las Vegas Raiders, on November 20.
The High School Football America 300, powered by NFL Play Football, is determined using HSFA's proprietary algorithm.
Rank

Team & State

Record

Prev

1

St. John Bosco (California)

(9-1)

1

2

Mater Dei (California)

(9-1)

2

3

Bishop Gorman (Nevada)

(11-0)

3

4

Chaminade-Madonna

(Boca Raton Florida)

(10-0)

4

5

IMG Academy (Florida)

(9-0)

5

6

St. Thomas Aquinas (Florida)

(9-1)

7

7

St. Joseph's Prep (Pennsylvania)

(8-1)

8

8

Mill Creek (Georgia)

(10-0)

9

9

DeSoto (Texas)

(9-0)

10

10

Buford (Georgia)

(9-1)

11

11

Colquitt County (Georgia)

(10-0)

12

12

Massillon Washington (Ohio)

(12-0)

13

13

Sierra Canyon (California)

(10-0)

14

14

St. Edward (Ohio)

(11-1)

15

15

Cocoa (Florida)

(9-1)

16

16

American Heritage (Plantation Florida)

(7-1)

17

17

North Shore (Texas)

(10-0)

18

18

Walton (Georgia)

(10-0)

19

19

Duncanville (Texas)

(8-1)

20

20

Corona Centennial (California)

(8-2)

21

21

Center Grove (Indiana)

(10-1)

22

22

Good Counsel (Maryland)

(8-1)

23

23

Norland (Florida)

(10-0)

24

24

Miami Central (Florida)

(7-3)

25

25

Archbishop Hoban (Ohio)

(10-1)

26

26

Kahuku (Hawaii)

(10-2)

6

27

Westlake (Austin Texas)

(10-0)

27

28

Central (Phenix City Alabama)

(10-0)

28

29

Lincoln (San Diego California)

(10-0)

29

30

DeMatha (Maryland)

(8-1)

30

31

Liberty (Arizona)

(9-1)

31

32

Bergen Catholic (New Jersey)

(8-1)

32

33

Serra (San Mateo California)

(10-0)

33

34

Saraland (Alabama)

(10-0)

35

35

Loyola Academy (Illinois)

(11-0)

36

36

Toledo Central Catholic (Ohio)

(12-0)

40

37

Mount Carmel (Chicago Illinois)

(10-1)

37

38

Corner Canyon (Utah)

(11-1)

47

39

Butler (North Carolina)

(10-1)

42

40

Carrollton (Georgia)

(9-1)

45

41

East St. Louis (Illinois)

(8-2)

39

42

St. Frances Academy (Maryland)

(3-5)

41

43

McCallie (Tennessee)

(9-1)

43

44

Aledo (Texas)

(10-0)

44

45

Edgewater (Florida)

(10-0)

46

46

St. John's College HS (Washington DC)

(5-4)

49

47

Centennial (Arizona)

(9-1)

48

48

Basha (Arizona)

(9-1)

50

49

Chandler (Arizona)

(8-2)

51

50

Long Beach Poly (California)

(10-1)

52

51

Jones (Orlando Florida)

(7-3)

53

52

Ben Davis (Indiana)

(10-1)

54

53

Mililani (Hawaii)

(10-1)

298

54

Venice (Florida)

(8-2)

60

55

St. Thomas More (Louisiana)

(10-0)

62

56

Belleville (Michigan)

(11-0)

57

57

Brownsburg (Indiana)

(9-1)

56

58

Katy (Texas)

(9-1)

58

59

Gainesville (Georgia)

(10-0)

59

60

Vandegrift (Texas)

(10-0)

61

61

Carlsbad (California)

(10-0)

63

62

Destrehan (Louisiana)

(10-0)

64

63

South Oak Cliff (Texas)

(8-2)

65

64

Highland (Arizona)

(8-2)

66

65

Rabun Gap-Nacoochee (Georgia)

(12-0)

67

66

Summer Creek (Texas)

(9-1)

239

67

Bixby (Oklahoma)

(10-0)

76

68

Atascocita (Texas)

(8-2)

38

69

Baylor (Tennessee)

(8-2)

69

70

Orange Lutheran (California)

(5-5)

70

71

De La Salle (California)

(8-2)

71

72

Folsom (California)

(8-2)

72

73

Clay-Chalkville (Alabama)

(9-0)

73

74

Thompson (Alabama)

(8-1)

74

75

Homestead (Florida)

(7-1)

75

76

Benedictine (Georgia)

(10-0)

77

77

Columbus (Miami Florida)

(8-2)

78

78

Male (Kentucky)

(10-1)

79

79

Santa Margarita (California)

(5-5)

80

80

Byron Nelson (Texas)

(10-0)

81

81

Lakeland (Florida)

(7-3)

82

82

Lincoln (Gahanna Ohio)

(12-0)

83

83

Pickerington North (Ohio)

(11-1)

84

84

Providence Day (North Carolina)

(10-1)

85

85

South Florence (South Carolina)

(11-0)

86

86

Grimsley (North Carolina)

(11-0)

87

87

Northwestern (South Carolina)

(10-1)

88

88

Imhotep Charter (Pennsylvania)

(10-0)

89

89

Archbishop Moeller (Ohio)

(8-4)

90

90

American Fork (Utah)

(11-1)

91

91

Archbishop Spalding (Maryland)

(8-2)

92

92

JSerra (California)

(5-5)

93

93

Rancho Cucamonga (California)

(10-1)

94

94

Southlake Carroll (Texas)

(9-1)

95

95

Servite (California)

(6-5)

96

96

Langston Hughes (Georgia)

(8-2)

97

97

St. Augustine (Florida)

(9-0)

98

98

Treasure Coast (Florida)

(7-2)

99

99

Seminole (Sanford Florida)

(8-2)

100

100

Rome (Georgia)

(9-1)

101