Titans' Henry decries treatment of NFL Running Backs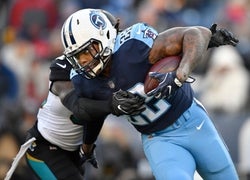 Running back Derrick Henry (22), in action against Jacksonville Jaguars in Nashville on Dec. 31, was the Tennessee Titans leading rusher for 2017 with 744 yards on 176 carries with 5 rushing touchdowns.
Running backs remain in the spotlight heading into the 2023 season, with the Jonathan Taylor situation highlighting the dichotomy between star players at the position and star salary.
Derrick Henry, one of the best running backs in the NFL, is out to show the position still holds immense value.
"Have you all witnessed it? I'm pretty sure you all have," Henry said this week, via The Associated Press. "So yes, just trying to show that we are valuable as any other position. They use us in commercials and all over the place. And we just want our share due."
Henry has been one of the top backs since entering the NFL.
Henry leads the NFL with 68 rushing touchdowns since becoming the Titans' full-time starter in 2018 (20 more rush TDs than the next closest player, Nick Chubb, 48). The back's 1,464 carries and 7,101 rushing yards since 2018 are both most in the NFL. Henry has ranked top two in rush YPG in each of the last four seasons, holding the top spot 2019-2021 before Josh Jacobs surpassed him by 1.1 YPG last season.
Henry noted that the hefty workload he and other backs have taken on shows their importance, but it's used against running backs when it comes time to talk new contract.
"All you can do is try to be the best player you can and hope the team understands your value and appreciate you trying to do the best you can to carry the load to help your team win games and get to the Super Bowl," Henry said.
Running backs are in a tough spot. Certainly, the cream of the crop is worth significant investments. However, in the modern NFL, the difference between the production of most running backs isn't enough to move the market forward. Teams would rather spend cap space elsewhere.
We'll see if the next calendar year brings any change to the dwindling market for the NFL's prime ball-toters. With Henry's contract voiding after this season, the Titans RB could be at the center of it all next offseason.