Raiders New Coach Straight Outta Compton; Ready to Rock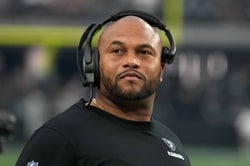 Aug 26, 2022; Paradise, Nevada, USA; Las Vegas Raiders linebackers coach Antonio Pierce watches from the sidelines against the New England Patriots at Allegiant Stadium. The Raiders defeated the Patriots 23-6. Mandatory Credit: Kirby Lee-USA TODAY Sports
Las Vegas Raiders interim head coach Antonio Pierce introduced himself to the media Wednesday, citing street cred as being Straight Outta Compton and boldly declaring he was ready to turn the page in the franchise's difficult recent history.
"It's a new day, a new chapter, a new era, a new mindset," Pierce said he told the team. "What is that mindset? It's that of the Raider pride, the commitment to excellence, and making sure our alumni, our fanbase and Raider Nation are proud of what they see on the field."
That wasn't the case recently, which is why Pierce is getting this opportunity. The Raiders are 3-5 after two consecutive embarrassing road losses, including one at Detroit before a national audience on Monday Night Football.
Pierce believes he can help turn things around after taking over for fired coach Josh McDaniels, who was 9-16 with the Raiders and probably had a higher losing percentage of players in his locker room.
"We're tired of losing," Pierce said. "It's not a good feeling. We're a production-based business. We're about competition, being competitive, and playing with an edge and a swag and a certain confidence."
Pierce expressed gratitude and admiration for his predecessors but acknowledged a change was necessary.
"I just knew the last two weeks we weren't ourselves," he said. "Obviously I was focused on the defensive side of the ball, coaching the linebackers, so my focus was there. But you could just sense it as a team. You could feel the aura in the building. You could feel the aura in the locker room when you're around the guys. Did I have a good sense of it? Yes. Was it my place to talk about it or discuss it with anybody? No."
Now it's his job to change that. Pierce hopes to use his influence with the players to fuel that turnaround. He's passionate and fiery, a stark contrast to the stoic man he replaces.
"(Pierce) is as real as they come and is unanimously respected in this building," defensive end Maxx Crosby said. "Just win, baby."
The 45-year-old was the coach at Long Beach Poly High School from 2014 to 2017 before moving to the college ranks at Arizona State, where he worked his way up from linebackers coach to associate head coach and defensive coordinator while also leading their recruiting efforts. Pierce earned respect not just through his nine seasons as a physical linebacker but through the relationships he has built as a coach.
Pierce became the linebackers coach with the Raiders last season and soon made an impression on the players.
Pierce said the passion that shines through his words exists because it is real and genuine.
"I grew up in Compton, California," he said. "I was born a Raider. I was born with the Raiders rolling in the Coliseum in L.A. I was rolling with NWA, talking 'Straight Outta Compton,' rocking Raider hats. So when the opportunity came to work with (the Raiders), I jumped on it. So that's what set me up for this. I was born this way."
First order of business for Pierce was to name Bo Hardegree his offensive coordinator, replacing the fired Mick Lombardi, and rookie Aidan O'Connell his starting quarterback, replacing Jimmy Garoppolo.
Pierce's first game will be against the New York Giants on Sunday at Allegiant Stadium, the team Pierce won a Super Bowl with in 2008.
Accounting: Pierce becomes the 23rd head coach of the Oakland/Los Angeles/Oakland/Las Vegas Raiders Raiders franchise, which was an original member of the American Football League in 1960. Two head coaches were hired twice, Art Shell (1989 and 2005) and Jon Gruden (1998 and 2018)
Pierce is only the second head coach in Raiders history to be elevated directly from linebackers coach. John Madden was the other. Jack Del Rio was a linebackers coach for two years with the Ravens but was a defensive coordinator (Panthers, Broncos) and head coach (Jaguars) in the years before becoming the Raiders head coach (2015–2017).
Here is the Raiders' history of head coaches.
| | | | | |
| --- | --- | --- | --- | --- |
| Coach | Years | Regular season record | Playoff record | SB Titles |
| Eddie Erdelatz | 1960 - 1961 | 6 - 10 | 0 - 0 | 0 |
| Marty Feldman | 1961 - 1962 | 2 - 15 | 0 - 0 | 0 |
| Bill Conkright | 1962 | 1 - 8 | 0 - 0 | 0 |
| Al Davis | 1963 - 1965 | 23 - 16 - 3 | 0 - 0 | 0 |
| John Rauch | 1966 - 1968 | 33 - 8 - 1 | 2 - 2 | 0-1 |
| John Madden | 1969 - 1978 | 103 - 32 - 7 | 9 - 7 | 1-0 |
| Tom Flores | 1979 - 1987 | 83 - 53 | 8 - 3 | 2-0 |
| Mike Shanahan | 1988 - 1989 | 8 - 12 | 0 - 0 | 0 |
| Mike White | 1995 - 1996 | 15 - 17 | 0 - 0 | 0 |
| Joe Bugel | 1997 | 4 - 12 | 0 - 0 | 0 |
| Bill Callhan | 2002 - 2003 | 15 - 17 | 2 - 1 | 0-1 |
| Norv Turner | 2004 - 2005 | 9 - 23 | 0 - 0 | 0 |
| Art Shell | 1989 - 1994, 2005 - 2006 | 56 - 52 | 2 - 3 | 0 |
| Lane Kiffin | 2007 - 2008 | 5 - 15 | 0 - 0 | 0 |
| Tom Cable | 2008 - 2010 | 17 - 27 | 0 - 0 | 0 |
| Hue Jackson | 2011 | 8 - 8 | 0 - 0 | 0 |
| Dennis Allen | 2012 - 2014 | 8 - 28 | 0 - 0 | 0 |
| Tony Sparano | 2014 | 3 - 9 | 0 - 0 | 0 |
| Jack Del Rio | 2015 - 2017 | 25 - 23 | 0 - 1 | 0 |
| Jon Gruden | 1998 - 2001, 2018 - 2021 | 60 - 57 | 2 - 3 | 0 |
| Rich Bisaccia | 2021 | 7 - 5 | 0 - 1 | 0 |
| Josh McDaniels | 2022 - 2023 | 9 - 16 | 0 - 0 | 0 |