Injuries Impact NFL Week 3: Cowboys CB Trevon Diggs, Panthers QB Bryce Young out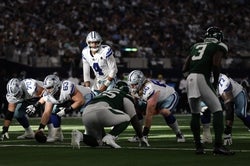 Sep 17, 2023; Arlington, Texas, USA; Dallas Cowboys quarterback Dak Prescott (4) calls a play at the line of scrimmage in the fourth quarter against the New York Jets at AT&T Stadium. Mandatory Credit: Tim Heitman-USA TODAY Sports
With a weird mix of surprise unbeaten and winless teams, Week 3 is as interesting as you want it to be. Or not.
Other than the Jets-Patriots and the ho-hum matchup between Houston and Jacksonville, no traditional division rivalries resume. And the prime-time matchups do not showcase two powers squaring off, unless you consider Philadelphia AND Tampa both to be among the league's elite.
Thursday's injury reports added extra convolutions as 2023's No. 1 overall pick, quarterback Bryce Young, hollered "Uncle" after getting beat up so much he sat out practices through Thursday with an ankle injury. Journeyman Andy Dalton is expected to start against Seattle.
News was even worse in Dallas where All-Pro cornerback Trevon Diggs blew out his left ACL in practice Thursday and is out for the season.
Meanwhile, meaningful questions greet these Week 3 games: will 2-0 frauds (Hello, Washington and NFC South leaders) be exposed as such? Will 0-2 disappointments (San Diego, Minnesota, Cincinnati, New England) get themselves untracked or, with a loss, see their playoff hopes brought to the brink? Does Dallas and San Francisco keep up their dominant play?
Let's take a look.
WEEK 3 PREVIEW:
New York Giants (1-1) at San Francisco (2-0) (Thursday night): Though it's almost shocking to say this so early on, it feels like the Giants' stunning turnaround to beat Arizona in Week 2 might have saved their season — except they now run into a buzzsaw in the 49ers who, after two mostly impressive road wins, are at the top of several NFL team rankings.
The 49ers' offense behind Brock Purdy looks legit, so the Giants on a short week will need QB Daniel Jones to follow up his Arizona performance against a Niners secondary that looks beatable when not protected by Nick Bosa and a strong pass rush. But New York's offense will down one key member, as the team learned Wednesday that injured running back Saquon Barkley will be unavailable for Thursday's game. We like the 49ers winning, 31-14.
Los Angeles Chargers (0-2) at Minnesota Vikings (0-2): Setting aside the goose eggs in the win column, this may be the most entertaining matchup of the week, as two of the league's more powerful offenses face off. The Chargers' 0-2 start may be as inexplicable as any in modern NFL history — the only team in the Super Bowl era to score more than 50 points in the first two games of a season without committing a turnover yet still ending up winless. If Herbert and Co. catch a break and break off a victory Sunday, look out for them in the AFC West.
As for Minnesota, the Vikings are at home, QB Kirk Cousins has been hot, Justin Jefferson always is…yet the Vikes feel vulnerable. Still, in this pick-'em game, the odds are Los Angeles finally commits a turnover, and it proves costly. Minnesota wins 27-24.
Atlanta (2-0) at Detroit (1-1): Arguably Week 1's biggest storyline following their road triumph against the defending champs, the Lions came back to Earth at home in Week 2, losing to Seattle. The Falcons have the look of a pretender but rookie standout RB Bijan Robinson (124 yards rushing vs. Packers) is the real deal, and Atlanta will likely need another big game from him to win in Detroit.
The Jared Goff-led offense still looks like a borderline powerhouse. Detroit's defense, expected to be better this season, needs to reassert itself after taking a step back against the Seahawks. The Lions are the better team and will win decisively: Detroit 28, Atlanta 13.
Buffalo (1-1) at Washington (2-0): When the Commanders match the '72 Dolphins by going undefeated this season, any doubts as to the evil incompetence (incompetent evil-ness?) of former owner Dan Snyder will be finally put to rest. As with the Falcons, Washington has built its unblemished early record mostly on weakness of schedule, and the Bills should be its toughest test of the young season. Commanders QB Sam Howell (299 yards, two TDs in Week 2) will again need to be efficient to keep the high-powered Buffalo offense on the sideline.
The Bills looked more like themselves last week in demolishing Vegas, however, Washington's talented front seven is no joke and will give the Bills' OL and, by extension, QB Josh Allen, all it can handle. But, Buffalo improves to 2-1 with a 20-13 win.
New England (0-2) at New York Jets (1-1): When Jets and Patriots fans circa draft day 2021 envisioned a Zach Wilson-Mac Jones matchup two years down the road, did they see this? Whether they did or not, this game feels huge. An 0-3 Patriots team will put Belichik's legendary impatience and ballyhooed genius to the test. A loss for the Jets, following the gut-punch of the Aaron Rodgers injury, does not bode well for a successful 2023. Another pick-'em game with New York winning on a last-second field goal when an upback on their field goal team sprints full speed in motion and picks off Pats' legend Brenden Schooler doing the same. Final: New York 17, Pats 16.
Denver (0-2) at Miami (2-0): If you're a member of that not-so-unusual cross-section of NFL fandom that hates both Sean Payton AND Russell Wilson, you'll be tuning into this game. Wilson's played fine (five TD passes, one INT), and Payton hasn't allowed any of his coaches to put a bounty on an opposing player. But, as is the pattern with a number of NFL teams this week, the season for the Broncos threatens to unravel with a loss. The Dolphins, especially the Tua-Tyreek-led offense, seem perpetually fueled by adrenalized excess — speed is everywhere, at every skill position, and it should overwhelm the Broncos at home. Miami 37, Denver 17.
Dallas (2-0) at Arizona (0-2): On paper, this game points to being the most lopsided outcome in a desert since Monty put his foot on Rommel's throat in North Africa (look it up, kids!). The Cowboys look like a juggernaut, the Cardinals anything but. But the Cowboys have a reliable history of looking unbeatable only to then to be taken down when Dak has a mediocre effort in the same game that the often formidable Dallas D shows up disengaged (a defense now compromised by the aforementioned loss of Trevon Diggs). News Thursday was bad for the Cowboys as star defensive back Trevon Diggs, who signed a five-year $97 million extension this spring, tore his left ACL in practice and is out for the season. This is our upset special for Week 3: Arizona 20, Dallas 16.
New Orleans (2-0) at Green Bay (1-1): Yet another weird game to handicap. New Orleans defense is fast and punishing, but the offense is the kind of work in progress that gets painfully exposed at Lambeau against a top-caliber Green Bay defense. Have to like the Packers in this one — Jordan Love has looked more than capable through two weeks, and, coming off a frustrating loss in Week 2, Green Bay's focus will be sharp for its home opener: Packers 24, New Orleans 10.
Indianapolis (0-2) at Baltimore (2-0): This seems about as much of a lock as any game in Week 3. The Ravens are predictably a solid team, and Lamar Jackson may be poised for a bigger year than expected. Indy's fabled "Richardson and Minshew and pray for curfew" tag-team quarterbacking approach has so far worked better than some had expected — Indy is a respectable 13th in passing after two weeks, with Minshew handling most of the snaps. Richardson is in concussion protocol, so his presence Sunday is, as of now, uncertain. Gotta like the Ravens to start the season 3-0: Baltimore 24, Colts 13.
Tennessee (1-1) at Cleveland (1-1): Get the paddles ready. Something about the "1s" across the board hint at the deadening, flat-lining quality of this matchup. Tennessee is Tennessee — interminably boring, from the banal, lifeless blues of their team colors to an offense for which no amount of caffeine can inspire interest — though it wouldn't surprise us if Derrick Henry mauled Brown defenders on his way to 240 yards rushing.
That the Browns' present and future success hangs on the play and leadership of QB DeShaun Watson is at once promising and troubling, after a solid Week 1 performance was undermined by sloppy QB play Monday against Pittsburgh. Still, this Week 3 game is in Cleveland, and the Browns D under coordinator Jim Schwartz appears as tenacious as all get out. We like Cleveland…in whatever the opposite of a shootout is...13-10.
Houston (0-2) at Jacksonville (1-1): The lowly Texans could be just what Jacksonville needed after its loss to Kansas City. Trevor Lawrence, who passed for 216 yards against Kansas City, and the Jags' offense was kept out of the end zone in Week 2 and are looking to find themselves against Houston. The Texans are hoping for more good things this week from rookie QB C.J. Stroud, who played very well (384 yards passing) against the Colts in a loss. Despite its run to the playoffs last season, Jacksonville still feels like an unknown. This game will be closer than you think, but we think the Jaguars will ultimately prevail: Jacksonville 23, Houston 17.
Chicago (0-2) at Kansas City (1-1): The defending Super Bowl champs got a big Week 2 win in Jacksonville, though they didn't look good in getting it, at least not on offense. Expect Patrick Mahomes and the Chiefs to clean up the mistakes while getting TE Travis Kelce more involved. As for Chicago, the Bears' season seems headed for derailment. Third-year quarterback Justin Fields struggled in the first two games and now faces a Kansas City defense playing well, especially with star defensive end Chris Jones back in the fold. We think a double-digit KC home win is likely, 27-10.
Carolina (0-2) at Seattle (1-1): One would think Seattle's big win in Week 2 over Detroit would point to a resounding Week 3 Seahawks victory over Carolina at home. NFLDraftScout.com expressed concern before the draft about undersized quarterback Bryce Young, but the Panthers took him No. 1 and he has been beat up. He missed three practices with an ankle injury, and, Thursday, the team said he is probably out of the Seattle game. Veteran backup Andy Dalton took all the snaps through Thursday and is expected to start. Before joining Carolina this season, Dalton had 162 career starts with the Bengals, Cowboys, Bears and Saints. Despite veteran signal-caller's experience, Seattle is a tough place for any visiting quarterback, and Dalton must deal with a porous line in front of him. Seattle wins convincingly, 30-10.
Pittsburgh (1-1) at Las Vegas (1-1): A bit of a stretch to call it a rekindling of one of pro sports' greatest rivalries, but this game IS interesting in that it could give fans for both teams some insight as to how good their teams might actually be. Though the defenses of the two teams will obviously play a critical role, the outcome of this game will likely hinge on the play of the two quarterbacks. Led (or misled) by its young QB Kenny Pickett, Pittsburgh's offense was beyond miserable in the first half against both the 49ers and Cleveland. As for the Raiders, QB Jimmy Garoppolo was clutch in their season-opening win against Denver, but scattered and reckless at key times in the loss at Buffalo. Pittsburgh wins 27-16.
Philadelphia (2-0) at Tampa Bay (2-0): The defending NFC champs haven't looked smooth in getting to 2-0, but they're still the team to beat in the conference. Two games in, Tampa Bay QB Baker Mayfield has enjoyed a mini-resurrection with his new squad. Philadelphia's stout D will be his first legitimate test of the young season. Jalen Hurts and the Eagles offense have made enough plays so far in 2023 to make a difference in their two wins, though their 29th-ranked passing attack is a bit of a surprise. We think Monday is when Philly puts it all together on both sides of the ball: Eagles 31, Tampa Bay 13.
Los Angeles Rams (1-1) at Cincinnati (0-2) (MNF): The Rams have been much better than anyone expected, the Bengals much worse. Franchise QB Joe Burrow is now fighting a calf injury that has Cincinnati's season teetering. Yes, they went 0-2 last season, but the Bengals didn't start off losing two division games, as they've done in 2023, with their franchise player battling to stay on the field. Keep an eye on Rams rookie WR Puka Nucua, who's on pace to catch 725 passes this season. A tough matchup in terms of picking a winner, but when two teams named after animals go at it and no one's the clear favorite, always go with the beast that would win in the actual wild. Bengals by six, 27-21.