NFL Draft Scout: Senior Bowl loaded with 1st-2nd round prospects -- See Ratings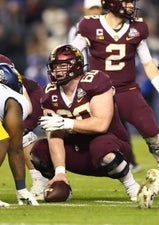 Dec 28, 2021; Phoenix, AZ, USA; Minnesota Golden Gophers center John Michael Schmitz (60) against the West Virginia Mountaineers in the Guaranteed Rate Bowl at Chase Field. Mandatory Credit: Mark J. Rebilas-USA TODAY Sports
Depth at the top of the 2023 Senior Bowl is impressive. Last year's Senior Bowl produced nine first round picks and 15 in the first two rounds of the NFL Draft.
Based on early ratings by NFL Draft Scout, Saturday's 2023 Senior Bowl in Mobile Ala., could again have as many as nine first rounders, but up to THIRTY prospects in the first two rounds.
And that is not counting those who impressed during practice this week and will surely ascend on everybody's list, especially Tulane runnng back Tyjae Spears, who was officially named Practice Player of the Week based on spectacular workouts as runner and receiver all week. NFL Draft Scout rated him 165 overall, a fifth-round prospect, but its doubtful he will last that long after showing out this week.
Minnesota center John Michael Schmitz is already rated No. 44 overall, a second round prospect, but his leadership and physical dominance could push him into the first round.
Here is a look at where NFL Draft Scout rated all players named to the 2023 Senior Bowl. :
| | | | | | | | |
| --- | --- | --- | --- | --- | --- | --- | --- |
| Rating | First Name | Last Name | College | Pos. | Ht | Wt | Rd. |
| 13 | Tyree | Wilson | Texas Tech | DE | 6055 | 275 | 1 |
| 21 | OCyrus | Torrence | Florida | OG | 6047 | 337 | 1 |
| 23 | *Isaiah | Foskey | Notre Dame | DE | 6047 | 262 | 1 |
| 30 | Siaki | Ika | Baylor | DT | 6031 | 358 | 1 |
| 31 | Jordan | Battle | Alabama | SS | 6011 | 206 | 1 |
| 33 | Jack | Campbell | Iowa | ILB | 6042 | 246 | 1-2 |
| 34 | Rashee | Rice | Southern Methodist | WR | 6004 | 200 | 1-2 |
| 38 | Jaelyn | Duncan | Maryland | OT | 6054 | 298 | 1-2 |
| 40 | Cody | Mauch | North Dakota State | OT | 6047 | 305 | 1-2 |
| 41 | Cedric | Tillman | Tennessee | WR | 6030 | 215 | 2 |
| 42 | Will | McDonald IV | Iowa State | DE | 6034 | 241 | 2 |
| 44 | John Michael | Schmitz | Minnesota | C | 6033 | 306 | 2 |
| 45 | Braeden | Daniels | Utah | OG | 6041 | 297 | 2 |
| 46 | Zach | Charbonnet | UCLA | RB | 6005 | 220 | 2 |
| 47 | Christopher | Smith | Georgia | FS | 5102 | 188 | 2 |
| 51 | Matthew | Bergeron | Syracuse | OT | 6047 | 323 | 2 |
| 57 | Tyrique | Stevenson | Miami | CB | 6002 | 204 | 2 |
| 58 | Derick | Hall | Auburn | OLB | 6026 | 252 | 2 |
| 63 | Xavier | Hutchinson | Iowa State | WR | 6017 | 207 | 2 |
| 64 | Steve | Avila | Texas Christian | OG | 6031 | 331 | 2 |
| 65 | Nick | Broeker | Mississippi | OG | 6042 | 305 | 2-3 |
| 68 | Keion | White | Georgia Tech | DT | 6046 | 280 | 2-3 |
| 70 | JL | Skinner | Boise State | SS | 6042 | 211 | 2-3 |
| 71 | Luke | Musgrave | Oregon State | TE | 6054 | 255 | 2-3 |
| 72 | Kenny | McIntosh | Georgia | RB | 5117 | 210 | 2-3 |
| 74 | Kyu Blu | Kelly | Stanford | CB | 6005 | 188 | 2-3 |
| 76 | Zach | Harrison | Ohio State | DE | 6052 | 272 | 2-3 |
| 77 | Hendon | Hooker | Tennessee | QB | 6035 | 208 | 2-3 |
| 78 | Darnell | Wright | Tennessee | OT | 6051 | 342 | 2-3 |
| 82 | DeMarvion | Overshown | Texas | OLB | 6023 | 220 | 2-3 |
| 84 | Henry | Too Too | Alabama | ILB | 6010 | 228 | 3 |
| 85 | Jammie | Robinson | Florida State | FS | 5106 | 194 | 3 |
| 86 | Andre | Carter II | Army | DE | 6062 | 252 | 3 |
| 87 | *Warren | McClendon | Georgia | OG | 6040 | 290 | 3 |
| 88 | Julius | Brents | Kansas State | CB | 6030 | 202 | 3 |
| 88 | Dalton | Kincaid | Utah | TE | 6035 | 240 | 3 |
| 89 | Nick | Hampton | Appalachian State | OLB | 6022 | 236 | 3 |
| 90 | Charlie | Jones | Purdue | WR | 5116 | 188 | 3 |
| 92 | Dawand | Jones | Ohio State | OT | 6081 | 375 | 3 |
| 93 | Sam | LaPorta | Iowa | TE | 6035 | 249 | 3 |
| 94 | Zacch | Pickens | South Carolina | DT | 6035 | 300 | 3 |
| 97 | Kaevon | Merriweather | Iowa | SS | 6001 | 207 | 3 |
| 98 | Trey | Palmer | Nebraska | WR | 6000 | 193 | 3 |
| 99 | *Ronnie | Hickman | Ohio State | FS | 6006 | 209 | 3 |
| 100 | Andrei | Iosivas | Princeton | WR | 6027 | 212 | 3 |
| 102 | Owen | Pappoe | Auburn | ILB | 6002 | 225 | 3 |
| 103 | Byron | Young | Tennessee | OLB | 6022 | 248 | 3 |
| 104 | Roschon | Johnson | Texas | RB | 6004 | 225 | 3 |
| 105 | Keeanu | Benton | Wisconsin | DT | 6034 | 312 | 3 |
| 106 | Dorian | Williams | Tulane | OLB | 6006 | 228 | 3-4 |
| 108 | Blake | Freeland | Brigham Young | OT | 6074 | 312 | 3-4 |
| 110 | Jonathan | Mingo | Mississippi | WR | 6013 | 226 | 3-4 |
| 111 | Jartavius | Martin | Illinois | FS | 5110 | 193 | 3-4 |
| 114 | DJ | Johnson | Oregon | DE | 6041 | 260 | 3-4 |
| 115 | Andrew | Vorhees | Southern California | OG | 6061 | 325 | 3-4 |
| 117 | Sydney | Brown | Illinois | SS | 5100 | 213 | 3-4 |
| 119 | Nick | Saldiveri | Old Dominion | OT | 6060 | 311 | 3-4 |
| 120 | Nathaniel | Dell | Houston | WR | 5083 | 163 | 3-4 |
| 122 | Wanya | Morris | Oklahoma | OT | 6047 | 317 | 3-4 |
| 123 | Tyler | Lacy | Oklahoma State | DT | 6043 | 285 | 3-4 |
| 125 | Dee | Winters | Texas Christian | ILB | 5110 | 223 | 3-4 |
| 130 | Ali | Gaye | LSU | DE | 6055 | 263 | 4 |
| 131 | Daiyan | Henley | Washington State | ILB | 6007 | 230 | 4 |
| 132 | Eric | Gray | Oklahoma | RB | 5094 | 210 | 4 |
| 134 | Emil | Ekiyor Jr. | Alabama | OG | 6022 | 317 | 4 |
| 135 | Ryan | Hayes | Michigan | OT | 6065 | 305 | 4 |
| 136 | Dontayvion | Wicks | Virginia | WR | 6015 | 212 | 4 |
| 137 | Rejzohn | Wright | Oregon State | CB | 6020 | 196 | 4 |
| 139 | Jayden | Reed | Michigan State | WR | 5106 | 191 | 4 |
| 140 | Payne | Durham | Purdue | TE | 6050 | 258 | 4 |
| 143 | K.J. | Henry | Clemson | DE | 6041 | 247 | 4 |
| 144 | JiAyir | Brown | Penn State | FS | 5112 | 208 | 4-5 |
| 146 | DJ | Dale | Alabama | DT | 6010 | 301 | 4-5 |
| 147 | Darrell | Luter Jr. | South Alabama | CB | 5115 | 191 | 4-5 |
| 150 | Dylan | Horton | Texas Christian | DE | 6036 | 265 | 4-5 |
| 152 | Olusegun | Oluwatimi | Michigan | C | 6025 | 308 | 4-5 |
| 153 | Hunter | Luepke | North Dakota State | FB | 6012 | 236 | 4-5 |
| 156 | Tyler | Steen | Alabama | OT | 6054 | 325 | 4-5 |
| 161 | Anthony | Johnson | Virginia | CB | 6011 | 207 | 4-5 |
| 162 | Cameron | Latu | Alabama | TE | 6042 | 248 | 4-5 |
| 164 | Ventrell | Miller | Florida | ILB | 5116 | 221 | 4-5 |
| 165 | *Tyjae | Spears | Tulane | RB | 5095 | 204 | 5 |
| 167 | Byron | Young | Alabama | DE | 6033 | 297 | 5 |
| 168 | Chase | Brown | Illinois | RB | 5094 | 215 | 5 |
| 172 | Elijah | Higgins | Stanford | WR | 6025 | 228 | 5 |
| 174 | Cam | Jones | Indiana | OLB | 6011 | 227 | 5 |
| 175 | McClendon | Curtis | Chattanooga | OG | 6056 | 331 | 5 |
| 177 | Thomas | Incoom | Central Michigan | DE | 6022 | 265 | 5 |
| 179 | Josh | Whyle | Cincinnati | TE | 6064 | 260 | 5 |
| 186 | Ivan | Pace Jr. | Cincinnati | ILB | 5102 | 231 | 5-6 |
| 187 | Jalen | Wayne | South Alabama | WR | 6014 | 211 | 5-6 |
| 188 | Jason | Taylor II | Oklahoma State | SS | 5117 | 208 | 5-6 |
| 189 | Eku | Leota | Auburn | DE | 6030 | 255 | 5-6 |
| 191 | Bryce | Baringer | Michigan State | P | 6013 | 221 | 5-6 |
| 193 | Ronnie | Bell | Michigan | WR | 5112 | 192 | 5-6 |
| 197 | Isaiah | McGuire | Missouri | DE | 6043 | 271 | 5-6 |
| 198 | Jake | Andrews | Troy | C | 6026 | 319 | 5-6 |
| 201 | Cameron | Young | Mississippi State | DT | 6033 | 304 | 5-6 |
| 204 | Clayton | Tune | Houston | QB | 6022 | 216 | 5-6 |
| 205 | Karl | Brooks | Bowling Green | DT | 6033 | 303 | 5-6 |
| 211 | SirVocea | Dennis | Pittsburgh | ILB | 6003 | 218 | 6 |
| 217 | Joey | Fisher | Shepherd | OG | 6035 | 292 | 6 |
| 219 | Puka | Nacua | Brigham Young | WR | 6012 | 206 | 6 |
| 220 | Davis | Allen | Clemson | TE | 6054 | 246 | 6 |
| 221 | YaYa | Diaby | Louisville | DE | 6032 | 264 | 6 |
| 222 | Jay | Ward | LSU | FS | 6010 | 186 | 6-7 |
| 226 | Jalen | Redmond | Oklahoma | DT | 6023 | 293 | 6-7 |
| 230 | Riley | Moss | Iowa | CB | 6003 | 192 | 6-7 |
| 234 | Jaren | Hall | Brigham Young | QB | 6001 | 211 | 6-7 |
| 238 | Adetomiwa | Adebawore | Northwestern | DE | 6015 | 284 | 6-7 |
| 239 | Alex | Ward | Central Florida | LS | 6036 | 236 | 6-7 |
| 240 | Jarrett | Patterson | Notre Dame | C | 6047 | 304 | 6-7 |
| 244 | Brayden | Willis | Oklahoma | TE | 6036 | 239 | 7 |
| 245 | Max | Duggan | Texas Christian | QB | 6010 | 204 | 7 |
| 246 | Adam | Korsak | Rutgers | P | 6004 | 185 | 7 |
| 248 | DeMarcco | Hellams | Alabama | FS | 6005 | 213 | 7 |
| 251 | Chad | Ryland | Maryland | K | 5113 | 191 | 7 |
| 252 | Camerun | Peoples | Appalachian State | RB | 6015 | 215 | 7 |
| 253 | Darius | Rush | South Carolina | CB | 6015 | 196 | 7 |
| 260 | Lonnie | Phelps | Kansas | OLB | 6021 | 251 | 7-HPFA |
| 262 | Chris | Rodriguez Jr. | Kentucky | RB | 5110 | 224 | 7-HPFA |
| 264 | Isaiah | Land | Florida AM | OLB | 6032 | 226 | 7-HPFA |
| 265 | Tre | Tucker | Cincinnati | WR | 5087 | 187 | 7-HPFA |
| 266 | Tavius | Robinson | Mississippi | DE | 6060 | 257 | 7-HPFA |
| 268 | Jakorian | Bennett | Maryland | CB | 5105 | 193 | 7-HPFA |
| 270 | Mekhi | Blackmon | Southern California | CB | 5106 | 182 | 7-HPFA |
| 271 | Jake | Haener | Fresno State | QB | 6000 | 208 | 7-HPFA |
| 273 | SaRodorick | Thompson | Texas Tech | RB | 5114 | 213 | 7-HPFA |
| 276 | Chamarri | Conner | Virginia Tech | FS | 6000 | 205 | 7-HPFA |
| 292 | Tyson | Bagent | Shepherd | QB | 6026 | 213 | 7-HPFA |
| 297 | Nesta Jade | Silvera | Arizona State | DT | 6014 | 307 | 7-HPFA |
| 307 | Alex | Forsyth | Oregon | C | 6035 | 312 | 7-HPFA |
| 309 | Richard | Gouraige | Florida | OT | 6047 | 308 | 7-HPFA |
| 311 | Asim | Richards | North Carolina | OG | 6040 | 307 | 7-HPFA |
| 318 | Will | Mallory | Miami | TE | 6043 | 239 | 7-HPFA |
| 319 | Keidron | Smith | Kentucky | CB | 6015 | 203 | 7-HPFA |
| 320 | Daniel | Scott | California | SS | 6004 | 210 | 7-HPFA |
| 330 | Malik | Cunningham | Louisville | QB | 5117 | 188 | 7-HPFA |
| 332 | Grant | DuBose | Charlotte | WR | 6023 | 204 | 7-HPFA |
| 333 | Jerrod | Clark | Coastal Carolina | DT | 6034 | 343 | 7-HPFA |
| 335 | Marte | Mapu | Sacramento State | OLB | 6025 | 217 | 7-HPFA |
| 343 | Michael | Wilson | Stanford | WR | 6015 | 216 | 7-HPFA |
| 350 | Jack | Podlesny | Georgia | K | 6004 | 193 | 7-HPFA |
| 999 | Derius | Davis | Texas Christian | WR | 5084 | 168 | FA |
| 999 | *Evan | Hull | Northwestern | RB | 5101 | 214 | FA |
| 999 | Carlton | Martial | Troy | OLB | 5073 | 210 | FA |
| 999 | Aubrey | Miller Jr. | Jackson State | ILB | 5115 | 229 | FA |