Grossi: Why Joe Thomas belongs in Hall of Fame
By Tony Grossi, Hall of Fame Selector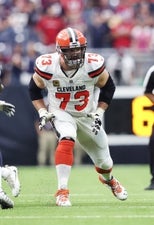 Oct 15, 2017; Houston, TX, USA; Cleveland Browns offensive tackle Joe Thomas (73) during the game against the Houston Texans at NRG Stadium. Mandatory Credit: Kevin Jairaj-USA TODAY Sports
To fellow selectors:
Just a very short note of reminder on offensive tackle Joe Thomas, who is on the ballot for the first time.
In 11 years, the Cleveland Browns had a winning record (10-6) only in Joe's first season. Which makes the following achievements truly remarkable, in my opinion:
* He's only the fifth player in NFL history to earn a Pro Bowl selection in each of his first 10 seasons. The others are Pro Football Hall of Famers Barry Sanders, Lawrence Taylor, Mel Renfro and Merlin Olsen. By the way, Thomas attended every one of his 10 Pro Bowls.
* He was an All-Pro selection at left tackle eight times.
* He played every single snap of every single game until he suffered what turned out to be a career-ending torn triceps injury in the 7th game of his 11th season. That amounted to 10,353 consecutive snaps played, believed to be the longest streak in NFL history. The number might be an obscure statistic, but it speaks to Thomas' dedication to the game and his team. The Browns were winless through those seven games and eventually lost them all that year.
---
Other Recent Stories
Frank discussion on top QB prospects with Panthers head coach: Is it revealing?
   With all eyes on the NFL Draft that begins April 27, Carolina Panthers head coach Frank Reich is On The Clock with the first pick in the 2023 player lottery. ...
read the full story
Shh, listen: Hear the NFL's quarterback frenzy getting even crazier
  The NFL's hyperactive quarterback scene was turbocharged the last two days at the Owners Meeting in Phoenix and elsewhere, not only by what was said, but by what ...
read the full story
Pro Day tracker for top 2023 quarterbacks
Despite reservations about the realistic value of Pro Day shows, NFLDraftScout.com dutifully tracks these hyped events for your edification. For our perspective ...
read the full story
Pro Daze: NFL's annual traveling circus is less than advertised
Updated March 30, 2023    Etiquette probably dictates that some subjects should be introduced by first saying, with all due respect.     So, there it is.     Now. ...
read the full story
Top DT Jalen Carter pleas no contest, limits legal exposure
Jalen Carter, NFLDraftScout.com's top-rated defensive tackle in the 2023 draft, pleaded no contest Thursday to misdemeanor charges of reckless driving and racing, ...
read the full story
Latest Player Notes
Ohio State Mitchell Melton
Mar 09, 2023: Defensive lineman Mitchell Melton has been medically cleared to participate in individual drills for Ohio State during spring ... read full note
Texas Quinn Ewers
Mar 09, 2023: Every position is open for the Texas Longhorns this spring. Every player will earn his starting role. For that reason, Quinn ... read full note
Texas Tech Cade Briggs
Mar 09, 2023: Backup offensive lineman Cade Briggs, who played in two games last season, was removed from the Texas Tech roster on Tuesday. ... read full note
Washington Dylan Morris
Mar 09, 2023: Dylan Morris came under heavy criticism as the starting quarterback for the Washington Huskies during their 4-8 season in ... read full note
South Florida Gerry Bohanon
Mar 09, 2023: Almost three months to the day after his hiring, new USF coach Alex Golesh staged the first spring practice of his tenure ... read full note
Washington Edefuan Ulofoshio
Mar 10, 2023: On the first day of his last year of college football, Edefuan Ulofoshio was back in the middle of it all Monday morning ... read full note
Washington State Isaiah Paul
Mar 10, 2023: Two months after joining Washington State's football team, Isaiah Paul is heading back to the portal. The senior linebacker, ... read full note
Southern California Eric Gentry
Mar 10, 2023: Linebacker Eric Gentry will miss all of spring practice following ankle surgery last month, Riley said. Gentry suffered a ... read full note
Ohio State Jack Sawyer
Mar 07, 2023: Where is Jack Sawyer? The former five-star recruit never really took that Year 2 jump some may have anticipated. His raw ... read full note
Colorado Cormani McClain
Mar 07, 2023: Getting two of the best young cornerbacks in the country to come to Boulder was the first step. Now, the Colorado coaches ... read full note