CFB Week 4: Eight matchups between unbeaten teams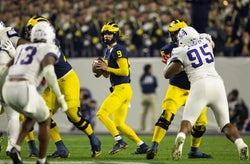 Dec 31, 2022; Glendale, Arizona, USA; Michigan Wolverines quarterback J.J. McCarthy (9) against the TCU Horned Frogs during the 2022 Fiesta Bowl at State Farm Stadium. Mandatory Credit: Mark J. Rebilas-USA TODAY Sports
Get ready for one of the most consequential college football Saturdays in history
Here is why: There are eight matchups between teams that are 3-0, the most in a single day since the FBS/FCS split in 1978, according to ESPN Stats geeks.
For Top 25 snobs, there are six ranked vs. ranked matchups. That's the most ranked vs. ranked games on a September Saturday since 2006.
And, because it lacks an important-sounding niche, we aren't even counting the ACC showdown between No. 2 or 3 Florida State and once mighty Clemson, which was the first team knocked out of the AP Top 25 this season.
For many, the most anticipated of those games (chronologically): No. 19 Colorado faces a huge test at No. 10 Oregon (3:30 p.m. ET, ABC) and No. 6 Ohio State travels to South Bend to take on No. 9 Notre Dame (7:30 p.m. ET, NBC).
In Saturday's other battles of unbeaten teams, Rutgers plays No. 2 Michigan at the Big House (noon ET, Big Ten Network), No. 22 UCLA is at No. 11 Utah (3:30 p.m. ET, Fox), No. 14 Oregon State travels to No. 21 Washington State (7 p.m. ET, Fox), No. 24 Iowa goes to Happy Valley to face No. 7 Penn State (7:30 p.m. ET, CBS), BYU is at Kansas (3:30 p.m. ET, ESPN) and Memphis visits Missouri (7:30 p.m. ET, ESPNU).
We have three TV screens, one tablet, a computer and a smart phone on stand by as we look forward to the action.
Here is how the day's big games play out in order of kickoff time (listed in Eastern time):
Rutgers at No. 2 Michigan | 12 Noon (Big Ten Network)
While Rutgers has been consistently overmatched against most of the Big Ten's powers since joining the conference nearly 10 years ago, its experience against the Wolverines has ranged broadly from totally devastating to surprisingly competitive. The Scarlet Knights have sandwiched their memorable 78-0 loss to the Wolverines with strong showings — Rutgers picked up its first-ever conference win against Michigan 26-24 in 2014 and, since the return of coach Greg Schiano, has won three of its last six halves of football against Michigan.
To string together a complete game versus the Wolverines, Schiano will rely on Kyle Monangai to continue his excellent start to the season — the junior tailback has totaled nearly 400 yards and five touchdowns through three games — against the hallowed Michigan front. For Michigan, the focus will center around quarterback J.J. McCarthy, who bucked a nearly flawless start to the season in Week 3 with three interceptions against Bowling Green. If McCarthy can value the ball, an admittedly tougher task against a hawkish Rutgers secondary ranked fifth in scoring defense, Michigan can lean on its talent advantage in the trenches to hold off the Scarlet Knights.
Michigan: A win Saturday would keep the Wolverines on track for postseason contention, likely needing to remain perfect through a manageable Big Ten slate before battling top-7 foes Penn State and Ohio State in the final three weeks of the season.
Rutgers... The Scarlet Knights sit undefeated with a pair of convincing wins against Power 5 foes Northwestern and Virginia Tech. An upset victory Saturday would likely improve Rutgers to 5-0, assuming RU takes care of business against Wagner, with an AP ranking to boot entering October.
No. 19 Colorado at No. 10 Oregon | 3:30 p.m. (ABC)
Long odds and skepticism have done nothing but grow Deion Sanders from a star to a supernova necessitating sunglasses. Critics consider this game a key for the Buffs. Believers think it is a warmup for the next game, against USC. Colorado embarks on possibly the stiffest conference gauntlet in America. The nation's second-highest scoring offense awaits Coach Prime in Eugene on Saturday, with No. 10 Oregon battering overmatched opposition in Portland State and Hawaii and rallying late to overcome Texas Tech in Lubbock.
Colorado's offense was similarly transcendent in shootout wins versus TCU, Nebraska and Colorado State, but an historic upset Saturday — Oregon has lost just once at Autzen Stadium since 2017 — relies on its less-celebrated defense. Despite a mixed defensive bag where the CU defensive front has often struggled to stop the run, Colorado ranks best in the country with 10 takeaways. Forcing Oregon's interception-free quarterback Bo Nix into a few mistakes will give the Buffaloes extra possessions and a fighting chance Saturday.
Oregon: A win would inch them ever closer to the playoff places while crucially continuing to defend home turf with challenging road challenges against No. 8 Washington and No. 11 Utah upcoming.
Colorado: A win would affirm Colorado's status as a very legitimate contender, not just for the Pac-12 but the Playoff picture as well, all while setting up an immense clash at Folsom Field next weekend against No. 5 USC.
No. 22 UCLA at No. 11 Utah | 3:30 p.m. (FOX)
Despite a perfect 3-0 start, Utah's start to the 2023 season has been characterized by familiar peaks and valleys. A dominant Week 1 win, which has only grown in value with Florida's return to the AP Poll, saw the Utes surge to a 24-3 lead over the Gators, but a less assuring performance the following Saturday saw Utah narrowly escape the clutches of a wounded Baylor team in Waco. Cam Rising's unknown injury status headlines a loaded injury list — 16 Utes won't play this weekend — as they hope to bounce back for their toughest test of the season so far.
UCLA's stellar performances against dangerous San Diego State and Coastal Carolina, paired with a 59-7 beatdown over NC Central, sees the Bruins edge Utah to 10th place in FBS scoring defense. This defensive improvement, in conjunction with coach Chip Kelly's patently dynamic offense, likely makes UCLA's 2023 squad the best of the Kelly era in Los Angeles. After forcing Grayson McCall into two interceptions and just a lone touchdown, even the return of Cam Rising will likely require another stellar afternoon for Utah to remain unbeaten Saturday.
Utah: A win against fringe top-25 UCLA at home is essentially a must for a Utah team looking to keep up a pair of Rose Bowl appearances, given the amount of quality opposition remaining on the Utes' schedule.
UCLA: A win would mark a premier win in Kelly's Tinseltown rebuild and likely position the Bruins inside the top-15 ahead of a dogged Pac-12 slate.
BYU at Kansas | 3:30 p.m. (ESPN)
How's this for a matchup of Big 12 unbeatens! Kansas, new to the upper reaches of the conference table, and BYU, new to the conference entirely, seem set for a thrilling, high-scoring affair in Lawrence. KU took the 2022 Big Ten West runner-ups to school in Week 2, as over 300 all-purpose yards from quarterback Jalon Daniels powered Kansas to a dominant 34-7 lead and ultimately a two-score victory. BYU enjoyed a similarly emphatic offensive showing to beat Arkansas in much more contentious fashion last Saturday, snuffing out a last-second lateral attempt to escape from Fayetteville 38-31 victors.
All eyes are under center for Saturday's matchup, with Daniels and Arkansas quarterback K.J. Jefferson separating themselves as fringe Heisman contenders and the unquestioned engines for a pair of high-powered offenses.
Kansas: A win Saturday would almost certainly vault the Jayhawks back into the top 25, marking the would-be first time KU has been ranked in the AP Poll in consecutive seasons since 2009.
BYU: A win gives the Cougars their first-ever Big 12 win and sets up a conference slate that looks pretty favorably — BYU avoids both 3-0 UCF and recently ranked Kansas State.
No. 14 Oregon State at No. 21 Washington State | 7 p.m. (FOX)
A fresh shade of orange and a cross-country trek has done wonders for Oregon State QB D.J Uiagalelei, who currently ranks 14th in FBS with an 87.1 quarterback rating after a pair of difficult seasons at Clemson. Uiagalelei's success has powered the Beavers to a dominant start, beating a triad of California schools by at least three scores and matching their highest AP ranking in over a decade. The Beavers' relatively easy start to the schedule ramps up drastically on Saturday, traveling to Pullman and facing a Washington State team that has certainly exceeded its middle-of-the-pack expectations through three games.
The Cougars battered Colorado State 50-22 in Colorado Springs, the same Rams team that pushed Prime's Buffaloes to double overtime, before derailing the Tanner Mordecai hype train with a suffocating and ultimately insurmountable 24-6 halftime lead. For its first game inside the AP Top 25 since 2019, Wazzou will expect a traditional West Coast shootout Saturday, with the teams each sporting a top-15 quarterback per QBR and collectively surpassing 26 points in all six games thus far.
Oregon State: A win gives Oregon State a quality win to pair with sizable preseason hype and an acclaimed quarterback, all encouraging signs toward an outside playoff push.
Washington State: A win makes Wazzou's relatively manageable Pac-12 slate — the Cougars avoid both No. 5 USC and No. 11 Utah — a golden ticket toward an increasingly possible run at the conference championship.
Memphis vs. Missouri (in St. Louis) | 7:30 p.m. (ESPNU)
The Memphis Tigers escaped against Navy last week and are quietly 3-0. The Missouri Tigers had some late drama last week, toppling former conference rival and then-No. 15 Kansas State on Harrison Mevis' 61-yard field goal. Now, can Mizzou keep on winning, with more attention focused on the undefeated squad? Missouri QB Brady Cook passed for 356 yards and has still not thrown an interception this season. He'll have to be solid again.
Memphis: A win would make the Tigers a top Group of Five contender for one of the New Year's Six bowls — again. The Tigers made the Cotton Bowl in the 2019 season.
Missouri:... A win should move the Tigers into the AP Top 25, as they're the second team out in the latest poll. However, Missouri's schedule won't slow down. After Vanderbilt to close September, the Tigers get four teams currently ranked in their last seven games — including No. 1 Georgia.
No. 6 Ohio State at No. 9 Notre Dame | 7:30 p.m. ET (NBC)
With just 250 miles between them and a shared blue-blood status since time immemorial, Ohio State and Notre Dame have shockingly played in South Bend just twice (1936 and 1996). Saturday's reunion offers the biggest showcase between the two perennial powers since, well, just last year actually, when No. 2 OSU outlasted No. 5 ND 21-10 from Ohio Stadium. Save for their iconic helmets and untouchable pedigree, however, these programs have come to look quite different in the 12 months since their last meeting.
These two heavyweights have tons of successful history. Ohio State is first in all-time winning percentage and second in all-time victories. Notre Dame is No. 4 in both. The Irish are No. 1 with 107 consensus All-Americans and 525 NFL draft picks. Ohio State is No. 2 with 92 All-Americans and No. 3 with 485 draftees. Each has had seven Heisman winners, tied with Oklahoma and USC for the most.
Notre Dame, content to center its 2022 game plan against OSU around ball control and field position, will now look to spotlight possibly the nation's deadliest 1-2 offensive punch. Tailback Audric Estime ranks third in FBS thus far with 8.3 yards per carry, an ascent from his 21-yard effort in Columbus last September, and has flourished partnered with Wake Forest transfer and all-time ACC touchdown leader Sam Hartman. Ohio State will spend its rare trip down Rte. 30 continuing to grapple with a wholly unfamiliar team dynamic. Quarterback play lingers as an unfamiliar point of concern in Columbus, with starter Kyle McCord managing fewer than 100 first half yards against Indiana, the team's lone Power 5 opponent thus far. Its recent middling defense, conversely, has been completely reshaped by DC Jim Knowles and currently ranks second in points allowed.
Ohio State: A win would serve as a quality early notch on the Buckeye belt and a bit of much-needed insurance against the brutal Big Ten East gauntlet upcoming for the Buckeyes. Top-10 opponents Michigan and Penn State remain for Ohio State, and a win against the Irish Saturday would likely allow OSU to drop one of those remaining matchups and maintain a competitive shot at the CFP.
Notre Dame: A win would be a massive statement of intent for a program stuck to the rear fringes of the CFP debate in the last couple of years. Ranked ninth in the AP Poll, beating the Buckeyes Saturday would surely advance ND near the top four spaces and into an advantageous position with top 25 matchups against Duke and USC still to come.
No. 24 Iowa at No. 7 Penn State | 7:30 p.m. (CBS)
Penn State quarterback Drew Allar's surging stock took a dip in Champaign last weekend, as despite a convincing 30-13 victory, the sophomore quarterback managed zero touchdowns and completed fewer than 50 percent of his passes. The Big Ten offers nary a better test for concerning quarterback play than the Iowa Hawkeyes, who have consistently enjoyed one of the nation's best defenses in Kirk Ferentz's tenure.
It's been offensively where the Hawkeyes have struggled in recent years, and despite a disconcerting 22-point scoring average through opening games against Utah State and Iowa State, improved quarterback play from Michigan transfer Cade McNamara and a 41-point outburst against Western Michigan has fueled quiet optimism around Iowa City. A night game at Beaver Stadium mandates more than belief, however, and continued growth from McNamara will be needed for Iowa to pull off a shocker in State College Saturday, especially with the Hawkeyes dealing with injuries.
Penn State: A win over Iowa constitutes "taking care of business" for an ambitious Nittany Lion program. Red ink encircles October 21, when PSU travels to No. 6 Ohio State, and entering Columbus undefeated is paramount for its national championship dreams.
Iowa: A win over Penn State sparks a suddenly compelling second half to the season and a potential dilemma for the selection committee — the Hawkeyes have no more ranked teams on their schedule following Saturday and could very feasibly win each remaining game.